China says U.S. South China Sea actions 'irresponsible, dangerous'
BEIJING/WASHINGTON | BY Sui-Lee Wee and David Brunnstrom, Fri 22 May 2015,  Reuters
China said on Friday it was "strongly dissatisfied" after a U.S. spy plane flew over part of the South China Sea this week near where China is building artificial islands, and called on the United States to stop such action or risk causing an accident. The U.S. flight on Wednesday was highlighted by the unusual Pentagon decision to invite a CNN team aboard the Poseidon surveillance plane. It said the Chinese navy issued eight warnings to the aircraft to move away from the contested territory.
Chinese Foreign Ministry spokesman Hong Lei said the Chinese military drove away the aircraft, in accordance with relevant regulations. He labeled the U.S. action a security threat to China's islands and reefs. "Such action is likely to cause an accident, it is very irresponsible and dangerous and detrimental to regional peace and stability. We express our strong dissatisfaction, we urge the U.S. to strictly abide by international law and international rules and refrain from taking any risky and provocative actions," he told a news conference.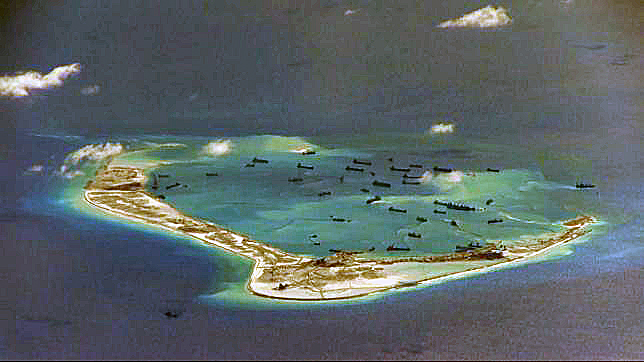 "China will continue to closely monitor the relevant area and take the necessary and appropriate measures to prevent harm to the safety of China's islands and reefs as well as any sea and air accidents." A Pentagon spokesman called the mission "routine" and said such flights occurred "every few days." Colonel Steve Warren said the Poseidon had not gone within 12-mile (19-km) territorial limits that China claims around the artificial islands but said this could happen in the future.
"We don't recognize those islands as anything other than international space," he said. "For us to fly through that, we wouldn't see that as a change in the way we do business. It just so happens we haven't flown over them in the last 20 years." The U.S. stance reflects the fact that while it does not recognize Chinese territorial limits around reclaimed land, it wants to avoid escalating the issue further than necessary, he said.
U.S. SAYS FLIGHTS "ENTIRELY APPROPRIATE"
Washington has been struggling to find a way to discourage what it has described as the "unprecedented" speed and scale of China's land reclamation work. The senior U.S. diplomat for East Asia, Assistant Secretary of State Daniel Russel, told reporters on Thursday the decision to take a TV crew on the Poseidon was in the interests of "transparency." He said the U.S. reconnaissance flight was "entirely appropriate" and that U.S. naval forces and military aircraft would "continue to fully exercise" the right to operate in international waters and airspace.
The Pentagon believes the work is aimed at cementing China's claim to the vast majority of the South China Sea – an important international shipping route and an area thought to have significant energy reserves and rich fishing grounds. Washington is particularly concerned that China, whose claims overlap with those of Brunei, Malaysia, the Philippines, Vietnam and Taiwan, may at some point declare an exclusion zone in the sea that could limit free movement of ships and aircraft.
U.S. Deputy Secretary of State Antony Blinken said on Thursday that China's land reclamation was undermining freedom and stability and risked provoking tension that could lead to conflict. The Global Times, a tabloid owned by the ruling Communist Party's People's Daily, called the U.S. flights "provocative". "Washington is purposefully raising tensions with China, a move that has created a higher risk of a physical confrontation," it said in an editorial on Friday.
"China should be prepared to ramp up its countermeasures, one notch at a time, according to the degree of provocations from the U.S.," it said.