Zimbabwe: Mphoko an empty head — Sibanda
LLOYD MBIBA  •  26 MAY 2015 • Daily News (Zimbabwe)
HARARE – Ousted former war veterans' leader Jabulani Sibanda has savaged Vice President Phelekezela Mphoko as a "clueless and confused opportunist" who is lying about Gukurahundi and who allegedly deserted Zapu during the liberation struggle to enjoy an easier life in Mozambique.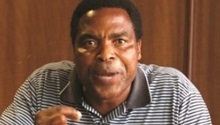 Responding to Mphoko's attack on him at a rally in Bulawayo on Sunday, that Sibanda was allegedly gay, the voluble ex-war veterans leader yesterday roundly trashed President Robert Mugabe's co-deputy yesterday, describing him as "a lost soul" who was "lying and singing for his supper" on a number of issues. "I want to tell him that I am not interested in engaging in such a pathetic discourse. He is so thin-minded and an empty head. He should stop going around and campaigning using my name.
"For his own information, my work is known and so is my track record as leader of the war veterans. Unfortunately, too for him, I'm known more than him. He is unknown and his remarks show that he is a clueless and confused somebody. "These allegations that he is bringing and the insults he is spreading are pulling him far below the level one expects of a VP. Ever since I had political problems, I resolved not to respond to allegations as I am busy trying to concentrate on my farming.
"So for him to go to a rally and attack me and make serious allegations against me shows that he is a useless leader. He is lost. A leader does not come to the people to insult other people but should come to expound his ideological thrust," Sibanda fumed in an exclusive interview with the Daily News. The former war veterans leader was expelled from the post-congress Zanu PF late last year, along with many other top party officials, on untested charges of plotting to oust Mugabe from power illegally and planning to kill the embattled nonagenarian.
Giving a rare insight into Mphoko, who before his surprise appointment to the vice presidency was not well-known in Zimbabwe, Sibanda said the VP was never in Angola as he had allegedly claimed. Addressing party supporters in Bulawayo, Mphoko claimed that Sibanda, apart from sodomising a colleague in Angola, also trailed Zapu leaders as a boy of 11.
"When I grew up in Tsholotsho he was not there, so he lied. Mphoko was also never in Angola and so he is lying there as well. "He was in Mozambique wedding when we were in the armed struggle. Mphoko should shut up and enjoy his marriage and his appointment by President Mugabe," Sibanda said. "Mphoko should also stop attacking Zapu members whom he deserted in the armed struggle. Mphoko should also learn to respect himself.
"While I can force myself to respect Mphoko and succeed, while the nation can force itself to respect Mphoko and succeed, the same nation cannot force Mphoko to respect himself and succeed. So Mphoko should learn to respect himself," he added. Sibanda said Mphoko, who controversially blames the Gukurahundi atrocities of the early 1980s on the West, is "a lost soul" who was singing for his supper.
"In the recent past, I have heard him talk about Gukurahundi but I did not want to comment. However, let me tell you this, his remarks on Gukurahundi indicate how far he is from telling the truth. "The guy is drifting downwards from the position that he is in. He is a liar and he has never done anything for the people," he said, adding that Mphoko continued to fail the people of Matabeleland.
"During 1980 when the situation was bad in Matabeleland, we formed the Matabeleland Development Foundation. We formed the Zambezi Water Project. We used to meet at White City Stadium and donate $1 each. "Where was Mphoko? He was around and working for the CIO. But he has never done anything for the people. His province Matabeleland North is the only province in the country without a teachers' training centre. Matabeleland North is the only province without a vocational training centre. The same province doesn't even have a polytechnic.
"These are the things that Mphoko should be addressing, but then again what do you expect from someone who is lost? Six months into office, the nation doesn't know him. He also doesn't know what to do," Sibanda said. He also revealed that in the run-up to Zanu PF's disputed congress last year, Mphoko had approached him, seeking his support for the vice presidency position. But he declined to support him, preferring the then chairperson Simon Khaya Moyo.
"The last time I spoke to Mphoko was before the congress when he came back from South Africa. He called me and asked for a meeting in town and he told me that he wanted to stand as VP and he wanted my support. I told him I would get back to him. "Then on another day he invited me to his company's warehouse in the industrial site and I met him and his look-alike son. He again asked for my support. At that moment, I told him that his quest was mission impossible because he had never held any senior position in the party.
"I told him that there were some ambassadors like Khaya Moyo who held central committee and politburo positions while still serving as ambassadors. I also told him that I had gathered that he was not a card-carrying member of the party and he failed to get a card in Matabeleland North. "He responded that he got a card in Bulawayo. I then told him that the party had a tradition which must be followed, and that tradition was that the chairman should be elevated at congress to VP if a position arose in the presidium. To that end, I told him that SK Moyo would become the VP.
"Mphoko then told me that President Robert Mugabe brought him to Zanu PF for that position. I then said if you have the backing of Mugabe, why then are you seeking support from me?
" That was the last time I saw Mphoko," Sibanda said.