Ethiopia's ruling party sweeps parliament in early vote results
ADDIS ABABA | BY AARON MAASHO, Wed 27 May 2015, Reuters
Ethiopia's ruling party and its allies have won a big majority in parliament, election officials said on Wednesday, based on an early count in a weekend election in which the opposition complained of harassment. Charges of abuses were dismissed by Prime Minister Hailemariam Desalegn, leader of the Ethiopian People's Revolutionary Democratic Front (EPRDF), which has been in power for almost 25 years. It was widely expected to sweep the vote.
The EPRDF and its allies won 442 seats out of 547, according to a Reuters tally calculated after election board chairman Merga Bekana read out results so far by region. The provisional count suggested that the opposition, which won just one seat in the last parliament, had yet to claim a single seat in those declared so far. Full results are not expected until next month.
The United States said candidates and parties should resolve any disputes peacefully in line with the Ethiopian constitution. It said it regretted the government's decision to deny U.S. diplomats accreditation to observe the election. "The United States remains deeply concerned by continued restrictions on civil society, media, opposition parties, and independent voices and views," the State Department said in a statement.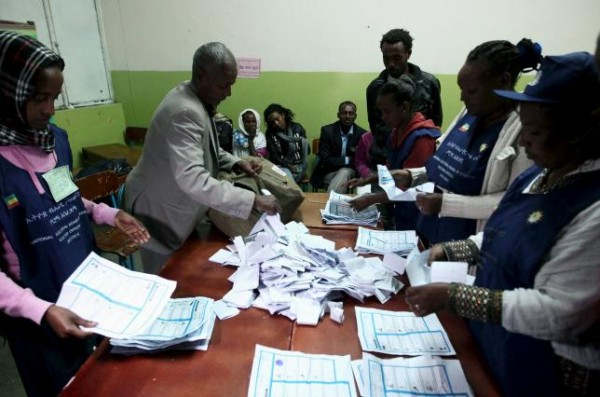 The government claims to have rebuilt Ethiopia after mass killings under communist dictatorship in the 1970s, war and famine into a country that draws increasing interest from foreign investors. The country of 96 million is still mired in poverty but has one of Africa's fastest growing economies, which the World Bank expects to expand by more than 10 percent in the year starting in July.
Rights groups and the opposition say the government has quashed dissent, jailed bloggers and journalists for their views and rigged elections. The government denies the charges, saying it guarantees free speech and conducts fair elections. The opposition won an unprecedented 147 seats, especially in the capital, in an election in 2005 but most winning opposition candidates did not enter parliament, saying the ballot was rigged.
The provisional count showed the ruling party winning all 23 seats in Addis Ababa this time.