Tight race for AfDB president draws to a vote
 The contest for the presidency of the African Development Bank could rival the drama of the 1995 election that saw a stalemate.
The African Development Bank (AfDB) has sought in recent years to stay out of the political spotlight, preferring to shunt attention to its developmental agenda. But the tight race for its presidency has morphed into one of its most exciting yet, pitting high-level power play against individual credentials and the cashing in of political favours.
It threatens to rival if not surpass the drama of the 1995, election which saw a stalemate that was only resolved two months later in favour of Morocco's Omar Kabbaj against the candidate from Nigeria, who again has a horse in the race.
Well-placed sources close to the behind-the-scene election games at the AfDB, which is holding its annual general meeting, indicated that there was frenzied lobbying and tight horse trading, with the eight candidates to meet AfDB governors on Wednesday ahead of the anticipated May 28 vote.
The role of the so-called non-regionals – members who are not from Africa but who wield a powerful vote – will be in the spotlight, with the United States reportedly having told its missions that it had no preferred candidate. But few would believe it – former AfDB president Kwama Fordwor of Ghana in 1981, two years after the end of his tenure, complained how overpoliticisation and bureaucracy had starved the now 50-year-old bank of much-needed capital, with the effect that the US did not make much-needed financial contributions for seven years until 1999, because it thought the bank was badly run.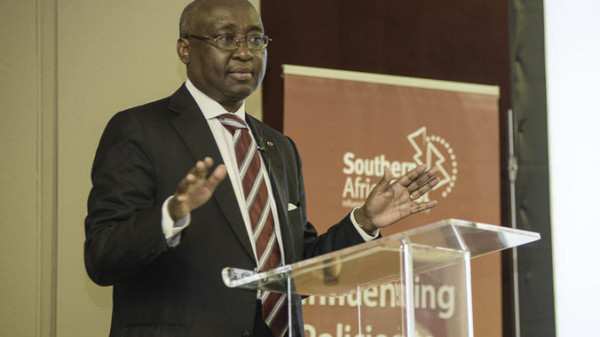 What is known is that once the green and yellow ballots have been counted, there will be hurt feelings, bruised egos and grudges quietly filed away. A winning candidate needs at least 50.01% of the regional and non-regional votes. Kabbaj is credited with the sweeping reforms that gave the bank back its credibility, especially among non-regionals, who were brought on board in 1982 to help increase its weak capital base and who now hold 40% of the voting power, but also with regional members who had complained of rampant AfDB interference in national affairs.
Kaberuka's big shoes
Under outgoing president Donald Kaberuka, a Rwandan national, the bank has significantly transformed its operations and shored up its global image in the past 10 years. While it retains its emphasis on major infrastructure programmes, it has effectively increased its focus on social projects and pushed for debt relief.
Talk of Kaberuka's shoes being too large to fill is tempered by the development of medium and long-term policy to guide the newbie, a welcome change from eras gone by of arbitrary decisions. With so many regional computations to consider and no runaway favourite, the race could feasibly hinge on the candidacy of Zimbabwe's Thomas Sakala, the consummate insider, having retired as a bank vice-president last year.
Sakala comes into Abidjan having locked in the Southern Africa vote, which constitutes about 14% of the voting power. But there are seemingly problems with his bid. The US, which has the second-highest number of votes after Nigeria, but which usually counts allies such as Japan and a raft of EU countries, is said not to be too enamoured of his candidacy, although the Robert Mugabe factor (unlike in 2005) is not a consideration this time.
Southern Africa's controversial 'primaries'
But the biggest obstacle for Sakala could be the one thing that makes him strong: the unity of Southern Africa. The region is alleged to have held "primaries", perceived as against bank rules, which has reportedly made other key blocs such as North Africa unhappy, with an outcome that if not resolved, could solidify their vote. North Africa has a strong 18% vote, but did not appear to have decided entirely to back Tunisian finance minister Jaloul Ayed, although reports of the Southern African agreement may serve to crystallise the bloc, bank insiders said.
Ayed, who has rich corporate experience, appeared to have been at a disadvantage given that two of the bank's past six going on seven presidents have come from the north. Additionally, the bank has been relocating from Tunis to Abidjan and would probably have seen sub-Saharan Africa governors keen on keeping the post south of the Sahara.
Sakala's candidacy comes at a time when a South African holds the powerful African Union (AU) secretariat chair, which could prove a factor with Africans obsessed with "sharing the cake fairly". If he does not pass the first round, the region's vote would be up for grabs, suggesting he holds the wild card to the outcome.
Three candidates could benefit from this, if they can vault the first round. Nigeria's Akinwumi Adesina has arguably the most impressive academic credentials and seems popular with the Africanist policy community, but could fall victim of coming from a major African country.
Dapper and sleek
The dapper, bow tie-wearing agriculture and rural development minister has some heralded innovations in hugely improving his country's often-precarious food security position, but is not as steeped in finance as some of his rivals. Some past bank presidents such as Zambia's Wila Mung'omba were lawyers, but they were well in the majority.
His candidacy comes against the background of a power transition, and while incoming president Muhammadu Buhari has thrown his weight behind him, Adesina remains an appointee of departing president Goodluck Jonathan. It would still be a major hit for the country's regional ambitions if its candidate fails to at least make an impression.
Another beneficiary could be Ethiopia's Sufian Ahmed. He is the country's finance and economic development minister, overseeing the staggering economic transformation of the continent's second-most populous nation. There is a sense that Ethiopia's developmental story might have much to teach, while he could secure the Chinese vote in addition to Eastern Africa and and the Horn's. Additional backing from the south would put him in the lead, while the region may want to compensate his country given it cannot lead major organisations such as the AU.
Ahmed is well-liked, with one commentator saying "he wears power well". However, with Ethiopia an emergent hegemon, there is a lingering sense this would further strengthen its influence in an African region that is struggling with a power vacuum. Kaberuka is from Ethiopia's immediate eastern Africa neighbourhood, and could be a factor for other regions who want to see greater diversity.
Cape Verde dark horse
Cape Verde's Cristina Duarte, the only woman in the race – a factor that appeals to many neutrals and big players in the non-regional vote – has a strong outside chance. Well steeped in development finance and the private sector, she is finance minister in a country whose governance is well regarded in the region. She could be a compromise candidate of other regions if a deadlock ensues, allowing them to exit a bruising race with their pride intact. Duarte appears to be the dangerous dark horse in the race, but the candidacy of Kordje Bedoumra of Chad is deeply intriguing.
Heavily backed by his president, the finance minister is a former AfDB vice-president and could command the backing of France, which views Chad as a major ally in its geopolitical ambitions in Africa, one arena of which has been the war against terror.
Chadian leader Idris Deby is alleged to have highlighted his game-changer role in dislodging Nigeria's Boko Haram militants and suggested to Nigeria he expects them to show back his countryman. As the only candidate from Central Africa, his bid would fit in with the bank's increased focus on the region's poorer nations.
Kaberuka had the backing of the US and Japan, and the two could let France have a decisive role as kingmaker this time.
The handicaps
The candidacies of Sierra Leone Foreign Affairs Minister Samura Kamara, who as finance minister led his country's reconstruction effort, and Mali's Birama Sidibe, who can hope to draw on his contacts when he was managing director of pan-African housing financier Shelter Afrique, while well thought of, would need major realignments in the voting dynamics to gain serious traction. They are playing handicap, but it would be a mistake to write their obituary before sunset on Thursday.
Who will come out top? The only certainty is that it is a gripping race that throws up the possibility of several tense rounds of voting, with another stalemate not a far-fetched proposition. An AfDB watcher who says he makes his fortune betting on surprising odds, is putting his money on Duarte and Kordje. In a few hours, Africa will know if he called it right.