African air travel ready for lift-off
27 MAY 2015, Business Day (South Africa)
PARIS — Africa has long been the El Dorado just over the horizon for airlines, but sustained economic growth and the emergence of a middle class on the continent may finally clear the obstacles from the runway. "Today, Africa accounts for just a small portion of global air traffic: less than 3% of passengers when it has 15% of the world's population," said Bertrand Mouly-Aigrot, an air transport expert at Archery Strategy Consulting. "Thus … there is considerable development potential," he added.
The forecasts for growth in air traffic are optimistic. Boston Consulting Group sees average growth of 6.2% for the coming 10 years, 4.9% in the following decade and 5.5% the decade after that. "The continent is following on the heels of the Asia and Asia-Pacific regions, two very dynamic regions," said Sylvain Duranton, an air transport specialist at the firm. But that dynamism is so far limited to routes linking Africa with the rest of the world, with competition increasing as emerging industry majors such as Emirates and Turkish Airlines have flown into the fray.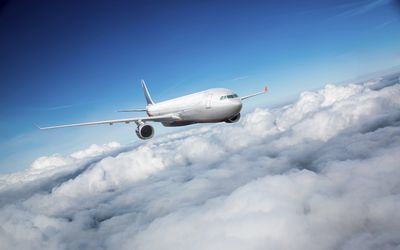 Meanwhile, few ply the skies between African destinations. The market has been left to local airlines with tiny fleets such as Senegal Airlines or Cameroon's Camair-Co. Ticket prices remain very high. "If all of the main African cities are served today by European, Gulf or even Chinese airlines, the internal market remains relatively undeveloped due to multiple barriers beginning with very high costs," said Didier Brechemier of the Roland Berger consulting firm.
He pointed to monopolies in ground services and fuel prices 30% higher than in Europe, as well as problems with maintenance and infrastructure. Measures to protect national markets are also a problem. "Today a quarter of the intra-African routes are served by just one company," said Mr Mouly-Aigrot. Some estimate that the Africa's top five airlines — South African Airways, Ethiopian Airlines, EgyptAir, Royal Air Maroc and Kenya Airways — stand to gain from an end to regulations that have sliced up the continent's market.
"Many African countries need to work on further liberalised access to their skies, and where this has been done in other parts of the world it has led to an increase in trade and tourism, which has a positive impact on growth of local and regional economy," Emirates senior executive Hubert Frach said. The International Air Transport Association, which groups 250 airlines that carry 84% of world traffic, holds a similar view.
Its director Tony Tyler recently urged African nations to push forward with a pledge they made 15 years ago to liberalise their skies. At the same time, African aviation regulators need to double down on safety to satisfy international requirements that apply not only to airlines. "Out of the 16 countries which are on the EU (European Union) blacklist, 13 are in Africa," said Mr Mouly-Aigrot.
Despite the difficulties, the winds are blowing in the direction of a growth in air travel. Growth in air traffic is directly correlated with economic expansion, and Africa has been growing at nearly 5% for the past five years, said Mr Duranton. Population growth and urbanisation support demand for air travel, as do the large distances between cities and a lack of alternative means of travel. Also important is that a middle class is emerging in more countries across Africa, not just the richest such as SA and Nigeria.
It was "this middle class that is developing consumption habits similar to Western standards", said Mr Duranton. He pointed to the 15% expansion of smartphones and 30% jump in internet users in Africa. "It is estimated that this consuming class will grow by 5% in the years to come," said Mr Duranton. The emerging African middle class will no doubt also be interested in tourism, providing a boost to Africa's tourism industry, which has climbed from 3% of the global total in 1980 to 6% today, and is dependent on air travel.
It is also the emerging middle class that international airlines are targeting. "Our goal is to maintain our leadership in flights between Europe and Africa," said Frank Legre, who heads Africa for Air France-KLM, a major player with about 20% of the market between the continent and Europe and North America. "The difficulty today is not competition between European companies but that from the Gulf airlines and Turkish Airlines," said Mr Legre.
"We've noticed real growth in the traffic to Dubai and Istanbul due to shifts in trade and finance as the African economy has opened up to the world," he said. Turkish Airlines CE Temel Kotil earlier in May called Africa the "new China next to Europe", and estimated activity in the African market of 1.2-billion people had the potential to grow tenfold.