Eritrea: Clean your House, EU Tells Afwerki
Rome (HAN) May 24, 2015 – The European Parliament this week called on Isyas Afwerki's government in Eritrea to immediately and unconditionally release an imprisoned news editors, News Bloggers, ELF supporters, religious leaders and two other political prisoners.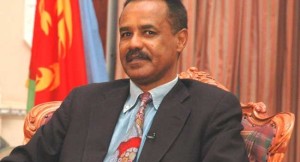 An EU parliamentary resolution also established a monitoring of Eritrea's human rights abuses in what could be the first step toward international censuring or even trade sanctions toward the Horn of Africa's only unelected regional leader and is not a member of IGAD's regional security framework.
"Given that their imprisonment relates directly to the legitimate exercise of their right to freedom of expression," the non-legislative resolution argued for the release of imprisoned news editors and News Bloggers.
Aware of this, the EU parliament called upon the European Commission to "monitor Eritrea's adherence to human rights and to labour (Canadian Goldmine projects) and environmental conventions".
The EU-Africa  resolution ordered an investigation be undertaken into Eritrea's "serious and systematic violation of future rights of Eritrean Youth".
According to Geeska Afrika Online sources in Rome, Italian prime minister Matteo Renzi told his national parliament that the EU should assume "a greater role in Africa". Renzi was talking about migration as well – telling the Senate that the EU "must intervene in Eritrea and in Sudan, to the south of Libya," to wage war against human traffickers – but the statement applies more generally to EU-Eritrea relations.
The international community is also about to begin negotiations with Eritrea to agree new targets to succeed the Millennium Development Goals which expire at the end of 2015.
Amnesty International and other International human rights groups also characterise imprisoned news editors, News Bloggers, ELF supporters, religious leaders and two other as political prisoners.
The Eritrean government denies that any political prisoners exist in the country