The support Sepp Blatter enjoys from football associations across the developing world has been bolstered by his Goal project, which delivers millions of dollars to improve facilities. A visit to Zambia underlines how it has helped to keep him in power
Fraying at the edges, Fifa's flags twist in the wind outside Football House in the Zambian capital, Lusaka, with the national flag between them. A nearby inscription is badly faded in the sun. It reads: "The Football Association of Zambia, Football House, built as part of Fifa's Goal development programme was inaugurated in Lusaka on 6 April 2002 by Joseph S Blatter, Fifa president."
Presenting Zambian football with its first home is just one example of how Blatter has won the hearts and minds of Africa's football establishment. Its loyalty has enabled him to ride out every storm and is more critical than ever as seeks re-election at the helm of an organisation embroiled in the biggest scandal in its history.
On Wednesday, Swiss authorities arrested seven high-ranking Fifa officials in a dawn raid at the behest of the United States and opened criminal proceedings over the awarding of the 2018 and 2022 World Cups. Loretta Lynch, the US attorney general, said the officials whose extradition she is seeking had allegedly lined their pockets with $150m, in what another US official dubbed "a World Cup of fraud". The crisis has put Blatter under intense scrutiny as he runs for a fifth term as president of world football's governing body.
Yet in all likelihood, the 79-year-old will prevail again on Friday. He has ensured that Fifa gives enough money and encouragement to guarantee the loyalty of the various confederations that vote for the new president every four years. The Confederation of African Football (Caf), for example, has traditionally voted for the Swiss because it believes he alone cares about the continent.
Fifa claims that its Goal development programme has built more than 700 facilities, mainly headquarters, for its member associations around the world since its launch in 1998, the year that Blatter came to power. It has provided funding for "essential football projects" including pitches, technical centres, youth academies and IT. Officially there are no strings attached, but many feel a debt has to be repaid even if means voting for Blatter indefinitely.
"A good idea is also being used against principles of democracy," said Simataa Simataa, a former president of the Zambian FA. "People tend to favour anyone doing a good thing; they will take houses from Pablo Escobar using drug money. Unfortunately that is what the Goal programme has been.
"I wish it was an institutional project but it's seen as favouring certain characters, namely Sepp Blatter. It gives an advantage to him and a disadvantage to others, even if they have better ideas. In that sense he's got a fixed vote: everyone thinks when the next guy comes there'll be no Goal project any more."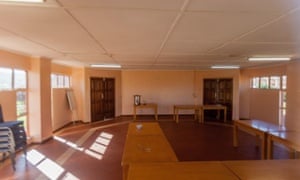 The Fifa website's Goal page for Zambia includes a photo of a smiling Blatter standing beside a Zambian who holds a placard that says: "Sepp Blatter. The only man that attends to Africa's problems." The impoverished country has never qualified for the World Cup finals and made headlines for the worst possible reason in 1993 when the bulk of its finest national team were killed in a plane crash.
Along came Fifa, building Football House on a patch of wilderness for less than half a million dollars, according to the site. The headquarters stand tall behind palm trees, pillars and two-storey windows. Inside there are up to 30 full-time staff, a collection of trophies and, at reception, giant photos of the national teamwinning the 2012 Africa Cup of Nations as Blatter looks on.
Fifa also approved a National Technical Centre at a cost of nearly $400,000, with a second phase rubber-stamped three years later for a similar sum. The stated objective was "to provide a Camp House which has comfortable accommodation for the national teams, and teaching and meeting rooms". According to local journalists, the centre was also supposed to include a football pitch and swimming pool.
But when the Guardian visited the project this week it found four residential buildings containing 24 rudimentary rooms, some with broken locks, and a fifth housing a dining room and kitchen. Two cleaners sat in the grass beside washing lines, all within view of Zambia's new Chinese-built national stadium. The living conditions are so austere that they have been deemed unacceptable for the full national team, who prefer hotels, but are used by the under-23s, under-20s, under-17s, seniors and women's teams as well as visiting club sides. Simataa, now a 54-year-old banker, commented: "It's not really a technical centre, it's not being used for its purpose. It's a wasted asset. That's local, down to the present administration; Fifa has done its part. We have never really got a full report on the site. That's one of our dark sides: we don't have transparency."
The "centre" hardly seems worth the advertised total of $800,000. The principal local contractor for the project was Asesco, which Fifa paid in instalments of $347,826 and $347,743. Lombe Mulenga, a director of the company, recalled: "We constructed the pitch but not the pool as the pool was not included in the bills of quantities. Maybe the pitch was neglected by the users, hence grass has over grown."
He added: "We are in the construction business and our job was to construct according to the design given by the client. We are not professionals in football administration and hence would not know if it's a wasted asset or not. I think that question of use should be answered by the football administration body and other relevant stakeholders in the country's football system."
Asked if he felt funds had been misused, Mulenga replied: "We are not in a position to know as we were only paid for the works that we did and nothing more as records at Faz [Football Association of Zambia] and Fifa will show."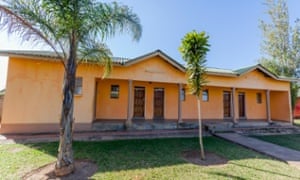 The final Goal project in Zambia was a technical centre in Kitwe in the Copperbelt province. It was approved five years ago with a budget of $400,000, yet still not a dollar has been spent. Football officials say the plan stalled when a new local council was elected and demanded a high price for the required 10 acres of land.
Julio Chiluba, head of administration and competitions at the Zambian FA, said: "It was the council's fault. They promised to give us land at a nominal cost but then changed their mind and started charging something that was not well. Fifa said: 'No, we can't spend money on the land.' I think Fifa was right."
The proposed site has now been switched to Luanshya, also in the Copperbelt, but there is another delay. "People grew some crops on the land," said Chiluba, 77. "It would have been bad for us to destroy the crops. So let them harvest the crops, then we will start."
Chiluba, a former foreign diplomat who has worked for the Zambian FA since 1994, has Fifa stickers on his office doors and believes the governing body has made a positive impact, "starting with Football House, which has made it easier for the association to employ more staff; before this we were renting a four-room suite in town and restrained in working space.
"All these projects we are talking about are Blatter-originated and we are grateful because it has made a lot of difference to football in Zambia and Africa generally. What we have here is duplicated in many projects in Africa: administrative blocks, technical centres, accommodation. They are very costly. We are very grateful to Fifa for the benefits we have reaped during his tenure of office."
Even as Chiluba spoke on Tuesday, more than a dozen plain-clothed officers were preparing to descend on the five-star Baur au Lac hotel in Zurich, where officials had gathered for Fifa's annual meeting, to make a string of arrests. Lynch said the accused had allegedly run a "rampant, systemic and deep-rooted" scheme to "acquire millions of dollars in bribes and kickbacks". But despite the unprecedented institutional crisis, Fifa insisted its leadership election will go ahead.
Blatter faces Prince Ali bin al-Hussein of Jordan after the withdrawal of the Dutch FA head, Michael van Praag, and the former Portugal international Luís Figo. Issa Hayatou, president of Caf, who is among 10 Fifa executive committee members to be questioned in Zurich, has declared the continent united in its support of the incumbent.
Kalusha Bwalya, a Caf executive committee member and president of the Zambian FA, said: "He's the only candidate we know who has been supporting football for a long time. He's done a lot of good things for Zambia in particular and Africa in general. He's a good man and the best candidate. I was sceptical about the people who came in because they didn't know what they wanted to do; maybe they were sent by other people. Sepp Blatter is trusted."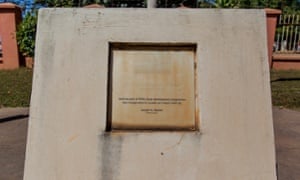 Blatter will always have a special place in history after 2010 when he became the first Fifa president to deliver the World Cup to Africa. Bwalya added: "I don't think if there was any other person at Fifa that South Africa would have won."
As the biggest of the six continental confederations, Africa is Blatter's primary power base. Its football association presidents regard Blatter as their own man, notes Kennedy Gondwe, a sports journalist, whereas they tend to feel used by rival candidates who don't know the terrain and treat the continent as an afterthought.
"Regardless what one wants to say about Sepp Blatter – love him or loathe him – there are things he's done in Africa that are quiet outstanding," Gondwe continued. "I think he knows that if you want to be Fifa president, you need the support of Africa.
"Thanks to the Fifa project, the FA of Zambia have their own office and don't need to pay rent: that saves a lot of money. What you are seeing in Zambia is the same as you will find in Lesotho. What you will find in Lesotho, you will also find in Malawi. No other president has brought the World Cup to Africa. You could say he did it for expediency, but he still did it."