Uganda: No reforms, no polls – opposition
By Albert Tumwiine, Posted  Friday, May 29  2015 , Daily Monitor (Uganda)
Organising elections before the current Electoral Commission is replaced with a truly independent body, is like having a player refereeing a game in which he is playing, Opposition politicians said yesterday.
In their new campaign, "Stop the Player-Referee", the Citizens Reforms Now pressure group led by former FDC leader Dr Kizza Besigye, Kampala Lord Mayor Erias Lukwago, and Jeema president Asuman Basalirwa called on Ugandans to stand up in defence of the Constitution to ensure a truly free and fair election. "We call upon all peace loving Ugandans not to allow, once again, a player and team captain to also be the referee as Mr Museveni is," Mr Lukwago said, adding: "A line has been drawn in the sand, this must stop."
Yesterday's appeal comes on the backdrop of an ongoing countrywide push by the Opposition to drum up support for their bid to ensure electoral reforms are in place before next year's elections. The countrywide campaigns already resulted in a 'Citizens' Compact' that proposes, among other things, establishment of an independent and impartial Electoral Commission not appointed by the President.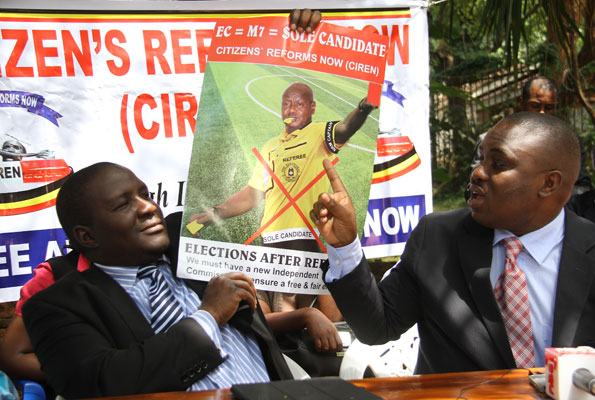 Government spokesperson Ofwono Opondo yesterday said if the Opposition finds it unfair to participate in an election organised by a President Museveni-appointed EC, "they should go and amend the Constitution to strip the President of executive powers during elections, including presiding over the economy and making appointments." "That power is not unique to Uganda, both the Prime Minister and President retain their executive powers throughout elections. Our Constitution is 20 years old and they have never brought such a proposal, have they just realised this?" he said.
At yesterday's briefing, CIREN also accused the commission of "illegally" creating new electoral boundaries. "This is being done by creating new counties and municipalities in the typical gerrymandering manner that prompted Mr Museveni to go to the bush (in 1980)," Mr Lukwago said. However, the EC spokesperson, Mr Jotham Taremwa, denied this. "We have not created any constituencies," he said. "What I know is that the Ministry of Local Government has proposed to have more counties. If Parliament approves them, then, we will adopt them."
Meanwhile, business came to a standstill when Dr Besigye went to Container Village, down-town Kampala, and a huge crowd gathered around him. Police ordered the politician to take another route but he objected. They then blocked his vehicle forcing him to abandon his vehicle in the middle of the road. Police fired teargas to disperse people who had gathered, cheering Dr Besigye, who was arrested and by press time he was recording a statement at Jinja Road Police Station. Police spokesperson Polly Namaye said the politician was trying to address a gathering without informing police.