Zimbabwe: Knives sharpen for Mnangagwa
TENDAI KAMHUNGIRA, DEPUTY CHIEF WRITER  •  28 MAY 2015, Daily News (Zimbabwe)
HARARE – The simmering war between Vice President Emmerson Mnangagwa and Zanu PF hawks who are referred to as the Gang of Four by their party detractors — and who have apparently enlisted the support of the other VP, Phelekezela Mphoko in their nasty fight with the party strongman — is escalating.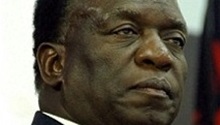 And lickspittle State media appear to be caught in the middle of the mega brawl, amid growing allegations by Mnangagwa's supporters that members of the Gang of Four are using government-controlled newspapers and State broadcaster, the ZBC, in this deadly ruckus at whose heart is the ugly fight to succeed President Robert Mugabe. But confusingly, sources close to the Gang of Four and their allies in the wider Generation 40 group — made up of ambitious party Young Turks — say in turn that it is in fact Mnangagwa and his supporters who are leaking sensitive information about the party and Mugabe to the media in a desperate bid to gain political advantage.
"That is utter nonsense (the allegations against Mnangagwa)," a top Zanu PF official widely believed to be close to the VP told the Daily News last night, adding that Wednesday's brutal attack in State media on another perceived Mnangagwa supporter and Federation of Non-Governmental Organisations (Fongo) leader Goodson Nguni "completely debunked such useless theories and rumours".
According to The Herald, Nguni allegedly leaked false information about last week's politburo discussions to a local daily, which claimed that Mugabe owed former Zanu PF Mashonaland East provincial chairman Ray Kaukonde a staggering $30 million. But Nguni vehemently denied doing so yesterday, in addition to distancing himself from having any association with Mnangagwa's camp ­— and preferring, instead, to be called "a Zanu PF member".
Speaking at a Press conference that he called in Harare, Nguni claimed that the damaging allegations that he had leaked politburo information to the Press was a creation of Information minister Jonathan Moyo — who is alleged to be a prominent member of the Gang of Four and G40, together with Water minister Saviour Kasukuwere and Mugabe's nephew Patrick Zhuwao.
But Moyo immediately rubbished the allegations, calling on authorities to investigate the politburo leaks and claims that had been made against Mugabe. Moyo slammed Nguni last night, asking that the serious claims about Mugabe owing Kaukonde money be investigated. "It has become fashionable if not sickening these days for anyone and everyone to blame Jonathan Moyo for anything and everything. It's just too much!  Except on Cabinet days I've been campaigning day in and day out in Tsholotsho for the by-election.
"I did not attend last Thursday's politburo meeting and so I've no idea what on earth Cde Goodson Nguni is wailing about save for what has been reported in the media. The allegation that Nguni is the second hand source to the criminal falsehood that President Mugabe owes Kaukonde $30m is very serious. "There's need to investigate it and bring to an end these malicious leaks whose damage to the Presidency, the party, government and country is self evident," Moyo said.
But Nguni insisted that it was Moyo who was out to tarnish him and some politburo members' image. "The story that was published in The Herald was written by and on instruction of Honourable Jonathan Moyo, who was hoping to snare another politburo member … the story was not written by The Herald," he said, adding that he could not have been a source for the story because he is not a politburo member. Nguni also accused Moyo of working towards the destruction of Zanu PF.
"I hope Zanu PF will understand that Jonathan Moyo once stated that he wants to destroy Zanu PF from within and he is co-ordinating with the public and private media to write negative stories about Zanu PF about the president, vice presidents, war veterans and all progressive Zanu PF members," he alleged. He also queried recent editorial appointments that had been made under Moyo's watch as line minister Moyo at State-owned newspapers.
"I hope Zanu PF will also look very closely at all his appointments at Zimpapers, I mean editorial appointments," he said. Asked why Moyo could be targeting him, Nguni said it was because he (Nguni) had been speaking loudly against the MDC, as well as the fact that he was about to launch a petition in the courts to oppose the application by The Herald's editor, Caesar Zvayi, to rid the Constitution of criminal defamation.
He further claimed that Moyo was behind Zvayi's court application challenging the criminal defamation law which has Mnangagwa's support. "I had an occasion to challenge Mr Caesar Zvayi because he is known to me as a good journalist and a patriot. I asked him why The Herald has taken the Vice President of Zimbabwe and the minister of Justice to court over criminal defamation.
"The editor of The Herald Mr Caesar Zvayi told me that Jonathan Moyo ordered him to sue the Minister of Justice in order to remove criminal defamation. He also told me that Jonathan Moyo was the author of all anti-Zanu PF, anti Zanu PF ministers, anti Zanu PF vice president stories that were being carried at Zimpapers," Nguni said.
This latest ruckus comes as Zanu PF is slowly disintegrating due to its worsening factional and succession fights that have seen the party split into two bitterly opposed formations and several other complex factions-within-factions following the ruthless purging of senior officials that include former Vice President Joice Mujuru and her allies on untested allegations of plotting to oust and kill Mugabe.
Amid all this, Mnangagwa has been touted by his supporters as the embattled nonagenarian's heir apparent and major beneficiary of the party's brutal purges following his appointment as vice president in December last year. But Moyo has dispelled such claims, pointing out that there is no such provision in both the national and Zanu PF constitutions that would allow Mnangagwa to automatically succeed Mugabe in the event of the nonagenarian vacating office for any reason.
Zhuwao has also gone on record to say that Mnangagwa's rise to the position of VP did not mean that he would automatically succeed Mugabe. Surprisingly, the alleged Gang of Four and members of the G40, who are now at loggerheads with Mnangagwa and his supporters, fought side by side with the VP's camp in decimating Mujuru and all her perceived allies that include former Presidential Affairs minister Didymus Mutasa, liberation struggle stalwart Rugare Gumbo and former war veterans leader Jabulani Sibanda.
However, tables have since turned within Zanu PF, with the disgruntled G40 apparently of the opinion that they were not rewarded adequately for masterminding Mujuru's demise. Higher Education minister Oppah Muchinguri — who was once seen as part of the Gang of Four — recently launched a stinging attack on the group claiming that they were over-ambitious and that they were preparing to dump Mugabe and Mnangagwa on account of their advanced age and "tired politics".
Nguni also said yesterday that Moyo had allegedly solicited for his recent interview with the BBC's HARDTalk presenter, Steven Sackur, in his alleged quest and mission to destroy Zanu PF. During the interview, Moyo said Mnangagwa was not appointed by Mugabe to succeed the president, but had been put in that position to assist the nonagenarian in implementing his government agenda in line with his pledges to the electorate.
Asked by Sackur why Zimbabwe was considering Mnangagwa to succeed Mugabe given his alleged ruthlessness against rivals, Moyo retorted: "This reference to him as the next president is really yours and a burden that you should unravel yourself and not state as a fact….. The president did not appoint him so that he could succeed him, but he appointed him so that he could assist him to implement the policy programme of government."