Ambassador Cui Tiankai's Interview with the Wall Street Journal on South China Sea
30 May 2015, People's Daily
On May 28, 2015, Ambassador Cui Tiankai had an interview with Mr. Adam Horvath,World Editor of the Wall Street Journal. The following is the excerpt of the transcript:
Adam Horvath: Ambassador, thanks for being here. As we are speaking, this week rhetorichas been heating up between the U.S. and China over a development in the South ChinaSea, what most countries call the Spratly Islands, with what China has been doing thereand the U.S. has responded to it. Can you tell me where you think this battle of words isgoing over and what is the right thing for each country to be doing in that region?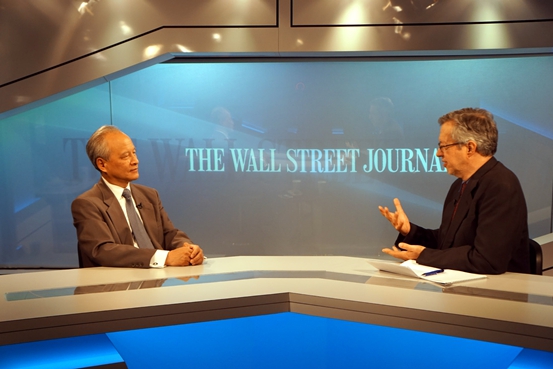 Ambassador Cui Tiankai: Well, first of all, it's really nice to be here and talk to you. It wasvery surprising to us that the U.S. has overreacted to the situation and is escalating thesituation. The U.S. sent military reconnaissance planes to the region with reporters onboard, which was clearly an attempt to provoke and escalate the situation. And the U.S. isalso making a lot of statements, making false accusation against China and taking sides inthe territorial disputes in the region. That will really make the situation in the region lessstable. So we are worried about such overreaction from the United States.
Horvath: Now the U.S. explains that they are responding to some moves by China that theU.S. feels provocative and other neighbors in the region feel provocative. One is to claimairspace over territory that is more than just the reefs themselves. Another is a concernabout, as you mentioned, some defense facilities, militarization of that area which is astrategically important line between China and several of its neighbors. Can youunderstand the idea of provocation that other countries are seeing on China's part?
Cui: I think the fact is we are more concerned than anybody else about the safety andfreedom of navigation in the region, because China is one of the major trading countries inthe world. We have such a huge volume of imports and exports going through the SouthChina Sea. So stability will very much serve our interest, and I believe it will serve theinterests of everybody else, unless someone has a different agenda. If somebody reallywants to see escalation of the tension in the region, then that could be made as excuses foradvancing their military deployment, for setting up cold-war type alliances there, andsetting up new missile defense system. If that is the real intention of somebody, theneverything else will fall into place. It's easier to see the logic. Otherwise I don't see the logicwhy they are making such statements.
Horvath: Well, I've seen this language about the idea of hidden agenda before in officialsfrom Chinese Foreign Ministry talking about the U.S. Does China really feels the U.S. istrying to use an excuse here to ramp up its military engagement in this region?
Cui: I think, as I said earlier, stability in the region would certainly serve the interest ofeveryone, China, the United States, and regional countries. But what the U.S. is doing hasgiven rise to a lot of questions in China. Why are they overreacting? Why are they reactinglike this? Why are they sending more and more military ships, airplanes for close-inreconnaissance activities so close to China? What is the real intention? Is there anyattempt to replay the Cold War in Asia? Because if the regional stability is disrupted, if thegood momentum of economic growth is weakened, if the good prospect of the regionaleconomic cooperation is diminished, everybody will be hurt. That is the consequence. Idon't know if people in Washing DC have ever given serious thought to such consequence.We are not talking about the Gulf of Mexico. We are not talking about the coast offCalifornia. We are not even talking about Hawaii. We are talking about the South ChinaSea, which is so close to China. If you don't have any hostile intention, why are you doingall this?
Horvath: Well, I think you know the answers because the U.S. has alliances with China'sneighbors that also have interest in that region.
Cui: That will imply that these alliances are anti-China in nature, if that is the explanation.
Horvath: Is it anti-China for the U.S. to have defense relationships with Australia, thePhilippines, and so forth?
Cui: Well, I think that's up to the U.S. government to give you a clarification. And I think itwill be most counterproductive and even stupid to have such a policy, such an anti-Chinapolicy and try to form military alliances that aim against China.
Horvath: Speaking of intention, can you say that China has no intent to site weapons orotherwise militarize these reefs?
Cui: Why should we do that?
Horvath: To set people at ease, I would say.
Cui: Most of the imports and exports of China will go through these sea lanes. So stabilityin the region is of paramount importance to us. But of course we have to defend thefacilities on these islands and reefs. So what we are doing is to provide or build up thenecessary facilities for self defense, not for attacking others.
Horvath: But why do you think the U.S. is seeking to ramp up tension in that region?
Cui: There is an interpretation of all this, although I'm not convinced yet and hope thisinterpretation will prove to be wrong. It goes like this: some people want to see tension oreven heightened tension in the region, so that there will be good reasons for them toadvocate for advancement of military deployment, setting up a new missile defensesystem, strengthening the military alliances there, and trying to make China a landlockedcountry, so there will be an "Asian NATO" and the Cold War will be replayed in the region.There is such a school of thought, although I'm not convinced by it.
Horvath: But that's the balance that China tries to strike, isn't it? To project the strengththat you want to do, to move without being constrained militarily, but not rattling yourneighbors to the extent where they will band together, ramp up their own approach andlook provocative to you in return?
Cui: I don't think all our neighbors…
Horvath: Some neighbors.
Cui: Yes, some of them. That's quite true. But you see, China's growing military strengthand maybe presence is driven not by some grand strategy, but by the growing economicand other needs, since China's economy is integrating into the global economy everclosely. I don't think people should see this as a kind of threat. We are responding to theeconomic needs. We are responding to growing international expectations. And we areready to fulfill our international obligations. This will open up a good opportunity forChina, the U.S. and others to cooperate with each other, because there are so many globalissues. I don't think any country can handle all these issues single-handedly. Not Chinacertainly, also not the United States. We have to work together on this.
Horvath: Thank you Ambassador for coming and speaking with us.
Cui: Thank you. I'm glad to be here.