Libya, land of last hopes: Where sub-Saharan refugees wait to risk everything to reach Europe
Kim Sengupta 

TRIPOLI, Friday 29 May 2015, The Independent (UK)
"We are meant to be citizens of the world. We do the jobs others will not do to feed our family," said Abdulahi Fateh, squatting under a hot sun on the dusty ground of the detention centre. "If they do not let us have even that chance, then send us back home and let us die with dignity."
A sudden, piercing scream came from the back of a white van, accompanied by fierce pounding on its locked door. A moment of silence was followed by loud, lingering sobs. "There's a woman in there: she suddenly started taking off her clothes and making that noise," said Colonel Nasser Hazm, the commander of Tripoli's Central Illegal Migrant Detention Unit.
"She is obviously mentally disturbed. They are sending me mad people now. What am I supposed to do?" he asked, waving his arms in exasperation. Col Hazm has processed 3,000 people of both sexes, from young babies to the elderly, over the past three months, but admits he is unable to stop the flow across the Mediterranean. "Just in the last three weeks, another 3,000 left from Libya to try to reach Europe. So many of them died," he said."I feel sorry for that woman. She is only about 25 and she is from Nigeria – that's all I know. These people have come all the way across the desert to get to the sea. So, sometimes when they get caught, something breaks in them."
The facility, with its courtyard surrounded by trucks with guns mounted on them, is just over 300 yards from the offices of Khalifa Al-Ghweil, the Prime Minister of the Libya Dawn government, which is based in the capital, Tripoli. He told The Independent this week that plans by the European Union to take military action to stem the flow of migrants would be met by force and repelled. The EU has consulted neither his administration, which claims to control 85 per cent of the country, nor its internationally recognised rival, based in Tobruk, about the controversial strategy.
The Libyan authorities face enough problems at the moment even without the prospect of Western intervention. There is a continuing civil war between supporters of the Tripoli and Tobruk governments. Isis has established strongholds, including at Sirte, the home city of the deposed dictator Muammar Gaddafi; and the oilfields, which are meant to be a source of income for the country, are being bitterly fought over by militias.
Libyan officials claim that despite all that, and even with their limited resources, they are doing their best to disrupt the traffic of migrants trying to reach Europe, while receiving precious little thanks in return. Their tiny coastguard fleet has intercepted smuggling boats and police have carried out operations in the Tripoli area, from where trafficking gangs dispatch some of their human cargo out to sea, sending the rest to be shipped out from ports in the north and west of the country.
In one raid last weekend, police arrested 590 people who had travelled from Mali, Niger, Chad and Sudan. But the gangs in the capital and its hinterland, with their links to militias, are well armed and prepared to defend their profits, opening fire with the weapons with which Libya has been awash since the Gaddafi regime's arsenals were looted.
Part of the deal in the West's past rapprochement with Colonel Gaddafi was that the Libyan leader clamped down on illegal immigration – and emigration to Europe. That check has now been removed.
"Definitely, it was much more difficult to go from here to Europe before the [civil] war," said Bashir Alagie, a 30-year-old detainee from Somalia. "But then you could work here in Tripoli without getting arrested, so many people from [sub-Saharan] Africa were glad to work and send money home." Now, he said, the economy was no longer so strong and illegal migrants were more likely to be arrested. "Maybe they are trying gain favours from Europeans by doing this," he said. "Now people want to get to Italy, and other places in Europe. What is there for me to go back to in Somalia? I have a family of 15 to support: where is there work in Somalia?
"But we cannot stay here; they treat us badly, they beat us regularly, and there are sick people here not being treated. So the choice we have is no future in Somalia, prison here, or taking a chance on the sea." Mr Alagie was at a detention centre in the shadow of Abu Salim prison, where more than 1,300 inmates were massacred in 1996. Colonel Gaddafi's former intelligence chief, Abdullah al-Senussi, accused of ordering the shooting, is now imprisoned there himself.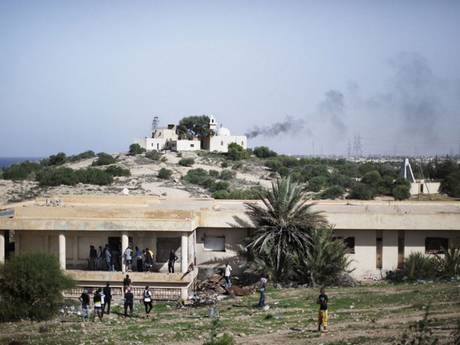 "We do not beat the migrants," insisted Mahmoud al-Saied, one of the guards at the detention centre. "You can see the prison walls from here. This is where Gaddafi's criminal regime tortured people; we are not like that." But surely there had been abuses in Libya since the revolution, by people who had suffered under the regime? "Yes, some people have short memories," he acknowledged reluctantly.
Faraj el-Gamishi, the deputy director, also denied deliberate mistreatment. " But we have 250 people here and it's true the facilities are not adequate," he said. "I haven't got a budget for these people; the government sends food through catering companies each day, and they get fed. But there's just one doctor who [only] comes once a week."
The inmates lay on blankets, row after row, in a large hall. A few had pulled up sheets to their faces. "I think I have malaria," said Amadou Bangura from Guinea, shivering. "Don't worry, it's not Ebola," he cackled and then began to wheeze. The Kalashnikov-carrying guards wore face masks.
Suleiman Aruna, from Niger, had fractured his leg trying to escape arrest. "Once this gets better, I'll try to get away from here and get to Europe, maybe Germany," he said. How would he find the smugglers? "They will surely find me," the 16-year-old said, as if seeking to reassure himself.
The complex modus operandi of the trafficking gangs was outlined by Col Hazm at the Tripoli unit. "We have evidence it's an international chain, with gangsters involved here and also Italy. The Libyan gangsters are clever about protecting themselves. When we interview the migrants we discover that they don't meet the Libyans: it's done through one headman of their own nationality. We did capture a senior Libyan guy the other day, but we had to fight hard – they had good guns."
What did Col Hazm think about the EU military plan? "It's bullshit. There's no point blowing up empty boats: they are cheap to replace. And if they kill refugees blowing up boats, what would the human rights groups, or even ordinary people, say? They want to carry out land operations in Libya? Well, good luck!"
Outside, a group of migrants who had eaten their lunch of rice and fish, were led back to their cells. Another batch shuffled out to take their place in the line for food. The woman in the back of the van continued to sob. "This is shaming – shaming for all politicians, especially the ones in rich Europe, to treat poor people like this," said Abdulahi Fateh, the man who wanted to be a citizen of the world.