'Mujuru can slay Zanu PF in 2018'
THELMA CHIKWANHA, POLITICAL EDITOR  •  29 MAY 2015 • Daily News (Zimbabwe)
HARARE – Analysts say the only way Zimbabwe could get out of its current political and socio-economic mess would be if the opposition formed a coalition ahead of the 2018 national elections, possibly with former Vice President Joice Mujuru as their presidential candidate, to take on the ruling Zanu PF which has been weakened by its deadly infighting. Even high-ranking members of the mainstream MDC who spoke to the Daily News yesterday warmed up to the idea of a coalition, although many of them still thought their leader, former Prime Minister Morgan Tsvangirai, had the best chance to give either President Robert Mugabe or whoever would lead Zanu PF then a run for their money.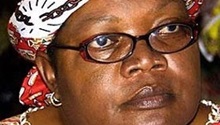 "As you know, President Tsvangirai has repeatedly spoken about the MDC big tent, so there is already appreciation within the movement (MDC) that a coalition of whatever nature is the way to go in 2018. It is also certainly better to be smeared with Gamatox, because it can be washed off than go solo and lose," a senior MDC official said. However, even as many observers are rooting for Mujuru to lead the mooted opposition coalition, the popular widow of the late liberation war icon, General Solomon Mujuru — who has been linked with a splinter Zanu PF formation that uses the slogan "People First" — has remained mum about her political motives since being brutally purged both from Mugabe's party and government on untested allegations of plotting to oust and kill the nonagenarian.
But analysts who spoke to the Daily News yesterday said virtually all social, economic and political constituencies outside Zanu PF were agreed that Mugabe and his party were undeniably behind Zimbabwe's myriad crises, and that, therefore, it was important that opposition parties combined their efforts to remove them from power. They also said that they had little doubt that a coalition of opposition forces would in itself give the country's comatose economy the necessary boost it needed, as witnessed during the five-year Government of National Unity between Zanu PF and the MDC.
Political analyst Takura Zhangazha said the framework of the coalition did not need to be a singular party, and could be an electoral coalition. "The big issues will be about who heads such a coalition in tandem with being the actual presidential candidate. The only challenge is that it might become a sharing of spoils before they become a reality," Zhangazha said. Another analyst, Jealous Mawarire, said the coalition should be centred around both Mujuru and Tsvangirai as the rest of the opposition leaders did not have a significant social base.
He said such a coalition would bring about the necessary changes that were desperately needed to turn Zimbabwe's fallen fortunes around, However, Mawarire called for "a sea change in attitude" for such an electoral pact to succeed. "Tsvangirai has a chance of resurrecting his political fortunes if he joins Mujuru. They must lead separate parties and join for the purposes of contesting the 2018 presidential election. They can field different MPs and then look at the candidate with the competitive advantage for the presidential candidate.
"Mujuru will be coming in as a first timer and she will also be coming in as the first female presidential candidate who has inside information on Zanu PF. That is something that is saleable to the electorate," Mawarire said. The Centre for Elections and Democracy in Southern Africa (CEDSA) said Tsvangirai had the competitive advantage over Mujuru in terms of a substantial social base.
The opposition leader, who controversially lost the presidential election to Mugabe in July 2013, managed to poll at least a million votes, which is about a fifth of the five million registered voters in Zimbabwe. Mujuru, on the other end, enjoyed considerable support from disaffected Zanu PF members who included nine axed provincial chairpersons and more than 100 Zanu PF MPs — although most of them were not willing to come out in the open and declare their support for her. All these command a huge following.
But other analysts said in view of her long association with Zanu PF, whose policies Mawarire described as consisting of "outright theft of resources," the electorate may not be willing to put their future in her hands. But Mawarire disagreed, saying the liberation struggle heroine was "a viable candidate".
"She will appeal to both in Zanu PF and in the MDC because she is considered to be a moderate and is not associated with the politics of vindictiveness," he said However, McDonald Lewanika, of the pro-democracy Crisis in Zimbabwe Coalition, said it was unlikely that Tsvangirai would allow Mujuru to lead a coalition. "Tsvangirai has an established support base, which can be calculated using perception surveys and more importantly previous performances in elections. Mujuru's support is perceived and a matter of conjecture.
"Whether Morgan Tsvangirai can allow Mujuru to lead a coalition depends on when this question is posed and the type of coalition at play. Is it a pre-electoral or electoral pact or coalition or is it a run-off based electoral pact or coalition? "If it is before an electoral contest, I doubt Tsvangirai would yield, but if it is post an electoral contest which is indecisive and Mujuru either leads or doesn't lead but is part of a set of three of four candidates who need to put their support together to defeat Zanu PF, perhaps then the possibilities of Tsvangirai yielding become higher," Lewanika said.
He added that Mujuru was still a significant political force with a lot of social capital in Zanu PF, Zimbabwe generally and internationally, although a lot would depend on how she decided to use this capital. "Mujuru is a beautiful political prospect who can choose to say 'I do not need a man to succeed politically in 2018'. She stands a fair chance of doing well for a first timer. But politics is not easy and familiarity and even popularity sometimes does not translate to votes, let alone State power.
"Her chances of significantly changing the political course of our country will depend on the amount of work that she puts in, the extent to which she organises, the timing of her availability to contest and her ability to convince those in the ruling party and those in opposition that she occupies the middle ground where the majority of the country is on issues," Lewanika said. However, a senior Zanu PF official who spoke to the Daily News on condition of anonymity said the coalition between Mujuru and Tsvangirai would never work because "the two have big egos" and for a coalition to work, there had to be one leader.
"Joice won't go into a coalition with the MDC. People First is strictly Zanu PF and can go it alone. Remember they have nine provincial chairpersons and 110 MPs. It is a movement that does not need MDC. They might attract the MDC," he said. And Mawarire, while acknowledging Tsvangirai's political capital on one hand, said he had the disadvantage of "a chequered history". However, he added, he doubted that the MDC leader would have a problem being Mujuru's deputy.
"There is no problem with making Tsvangirai vice president because it would be an elevation for him. "He has been prime minister before but to say Mujuru should be vice president again would not be appealing for her as she has held the position before.