Zimbabwe: Woman dies while dancing for Mphoko
BERNARD CHIKETO  •  29 MAY 2015, Daily News (Zimbabwe)
NYANGA – An exhausted female Zanu PF supporter collapsed and died while dancing to a Tocky Vibes song ahead of Vice President Phelekezela Mphoko's rally at Nyakomba Irrigation Scheme in Nyanga on Wednesday.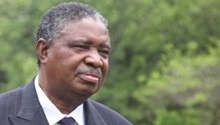 Venenzia Chitanda died at about 1300 hours, two hours before Mphoko's arrival for his familiarisation tour of the irrigation scheme. She had been dancing from morning, while waiting for Mphoko. She was rushed to Regina Coeli Mission Hospital and pronounced dead upon arrival. Mphoko later donated $500 to the deceased woman's family to assist with funeral expenses.
Over 5 000 Zanu PF supporters and local community members had been singing and dancing in anticipation of the vice president's arrival from 0900 hours. Witnesses said the woman was part of a group that was singing and dancing as they awaited arrival of the vice president. Rumbidzayi Nyambuya, a Regina Coeli High School student, also collapsed and was rushed to the same hospital.
Mphoko was said to be having lunch at Troutbeck Inn while the villagers waited for him. He later held a meeting at Nyanga Rural District Council's boardroom that ran up to noon while villagers waited. He only arrived at the venue at 1500 hours, six hours late.
Farmers utilising the vibrant Nyakombe Irrigation Scheme are being subcontracted by Better Agriculture to produce Mexican Tarbasco chilli, which is being exported to the US.