Indeed we are living in interesting times
By: Allan Brian Ssenyoga, 31 May 2015, New Times (Rwanda)
Anyone who suffers from the task of having to write a weekly column knows the pain of having to deal with extremes. There are days when your head is blank and a text or brief email from your editor reminding you that he/she has not seen your piece feels just like one from a creditor who knows where you stay and has those mean friends who could step on your knee caps just because they can.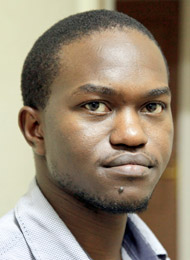 Then on other days you feel you have a variety of topics to pick on like a hungry fellow at a buffet with a rather flat plate. Today feels like a day at the buffet table. The aroma from the buffet is calling but also confusing. It actually feels like in the past week so much happened that everyone on a date at least had something to talk about and appeared intelligent or informed – I am sure you know the difference.
The people who manage global football saw the wheels coming off their car with arrests of senior officials in Zurich. By the time Sepp Blatter was winning a fifth term at FIFA, the talk was still about the bribery scandals.
At the African Development Bank change was the keyword as our own Dr Donald Kaberuka was replaced by Nigeria's outgoing Minister of Agriculture and Rural Development, Dr Akinwumi Adesina. This happened just a few days before President Goodluck Jonathan also handed over power to Gen. Muhammad Buhari who is expected to fix some of the country's glaring sores like Boko Haram and of course corruption.
Here in the region, the political temperature remains high and inviting. With Tanzania scheduled to have elections towards the end of the year, a lot is being said about the potential candidates for the top office. Some names have been flying around for a while like the 'new kids on the block' January Makamba and Zitto Kabwe as well as the older horses in Foreign Minister Bernard Membe and former Prime Minister Edward Lowasssa.
Then there is Charles Nyerere, a 56-year-old retired army officer and son of Tanzania's first leader Julius Nyerere is also keen to join the race on the Chama Cha Mapinduzi (CCM) ticket probably after picking a few lessons from Kenya's Uhuru Kenyatta.
In Kigali, the folks who man security at the parliament must have been nearly overwhelmed when the place hosted hundreds and hundreds of visitors from near and far all carrying petitions calling for the constitution to be changed to remove term limits for the office of the president. Their argument is simple; a winning captain should not leave at his prime.
Down south in Bujumbura, some of the answers to the questions I had in the previous week for President Pierre Nkurunziza started trickling in. I had wondered how he planned to pull off a costly election with donors closing their money taps and the collection of taxes severely impaired by the protests in some parts of the country.
The first answer was to be found on Facebook and crowd funding it would be. The government of Burundi is now inviting patriotic citizens to make contributions towards 'this noble principle.' An account number was posted on the government's official Facebook page. Many of us are already used to crowd funding for weddings and even funerals for friends.
But when I take a close look at events in Burundi, I am not sure if the coming election is more of a wedding or a funeral. Will this be something people are keen to fund? Can it really be sold as a national cause or it will still be seen merely as someone's ambitions?
The worrying news has not stopped flowing from the assassination of opposition leader, Zedi Feruzi, a growing death toll complete with pictures of policemen and army men shooting live rounds at protesters and cases of grenades going off and injuring others. We have also heard that the Catholic Church doesn't want to be part of an election riddled with shortcomings.
By the time of writing this, a second emergency meeting had been called by Tanzania's leader Jakaya Kikwete who also chairs the East African Community. EAC leaders together with the heads of state of Angola and South Africa were to meet in Dar es Salaam in efforts to pacify Burundi. Once again, the big question was whether President Nkurunziza would attend in person. The last time he did, he almost became just like me – 'mtu wa kawaida.'