Following her sharp questions for Zimbabwe's president, Adeola Fayehun is being hailed as part of a new generation of African journalists holding leaders to account. Daily Maverick reports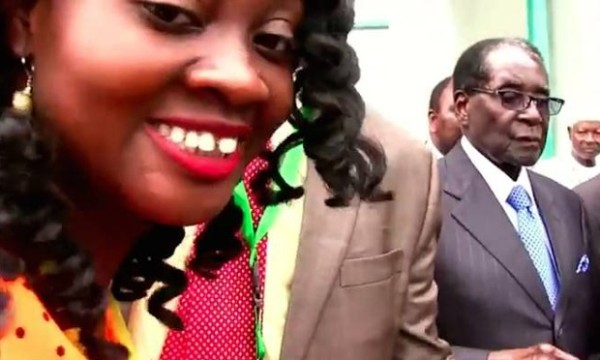 Adeola Fayehun's ambush of ageing Zimbabwean president Robert Mugabe has catapulted the queen of Nigerian satire, already a star in many countries in Africa, into the international spotlight. In a clip which has received 270,000 views on YouTube, Fayehun and her colleague Omoyele Sowore question Mugabe as he makes his way to and from new Nigerian president Muhammadu Buhari's inauguration on 29 May.
Sowore initially disarms Mugabe by asking: "Mr Mugabe, how are you?" Smiling uncomfortably, he replies: "I am well, thanks". "Well, you know they also want elections in your country, when is it happening next in your country?" Sowore asks. "In my country? Well, we had our elections…" He tapers off as an aide comes to his rescue.
After Buhari's speech, as Mugabe made his way back to the car Fayehun delivers the next barrage of questions. "Mr President, don't you think it is time to step down?" "Is there a time limit?" "How's your health?' "When will there be change in Zimbabwe?" "Is there democracy in Zimbabwe?"
She ends the clip looking for her next victim, asking: "Is [South African president] Jacob Zuma here?"
Keeping it real
While many Africans across the continent have been aware of the refreshing talents of Fayehun, who has presented around 150 episodes of her weekly satirical news show Keeping It Real since it launched on Sahara TV in November 2011, it took the daring ambush of Robert Mugabe for her to be noticed in internationally.
After the incident, The Telegraph's chief political correspondent Colin Freeman wrote: "compared the BBC's John Simpson or CNN's Christiane Amanpour, Adeola Fayehun from Nigeria is not exactly a global name in the world of television reporting. This week, though, she made broadcasting history as she did something that few African reporters have ever dared do: ask one their ageing dictators when the hell he is going to quit."
Nigerian-born Fayehun is based in New York, where she has teamed up with Sowore, who launched the website Sahara Reporters in 2006 to encourage citizen journalists to report on corruption and mismanagement in Nigeria. Fayehun's talents helped launch Sahara TV's hugely popular online comedy programme, the Dr Njakiri Damages Show. When Sowore later asked Fayehun if she was interested in hosting a news programme she jumped at the offer.
And Fayehun's style has proved popular: pithy, well-researched social commentary and news combined with sharp satire and a dollop of comedy. All the ingredients that have seen hits like The Daily Show and The Colbert Report in the US become the favoured mediums for the delivery of political information and entertainment.
Africa's own satire
On the African continent, shows like South Africa's e.TV Late Nite News with Loyiso Gola, Kenya's XYZ show, and Zanews's Puppet Nation show an appetite for satirical news programmes, but slow bandwidth, connectivity issues and expensive internet costs have also proved prohibitive in the circulation of online TV programmes.
The first episode of Keeping It Real went live in November 2011, scripted, edited and posted to YouTube by Fayehun. The episode – just over four minutes long – addressed the state of Nigeria's airports, how leaders of western countries seemed to age after taking office while Africa's leader appeared to look younger, and the price of petrol in Nigeria compared to the rest of Africa.
In its current form the TV show runs to around 26 minutes.
With around 77 million internet users, Nigeria offers the largest potential audience for young journalists who are challenging the way news is delivered to the continent. Not only do these journalists challenge traditional methods of news delivery but in so doing manage to circumvent potential government censorship or pressure. They represent a new generation of writers and citizen reporters who are unafraid to hold leaders to account.
Professor Jonathan Moyo, Zimbabwe's minister of information, media and broadcasting services wrote on Twitter after Sowore and Fayehun's confrontation with Mugabe claiming it was disrespectful and that they were "political activists masquerading as journalists".
"If Nigerian journalism has come to be this, then God help Nigeria since nobody has monopoly on such uncouth conduct!" Moyo tweeted. He later berated Nigerian authorities for allowing the ambush to occur saying: "That would not happen in Zimbabwe against any visiting head of state or gov not even Barrack Obama or David Cameron!"
Meanwhile a growing cohort of new fans is looking forward to Adeola Fayehun's next high profile ambush.