25 May 2015, HAN & Geeska Afrika
China is negotiating a military base in the strategic port of Djibouti, raising the prospect of US and Chinese bases in the tiny Horn of Africa nation — and the latest example of China exerting its military muscle. "There's a much larger story, and this is emblematic," said Alex Sullivan, an Asia-Pacific analyst at the Center for a New American Security. "China is becoming more active in international security affairs than at any time in the history of the People's Republic because they have an increasing global interest.
"Barring drastic unforeseen change in China itself, this is the new normal," Sullivan said. Djibouti is already home to Camp Lemonnier, the US military headquarters on the continent, used for covert, anti-terrorism and other operations in Yemen, Somalia and elsewhere across Africa. It is the only permanent US base on the continent. "Discussions are ongoing," President Ismail Omar Guelleh told Agence France-Presse in an interview in Djibouti, saying Beijing's presence would be "welcome."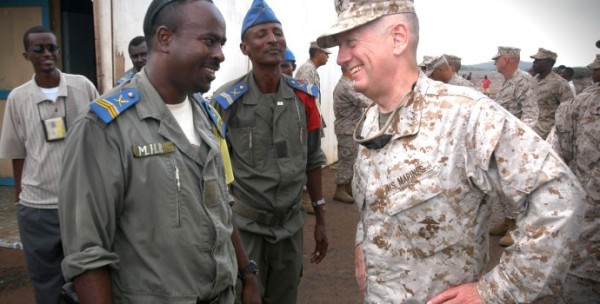 Guelleh's comments came in a week that saw a deal between Russia and China for procurement of the new S-400 air defense system and tensions between the US and China over Beijing's massive land reclamation efforts in the South China Sea. Yet the week also saw a rare visit by the command ship Blue Ridge, the flagship of the US Navy's 7th Fleet, to Zhanjiang, the base of China's South Sea Fleet.
As for Africa, China is already financing several major infrastructure projects estimated to total more than $9 billion, including improved ports, airports and railway lines to landlocked Ethiopia, for whom Djibouti is a lifeline port. France and Japan also have bases in the port, a former French colony that guards the entrance to the Red Sea and the Suez Canal, and which has been used by European and other international navies as a base in the fight against piracy from neighboring Somalia.
"France's presence is old, and the Americans found that the position of Djibouti could help in the fight against terrorism in the region," Guelleh said. "The Japanese want to protect themselves from piracy — and now the Chinese also want to protect their interests, and they are welcome," he said. The French foreign and defense ministries declined to comment.
Djibouti oversees the narrow Bab al-Mandeb strait, the channel separating Africa from the Arabian Peninsula and one of the busiest shipping lanes in the world, leading into the Red Sea and northward to the Mediterranean. A former US official at Camp Lemonnier said it is less likely China is interested in the base as an overt check on the US presence, than for Djibouti's strategic location. That includes its proximity to large, untapped natural resources in east Africa, which China has made multibillion-dollar investments to exploit. Piracy has become a non-issue and is also an unlikely motivator, he said.
"If you want to protect your investments, you need a navy and an advanced navy base to do it," the official said. "China's growing influence in Africa should be a concern to the United States, and the expanding Chinese Navy anywhere should be a concern." Djibouti and Beijing signed a military agreement allowing the Chinese Navy to use Djibouti port in February 2014, a move that angered Washington.
China aims to install a permanent military base in Obock, Djibouti's northern port city. That location would place the port across the Gulf of Tadjoura from Djibouti's main port, which is crowded with commercial vessels and used by the US. In recent years, Guelleh has increasingly turned to China as a key economic partner. Last year he switched the port operating contract to a Chinese company, after the previous Dubai-based operator was accused of corruption.
Sullivan noted that China has been able to conduct large-scale evacuations of its citizens from Libya in 2011 and, this year, from Yemen. A base from which China can protect its citizens in the Mideast is important as China sees such operations growing more likely in the future. Sullivan called China's move to build a permanent military base a natural follow-on to its anti-piracy activities in the area, conducted almost in parallel with coalition anti-piracy efforts over the past five years. Asian nations have historically been reticent to cooperate in international security missions, Sullivan said, and this is the exception.
Without a permanent base, China has taken advantage of limited port-access agreements. Sullivan speculated China would seek a modest facility to support rotational forces, but more robust than its port infrastructure improvement efforts. Regardless of whether the US has the ability to scuttle the deal, Sullivan said the US should view it as an opportunity for closer military-to-military cooperation.
"There will be future instances where China will be looking for more access and more presence, so it may have to be on a case-by-case basis, but for this potential agreement with Djibouti, the US should welcome it," Sullivan said. "We don't want an isolated China and where they're able to make a shared contribution to security challenges, we welcome them." The fear is that the US cannot be entirely sure of China's peaceful intentions, in spite of China's assurances.
"We are going to have to figure out how to mitigate these concerns because it's not something we can stop outright," Sullivan said. Spokesmen for the US State Department and the Pentagon declined to comment on the dialogue between China and Djibouti. "Talks are just talks," said Pentagon spokesman Col. Steve Warren.
A State Department official, speaking on background, said the US and Djibouti have a strong bilateral relationship based on shared interests that include combating violent extremism to bring peace and stability to East Africa and the Arabian Peninsula. The official called Djibouti "a critical partner in a complex and dynamic region, as seen most recently in Djibouti's important role assisting citizens from many countries fleeing the crisis in Yemen."   Agence France-Presse contributed to this report. E-mail: jgould@defensenews.com