Two terms only for African leaders, says Zuma
By Linda Ensor, 05 JUNE 2015, Business Day (South Africa)
THERE is growing consensus within Africa that its leaders should not serve more than two terms and that the days of coup d'etats are gone, President Jacob Zuma said on Thursday when opening the World Economic Forum. He stressed the importance for African countries to have programmes to incorporate young people into the economy and empower them to lead. Estimates are that 18-million jobs have to be created on the continent annually to absorb the young people entering the labour market.
Mr Zuma said the relations between Africa and the world have to change to become one between equals. The continent had harmonised its thinking about where it wanted to go. "We have a vision for the future," Mr Zuma told the gathering of business and government leaders from around the world.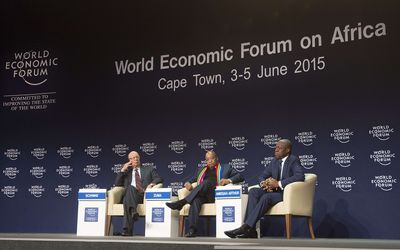 Ghana vice-president Kwesi Amissah-Arthur, who also answered questions during the plenary session of the forum, stressed the need for education and skills development if youth were to become employed. At a media briefing of the forum's joint chairpersons, Barclays group CEO Anthony Jenkins highlighted the risks to African growth, emphasising that for the continent to realise its potential growth was not something that could be taken for granted.
"There is a lot that can be done but it won't just happen. We all have to work together to create the conditions for Africa to experience and create its full potential." While sharing optimism about Africa's future, Mr Jenkins warned that the world was going through structurally lower economic growth that would mean every part of the globe would have to compete "vigorously and aggressively" to stake its place in the global economy.
He highlighted the importance of financial inclusion for fostering entrepreneurship and economic activity. Trade also needed to be promoted as a spur to economic growth. African Rainbow Minerals chairman Patrice Motsepe noted the difficulties African countries were experiencing as a result of the decline in commodity prices. In this context it was critically important that they remained globally competitive in terms of attracting both foreign and domestic investment to reduce poverty and create jobs.
Mr Motsepe said the production of oil and other commodities would continue to be a critical part of the continent's economic growth for many years to come. The right conditions for beneficiation had to be created, he said. United Nations under-secretary-general and executive director Phumzile Mlambo-Ngcuka emphasised the need for education and skills if African growth were to be led by industry. She said corruption in general and xenophobia in SA had to be addressed and there had to be prudent macro-and microfiscal and regulatory environments.
Unilever CEO Paul Polman said African growth could no longer rely on development aid because of economic difficulties in the US and Europe. It had to come from private investment. He highlighted the need to address infrastructure challenges and create enabling markets.
The benefits of commodity production needed to be harnessed to promote local functioning markets and the growth of the value-added manufacturing sector.