Righting past wrongs: South Carolina's 'evolution of conscience'
 By Patrick Jonsson, Staff writer. 6 June 
Decades after Jim Crow, one of the reddest states is making peace with – and for – its past.
ROCK HILL AND EDGEFIELD, S.C. — Kevin Brackett had a problem: How, exactly, would the state of South Carolina do right by nine men sentenced to hard labor on a chain gang in 1961 for trying to order lunch at a downtown diner?
Mr. Brackett, the solicitor for South Carolina's 16th Judicial Circuit Court, spent many hours pondering how to vacate the convictions of the so-called Friendship Nine, whose "Jail, No Bail" strategy was hailed as a new moral standard and a steppingstone toward school integration at the height of civil unrest in the 1960s South.
After all, their endeavors had become local legend; city leaders had in 2009 apologized to the eight surviving men; and visitors to Rock Hill looking for civil rights history are now greeted at the city limits with signs that say "No Room for Racism."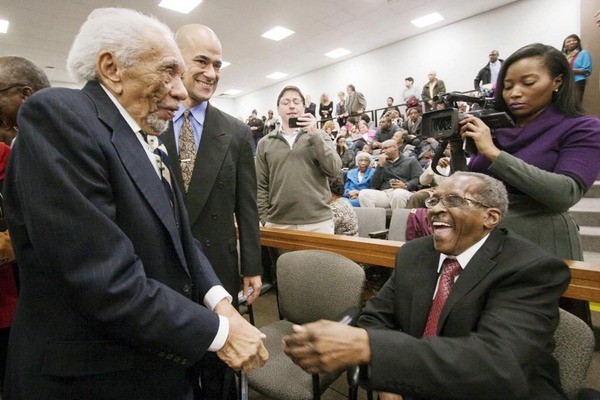 Yet the Friendship Nine charge sheet remained filed at the courthouse, a stain on history. A judge couldn't toss out official court records, and a pardon seemed inappropriate since it would imply that the men were seeking forgiveness for something – trying to order lunch – that was not a crime.
So on a late January day, Brackett, who is white, scheduled a court date in front of Circuit Judge John Hayes III, also white. There, the Southern prosecutor put seven of the black men, dressed in their Sunday finery, on trial again. A retired state Supreme Court justice, who had originally served as their defense attorney, asked for an acquittal. Brackett then offered a "heartfelt apology," saying the original charges were based on "values and beliefs that have since been deemed to violate the fundamental guarantees of the United States Constitution."
Judge Hayes immediately dismissed the charges and approved a request to vacate the original convictions.
"Now is the time to recognize that justice is not temporal, but is the same yesterday, today, and tomorrow," said Hayes, whose uncle originally convicted the men for trespassing in 1961.
"It's something I knew I had to do; I just wasn't sure how it could be done," Brackett says in his office at the Moss Justice Complex in York. "Those men weren't wrong. The law was wrong. [The process now] is about staking the claim on the good, and holding the line on what's bad."
Policy by policy, election by election, person by person, many South Carolinians have wandered into the past only to return aghast, aching to fix it. That reckoning is now leading to a new chapter, and new challenges, for the Palmetto State, especially as it confronts deep disparities in income and power. Brackett calls it an "evolution of conscience," but there is a conviction among certain South Carolinians that, to move forward, the state needs to confront its history and redress the wrongs of the past.
"There's a recognition that mistakes were made, and even though it's a long time after some of these atrocities happened, there's a commitment to doing what's right and recognizing that it's no longer acceptable to defend anything about the segregationist part of the South's past," says Gibbs Knotts, an expert on Southern politics at the College of Charleston.
As recently as the early 2000s, the state fought hard to keep the Confederate flag flying on the capitol grounds, but Brackett's quest for actual justice for the Friendship Nine isn't a one-off in this low-tax, low-income state of 4.8 million. That desire to correct the record has played out in a variety of ways, such as in 2004, when then-Gov. Mark Sanford signed a bill that ordered workers to carve the name of the late Sen. Strom Thurmond's biracial daughter into a state memorial erected to honor the former segregationist. In addition:
Last year, state Circuit Judge Carmen Mullen posthumously exonerated George Stinney Jr., a 14-year-old boy who was convicted of murder and quickly electrocuted in 1944, saying that she could think of "no greater injustice" than the due process violations, including the lack of any appeal, that she had found upon review of the case.
South Carolina sent the South's first black Republican since Reconstruction, Tim Scott, to the US Senate instead of Mr. Thurmond's son. And voters have twice elected an Indian-American governor, Nikki Haley.
In March, a police officer shot and killed an unarmed black man in North Charleston. When a video showed the officer shooting the fleeing man and apparently planting a weapon near his body, prosecutors took only hours to charge the officer with murder. While riots followed similar deaths in Ferguson, Mo., and Baltimore, Charleston remained, if anything, introspective.
To be sure, as Brackett says, such graces are partly to affirm, inwardly and outwardly, that Jim Crow happened in a "foreign country" that would be unrecognizable to contemporary dwellers of Rock Hill, the fourth largest city in the state. And Brackett is first to admit that "we still have a ways to go" when it comes to resolving bigotry.
Some redemptions are big, others small. The selection of former Lt. Gov. Glenn McConnell to head the prestigious College of Charleston last year was controversial, given that Mr. McConnell had appeared in a viral video wearing a Confederate general's uniform and posing with two African-Americans dressed as slaves.
Yet since taking over, McConnell has been ardent about promoting diversity at the oldest municipal college in the US, only 6 percent of whose students are black. As part of that effort, the school has committed to automatically admitting students from several largely African-American high schools that score in the top 10 percent of their class. It also offers workshops on "post-traumatic slave syndrome" and the "racial empathy gap," and McConnell has spearheaded a statewide math camp aimed primarily at potential African-American recruits.
One of the reddest of red states
A place where tradition can be a minefield, South Carolina remains one of the reddest of red states, a quasi-libertarian redoubt of hayfield cowboy churches, "rabbit spit" moonshine, and seas of muscular peach trees. Racing fuel is easy to find, but, strangely, barbecue shacks are not.
Led since its founding planter days by what historians call an "elite plutocracy," South Carolina in most ways avoided the violence of the 1960s by grudgingly accepting federal courts' dismantlement of Jim Crow.
In that era, the state's powerful whites, led by Gov. Fritz Hollings, in essence asked the citizenry to refrain from violence, which they for the most part did.
"South Carolina is a more gentle place than Gothic places like Mississippi. We never reacted with the same kind of violence" to the civil rights movement, says Alex Sanders, a former state appeals court judge. Mr. Hollings "was the paragon of virtue as far as South Carolina was concerned. He kept saying [in reference to court challenges to integration],'We've run out of courts. It's time to get on with it.' "
Of course, there are questions about whether South Carolina is really heading in the right direction, all these years later.
At a tea party conference at Myrtle Beach in March, one speaker bemoaned racialized politics while hailing the Rev. Martin Luther King Jr. for his call for Americans to look past color and instead measure each other by character. Meanwhile, the tea party group sponsoring the conference had to scrub several speakers who espoused racist ideas.
And in Johnston, Ellen Roberts, a retired black factory worker, says "people pretty much love each other," but that some racial tensions remain, particularly around employment. In South Carolina, 20 percent of black households make less than $10,000 a year, compared with 9 percent of white households. It's also true that South Carolina's black unemployment rate is the second lowest in the US. "[African-Americans] have more to prove, and we always have," she says. "Maybe we always will."
Despite such complexities, South Carolina has lurched toward a new, if sometimes troubled, understanding of Jim Crow. Mr. Sanders was one of the first to sense the shift.
A former state Circuit Court of Appeals head justice, he was attending Harvard University's Kennedy School of Government when he received a call in 2003 from Essie Mae Washington-Williams, Thurmond's illegitimate daughter. Then in her 70s, Ms. Washington-Williams said she wanted to acknowledge her heritage for her children. But she told Sanders that she was fearful of public reaction to her seeking legitimacy through the courts. (When she was born, Thurmond was in his early 20s, unmarried, and living at his parents' house in Edgefield. Carrie Butler, her mother, was his parents' 16-year-old maid.)
"She thought it would be horribly protested against her, but I told her, no, I thought it'd be well received, even by the family, and for once I got something right," says Sanders. "It was sort of a mood abroad in the land." The shift in mood has occurred as at least some of the state's most loudmouthed racists have begun to confront their legacy.
Elwin Wilson, for one, became part of the Friendship Nine story less because of his role in Rock Hill in 1961 as one of a group of violent segregationist thugs, but for his decision, in 2009, to seek forgiveness from the same men he had mocked and battered as they sought equality in the South. One of the men he hurt was John Lewis, a civil rights worker who became the iconic congressman from Georgia. In his autobiography, Mr. Lewis writes about the taste of blood in his mouth and the feel of boots in his ribs after encountering Mr. Wilson at a Rock Hill bus station.
Like former Gov. George Wallace before him, Wilson began apologizing, first to Lewis and other individuals, then whole church congregations. At a meeting with the Friendship Nine at the diner, Wilson cried. "I think it is a testament to how the world has changed and how hearts have changed," David Williamson, one of the Friendship Nine, told The Associated Press.
'Folks in common'
On the Saluda River one morning recently, a black woman fished for perch with a broken-tipped fishing rod. An older white man spoke to her and the two exchanged parting pleasantries. The woman explained: "I don't know that man, but he was real nice. When we started talking, we realized we had folks in common."
For outsiders, especially those not from rural South Carolina, it's sometimes hard to imagine the cross-racial ease between blacks and whites, which in some ways has made the tack toward reconciliation easier to hold. "Blacks and whites in the South, despite divisions on Sunday morning, interact with each other – particularly in rural communities – far more than folks outside the region realize," says Mr. Knotts. "There's commonality between black and white Southerners around culture. It's the food, the focus on family, and faith that brings them together in a lot of ways."
The stubborn poverty that affects large numbers of people in the seventh poorest state in the US also can be a unifying force.
"Black and white, we're all lining up at the store when chicken goes on sale for 99 cents a pound," says Martha Jones, a recent Northern transplant to Edgefield, a picturesque town where 10 South Carolina governors, as well as Thurmond, were born.
Perhaps surprisingly, political researchers in South Carolina found that the most conservative voters in the state were the most likely to vote for both white and minority statewide candidates in last year's election. The cross-racial conservative voters far outnumbered a thin sliver of whites who said they couldn't bring themselves to vote for a nonwhite person.
That said, most white voters in South Carolina are Republicans and nearly all black voters are Democrats.
That's in some ways a testament to enduring legacies of political demagoguery that started long before Richard Nixon's "Southern Strategy," which strategist Kevin Phillips admitted in 1970 was an appeal to "Negrophobe whites," and have long divided poor blacks and poor whites, rendering them, at least until now, unable to build a working-class-friendly political coalition.
"Race is still an issue," says Sanders, a point he punctuates with an anecdote about a neighbor in his old-money neighborhood in Charleston who once referred to President Obama as "your little colored boy."
"We still have the legacy of slavery that we suffer from to this very day. There's no doubt about that," he says. "Sure, it's got a more genteel form in South Carolina than in a place like Detroit, but race is still quite viable, and it's a sad thing."
Given that reality, the "evolving consciousness" of South Carolina's white population may yet be the state's greatest chance at achieving racial equality around issues ranging from policing to employment opportunity, from health to hope.
For their part, the members of the Friendship Nine have been more bemused than anything by the attention. Mr. Williamson has said that the group has long since forgiven the people who hurt them. It's really folks like Brackett, the white prosecutor in a city where bigotry once ran deep, who are seeking redress for them.
"We're slowly evolving, person by person, heart by heart," Brackett says.