Chinese counterfeits leave Ghanaian textiles hanging by a thread
 By Yepoka Yeebo, Contributor 31 
Traditional clothing makers in Ghana are turning to technology to fight popular Chinese counterfeits. But little of the manufactures left are local, or even Ghanaian-owned.
ACCRA, GHANA — As a tailor, Afia Addy is a connoisseur of wax-printed fabric.
"The Chinese ones, the colors are brighter," she says from her stall at a pop-up clothing boutique in the heart of Accra, Ghana's capital. She points to a cropped blazer in a brown and ochre wax print. "When you compare, Ghanaian ones look a bit dull."
Wax-printed fabric, a source of national pride that has come to represent African fashion worldwide, plays a vital role in weddings, funerals, and traditional events throughout Ghana. Any special occasion involves a trip to market to pick the fabric before taking it to a tailor, like Ms. Addy, to create a custom-made outfit. But over the past decade, the country's textile industry has collapsed.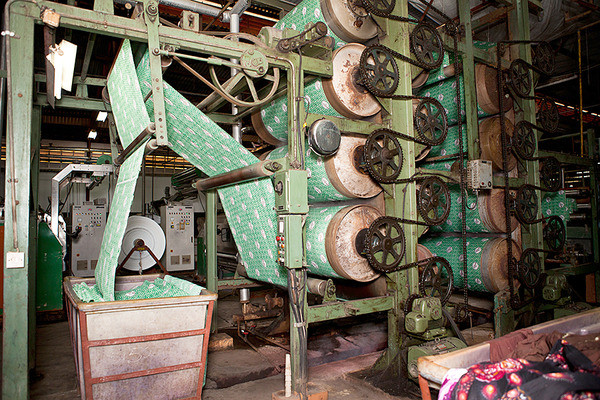 While there were once more than a dozen homegrown companies printing colorful fabrics, just a few remain. The industry, which until the 1990s employed 30,000 workers, now provides a mere 3,000 jobs, according to national data. The problem, textile manufacturers say, is counterfeit cloth made in massive quantities in China and smuggled into Ghana.
These "fakes" have been around for almost three decades, but they were visibly lower in quality until the 2000s. Then they began to exponentially improve — down to the labels used to confirm authenticity – so that they now make up about 60 percent of all textiles sold in Ghana, says Stephen Badu, marketing director of fabric company GTP, one of the few remaining homegrown manufacturers and a leading brands. Counterfeits can sell at half the price of an authentic product.
The government has responded with the Joint Anti-Piracy Task Force, which raids markets every few months and makes a public spectacle of burning bootlegged material. In January, the task force burned 3,500 pieces of fake cloth estimated to be worth tens of thousands of dollars. But manufacturers say this has done nothing to stem the tide of counterfeits flooding into markets.
Having decided to take matters into its own hands, GTP has partnered with a Ghanaian tech company, mPedigree. They are using the same technology that helped quash counterfeit medication in West Africa to help customers distinguish between counterfeit cloth and the real thing. It's part of a move to wrest control of a $150 million market – a tiny, but nationally significant part of Ghana's $48 billion GDP — that is on the verge of collapse because of growing imports from Europe and Asia.
The new anti-counterfeit effort is also about trying to claim some form of ownership of a national market that is majority owned by foreign companies. GTP is owned by Vlisco, a company founded in Holland that is now owned by a British private equity group. Akosombo Textiles, another leading Ghanaian manufacturer, is owned by the Hong Kong-based Cha Group.
"Ghana, two, three decades ago, was a prime producer of textile products across Africa, feeding quite a lot of markets," says Selorm Branttie, mPedigree's strategy director. "There was a whole value chain around it, the cotton farmers and the jobs it created for the designers. These things were a source of pride for the nation."
"It's a cultural identity that we hold so dearly."
"If it continues, we will not have a business"
Using mPedigree is easy for customers who want to know if they are buying a counterfeit. Since March, all GTP products have labels with a scratch-off panel that reveals a 12-digit code, says Mr. Branttie, mPedigree's strategy director. Customers text the code to a toll-free service, which responds almost instantly. If the fabric is fake, customers get a warning. They are hoping to soon expand to other manufacturers.
"Just like you have a fake Michael Kors or a fake Gucci or a fake Louis Vuitton, you're now seeing local fakes," says Branttie.
The forgeries are usually shipped from the South China trade hub of Guangzhou to less secure ports like Lomé in Togo. There, middlemen hire smugglers to carry fabric across the porous border with Ghana on foot, according to Nasir Ahmad Yartey of the Ministry of Trade and Industry, before delivering it to textile markets all over the country. "You'll be amazed by the quantity of these kinds of textiles coming in," says Mr. Yartey.
The ministry does not collect data on the industry outside of import and export numbers. Because most of the fakes are smuggled in, there are no exact numbers of how much counterfeiting takes place.
Will Ghanaians buy local?
The hope is that if given the option, customers like Addy, the tailor, will pick the national product over the cheaper counterfeit. "I would prefer Ghanaians go to the Chinese and find out what makes their colors so nice and do it," Addy says.
Unfortunately, none of the most popular manufacturers are actually owned by Ghanaians. Most of the homegrown companies have been sold off. Today, Printex is the only major locally-owned textile company. It is owned by a Lebanese family that has lived in Ghana for decades.
With 250 employees, Printex has survived largely because of the Ghanaian tradition of commissioning specially printed fabric for everything from funerals to casual Fridays, which makes up 70 percent of their sales, according to Vickie Remoe, a marketing consultant for Printex. "The custom orders keep us alive," she says.
Though she will not give numbers, Ms. Remoe admits that there has been a decline in sales as they compete with the counterfeit market. They try to limit the access counterfeiters have to their prints by releasing limited editions, and keeping images of their prints off the Internet, but Ms. Remoe says Chinese counterfeits are a fact of life now.
While the fake imports are bad for business, Remoe adds, they're good for consumers.
"They still have what they want, and now it's dirt cheap," she says. "Is it good for Printex? No. We can never compete with the Chinese."