Zambian police arrest musician for mocking president
LUSAKA, Mon 8 Jun 2015, Reuters
A popular Zambian singer was arrested on Monday after being accused by supporters of President Edgar Lungu of mocking the leader in a song that police said could provoke public clashes. Singing in a local language, musician Fumba Chama, also known as Pilato, mocks a man named Lungu who the lyrics say has no ideas but carries a suitcase full of bottles of whisky.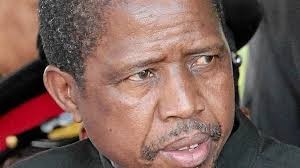 Lusaka police commanding officer Charity Katanga said the musician would appear in court on Tuesday and faced a penalty of up to six months in prison or a fine if convicted. "The song is a recipe for public disorder as the people playing it are being attacked by those who feel it is an insult on the presidency," Katanga told Reuters. "He has been charged with conduct likely to cause a breach of peace."
Lungu, a former lawyer, secured a narrow victory in January's presidential poll promising voters cheaper food and fuel. Following the release of the song in May, the ruling Patriotic Front party accused Chama of lacking respect for the presidency and demanded that he apologize. However, the musician insisted that he had done nothing wrong as he was merely exercising his freedom of expression.
"Our client is an artiste and enjoys freedom of expression and is ready to meet the state in court to defend his position," the musician's lawyer Marshal Muchende told reporters.