African conflicts set to dominate agenda at AU summit
 The upcoming AU summit in South Africa will likely see issues such as Boko Haram and the Burundi protests steal attention away from development talks.
The leaders of the 54 members states of the African Union (AU) will be meeting for their 25th ordinary summit just after the expected launch in Egypt on Wednesday of a Tripartite Free Trade area (TFTA) spanning 26 countries of Southern and Eastern Africa and creating a market of 625-million people with a gross domestic product of more than $1-trillion.
It will combine the free trade areas of the Southern African Development Community, the East African Community and the Common Market for Eastern and Southern Africa.
The creation of the TFTA – which is envisaged as a stepping stone to an Africa-wide free trade area by 2017 – comes on top of more than a decade of plus-five percent a year growth on average in African economies. It is on the agenda of this week's AU summit in South Africa where the theme is how to increase the empowerment and development of women.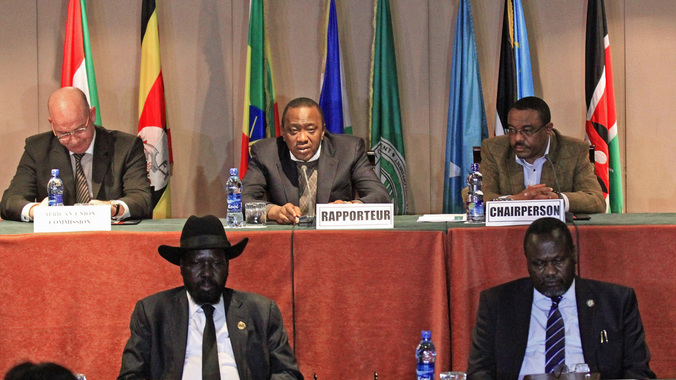 But persistent civil wars in South Sudan and Libya, ongoing terror threats posed by the jihadist extremist groups Boko Haram in West Africa and al-Shabab in east Africa, and the destabilising impact of a leader trying to cling to power in Burundi – and potentially other countries – could push such promising developments down the agenda as the Pretoria-based Institute for Security Studies (ISS) warned in its latest AU Peace and Security Council report.
In Burundi, President Pierre Nkurunziza has provoked violent streets protests and an aborted coup by insisting on running for a third term in office, against the apparent two-term limits of the constitution. Similar crises could be looming in both Congos, Rwanda and other countries.
Yet it is unclear how the AU will deal with this problem of "third-termism" as an official put it. South African President Jacob Zuma told the recent World Economic Forum (WEF) in Cape Town that Africa should resolve not to tolerate attempts by Africa's leaders to extend their terms in office but Minister of International Relations and Cooperation Maite Nkoana-Mashabane told journalists yesterday that the AU had no overall policy limiting leaders to two terms and would have to defer to national constitutions and wishes.
The civil war, which erupted in South Sudan in December 2013 with a split in the ruling SPLM and then led to wider political and ethnic violence is also on the agenda of the summit, as it was at the last summit. Analysts said a key question was whether the AU would agree to publish an explosive report which the AU itself commissioned into human rights abuses by both sides.
South African Deputy President Cyril Ramaphosa is involved in efforts to reconcile the warring SPLM leaders, President Salva Kiir and his former deputy Riek Machar.
Leaders will also discuss the chaos in Libya, which has dragged on since the longtime dictator Muammar Gaddafi was deposed and killed in 2011. The country now has two governments and the recognised one which will represent the country at the summit has been ousted from the capital by a rival government and is based in the eastern city of Tobruk.
The packed agenda will also include discussions on a plan to make the AU more self-sufficient and less dependent on foreign donors, in funding its own programmes; and also on adopting a formal African position on the Post-2015 development agenda to be agreed upon at the UN in September and in the UN climate conference in Paris in December.
South Africa stepped in to host the summit at the last minute after Chad was obliged to withdraw because of the Boko Haram threat. Since then the eruption of xenophobic – or "Afrophobic" – violence has embarrassed the host country. It has also placed a question mark over the full participation of the continent's leaders in the summit, with reports that some leaders whose nationals were victimised might stay away in protest.
But Nkoana-Mashabane dismissed these concerns, insisting that "there is no boycotting of the African Union summit in South Africa." She said the AU Commission had assured her that a majority of the leaders of AU's 54 member states would attend and all the governments would be represented at some level.
Nkoana-Mashabane said that Zuma had "led from the front in dealing with this so-called xenophobia," noting that he had been well-received since then by both Mozambique's new President Filipe Nyusi and Nigeria's new President Muhammadu Buhari.
However the ISS said that African leaders were sure to demand explanations from Zuma about what he was doing to prevent another outburst of violence.
He is likely to brief them about a revised immigration policy which an inter-ministerial commission is to present to cabinet next month, as Presidency Minister Jeff Radebe told the World Economic Forum (WEF ).