Mugabe was 'fast asleep': Nigerians
FUNGI KWARAMBA CHIEF WRITER  •  8 JUNE 2015, Daily News (Zimbabwe)
HARARE – The cheeky Nigerian journalists who recently embarrassed President Robert Mugabe when he attended the inauguration of that country's new leader, President Muhammadu Buhari, say the nonagenarian was "fast asleep" just before they accosted him so he looked confused.
In a hard-hitting posting on Facebook last week by Omoyele Sowore, the publisher of Sahara — the online news agency that promotes citizen journalism and reports mainly on corruption and human rights abuses on the continent, and which roasted Mugabe while he was in Abuja — the journalists appeared to rub salt in Mugabe's wounds.
"Africa is not some kind of a continent that has to be ruled by dinosaurs. We have a dynamic youth culture. We could only tolerate him for so long. "Can you imagine being born in Zimbabwe and living as long as we have lived and never seeing another president? "The moment Mugabe arrived to the inauguration, he fell asleep. He was confused when we first encountered him because he had just woken up," Sowore said.
The posting is likely to invite more venom from sensitive authorities in Harare who do not take kindly to criticism, no matter how mild and well-meant it is. Mugabe's acolytes went ballistic when the Sahara news crew accosted the long-ruling nonagenarian, going to the bizarre extent of rubbishing Nigeria's body politic and emerging democracy.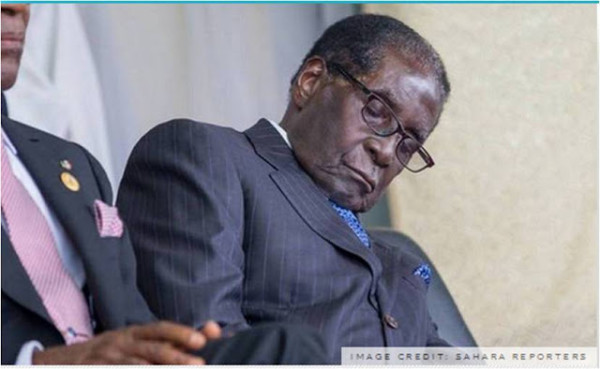 Mugabe's roasting in Abuja followed his humiliating jeering in Lusaka in January this year, leading to the inauguration of new Zambian leader Edgar Lungu. Analysts told the Daily News last week that while Mugabe had for a long time been seen as a hero in Africa, he now risked leaving office as a disgraced pariah as more and more people on the continent were becoming increasingly critical of him and his long, controversial tenure in office.
The day had started perfectly for Mugabe while in Nigeria, with seemingly starry-eyed journalists swarming around him as he arrived for Buhari's inauguration. And then things suddenly took a turn for the worse for the nonagenarian, as the circling journalists began to ask him difficult questions — including his long and disputed tenure in office, when he was going to retire and how he felt being in Abuja to witness a democratic passing of power there when there was no democracy in Zimbabwe.
A YouTube video of the incident by SaharaTV, which has so far been viewed by hundreds of thousands of people around the world, shows an angry Mugabe squirming under the barrage of questions and refusing to answer his tormentors, with one feisty female journalist — Adeola Fayehun — shouting loudly that, "there is no democracy in Zimbabwe".
In the video, Mugabe is seen arriving at the inauguration venue in his car and the seemingly indefatigable Fayehun asking the 91-year-old leader if he was happy to be in Nigeria. A beaming Mugabe responds, "I am very happy" before the reporter interjected, asking when Zimbabwe was going to hold its own democratic elections.
As Mugabe disembarks from his car, he says, "we have had our elections". The video then fast forwards and goes on to show Mugabe returning to his car after the ceremony, at which point Fayehun asks: "Mr President don't you think it's time to step down? Is there a (presidential terms) limit, Mr President?"
And the daring reporters from Sahara TV continued badgering him. "Don't you think it's time to step down sir?" one of them presses further. "When will there be change in Zimbabwe?" Zimbabwean intelligence boss, Happyton Bonyongwe, who is seen walking in front of Mugabe, pleads with one of the reporters to stop asking difficult questions, saying "Aiwa, no, no, no, no, not here".
However, Fayehun objects to the shoving taking place, protesting: "Don't push me, sir". She continues asking a quiet but miffed Mugabe: "Don't you think it's time to step down sir? Can you say something? Do you think it's time to step down? How is your health?" Another male reporter asks, "Is President Mugabe going to step down so that he can rest? When will there be change in Zimbabwe? Will there ever be change in Zimbabwe one day?"
At that moment, the other security detail pleads with the reporters to stop asking questions. "Pardon! Pardon! Mirai, mirai (stop, stop)," says the overwhelmed and confused security aide. Fayehun then says bemusedly: "I don't have any idea what he is saying".
"Is President Mugabe going to step down? When will there be change in Zimbabwe. Will there be a change in Zimbabwe just like we are having in Nigeria? Will you step down?" she continues with her questions. "Is there democracy in Zimbabwe? It's very, very sad. It's about time to step down, it's enough. Thirty something years and you came here to witness democracy. We want to come to Zimbabwe for inauguration as well. Invite us next time. We want to see democracy in Zimbabwe."
An apparently peeved Mugabe tries to respond, but his aides tell him to get into the car and the reporters continue grilling Mugabe. "There is no democracy in Zimbabwe. We can't be changing in Nigeria alone. He is very old. Can someone be in power for 200 years," Fayehun concludes.
The incident came after Zambians mounted a demonstration against Mugabe after the nonagenarian flew to Lusaka in late January for the inauguration of the country's new president, Lungu, who enjoys a close relationship with Mugabe and who belongs to the late Michael Sata's Patriotic Front ruling party.
What appeared to have irked the opposition in Zambia was that Mugabe flew to Lusaka even before the results of the tightly-contested polls had been announced, prompting fears that Lungu — who controversially came to see Mugabe in Harare late last year ahead of the election — may have worked with Zanu PF to rig the ballot.
As a result, hundreds of angry demonstrators — mostly supporters of the main opposition candidate, Hakainde Hichilema, of the United Party for National Development — repeatedly and animatedly chanted "Mugabe must go" slogans.
The two incidents offer rare cases of Mugabe being decampaigned on the continent at such large and public gatherings, as until now he has been relatively popular with youths across most of Africa for his strong pan-African rhetoric.
Just as has happened in the Nigeria incident, videos of the protests in Zambia were also posted on YouTube and have similarly been accessed by hundreds of thousands of people.
Analysts have said that the robust interrogation of Mugabe by the Nigerian journalists was not a major surprise after the nonagenarian caused a diplomatic crisis last year when he ill-advisedly called Nigeria a corrupt nation.
Maxwell Saungweme said: "If your neighbours, even very distant ones, tell you that you are now a bad father, it means your misdeeds are so conspicuous even for the blind to see.
"It's sad to have the head of AU being humiliated like that. The fact that he continues to grace occasions where other African leaders are handing over power yet he is hanging on shows that he and his advisors are out of touch".
Gladys Hlatywayo, a civil rights activist and political analyst, said the Nigerian incident showed that fellow Africans no longer expected the 91-year-old leader to be running the affairs of Zimbabwe.
"From what happened in Nigeria, the writing is on the wall," she said. "Fellow Africans do not expect President Mugabe to continue in the driving seat. They expect him to rest. It seems the journalists in question were shocked to see him at an event that celebrated democracy when he epitomises authoritarian rule."