Uganda set for Africa's largest privately owned solar plant
BY MATT SMITH, 09 JUNE 2015, Business Day (South Africa)
DUBAI — Access Infra Africa, a Dubai-based company, will launch what it says will be Africa's largest privately owned solar plant in Uganda this year, part of plans to develop electricity projects in 17 African countries, mainly based on renewable energy.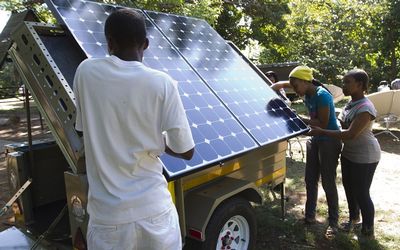 The company will spend $500m in the next three years on power generation plants, including in Egypt, Ghana, Uganda, Tanzania, Kenya and Mozambique, Reda el-Chaar, executive chairman of Access Power MEA, the majority owner of Access Infra Africa, said on Tuesday. "Solar power is no longer an exotic power solution, it's becoming a real contender in any (power) generation mix," Mr Chaar said.
"As far as power technology is concerned, solar power has made the biggest leap in the cost efficiencies in recent years." About 620-million people in sub-Saharan Africa, two thirds of the population, lack access to electricity, an International Energy Agency (IEA) report estimated last October, predicting its energy demands would increase by 80% by 2040. The region's power generation capacity will quadruple, the IEA forecast, with renewable energy accounting for about 45%.
Mr Chaar said that by 2018, the company's portfolio would generate nearly 1GW of electricity, about enough energy for 700,000 homes. In Uganda, Access Infra Africa's 10MW solar and wind power station will start generating electricity later this year, the first of its plants to become operational. "This will be the largest privately owned solar power plant in Africa," Mr Chaar said.
Two institutions, FMO, the Netherlands' development bank, and London-based Emerging Africa Infrastructure Fund, provided debt funding for 70%-80% of the project's costs, with Access Infra Africa committing the remainder in equity. French energy group EREN Développement has a shareholding in Access Infra Africa. Access Infra Africa will own and operate the plant for 20 years, selling power to Uganda's national grid, while capacity may be increased to 40MW, Mr Chaar said.
In 2016, Access will also launch a 50MW solar and heavy fuel oil hybrid plant in Benin and a 200MW solar and wind plant in Egypt. "We hope to become profitable in next three years, our target is to deploy $500m of investments into a variety of assets," Mr Chaar said.
"We would like more than three-quarters of our portfolio in monetary value being renewables. The vision is for Access Power to become a developer, owner and operator of power assets and to become a pan-African private utility," Mr Chaar said.