Israel and Saudi Arabia: The new frenemies
June 13th 2015, The Economist (UK)
Shared interests have brought Israel and the Arab world closer, for now
A CARTOON in one Saudi newspaper shows an Iranian official juggling four countries in which Tehran has increasing influence: Syria, Iraq, Yemen and Lebanon. Another shows him sporting a suicide belt composed of Islamic State (IS) militants. These days caricatures of "the Persians" are more common than those pillorying "the Jews" or Israel, the Arab world's long-standing nemesis.
So eyebrows lifted less than might have been expected when on June 4th Saudi Arabia and Israel admitted at a conference in America that they have held a series of meetings. Their improving ties are a manifestation of shared strategic interests, says Ilan Mizrahi, a former head of Israel's National Security Council. "Like us, the Saudis are worried about Iran, IS and the fear that America is no longer so committed."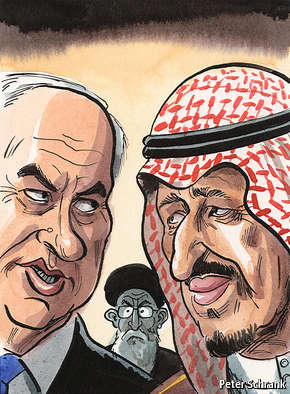 It is not the first time Saudi Arabia has talked to Israel. In the 1960s, under Britain's aegis, Saudi Arabia and Israel armed Yemen's royalists to give Egyptian president Gamal Abdel Nasser's expeditionary force a drubbing. Israeli old-timers recall clandestine invitations in the 1980s to the ranch of Prince Bandar bin Sultan, Saudi Arabia's then-ambassador to America. Officials have talked openly at peace conferences.
But the tumult of the Arab spring and Barack Obama's deal-making with Iran have changed the backdrop for America's two closest allies in the region. Elsewhere too, the notions of Israel as the Arab world's main enemy, and of Arab states as champions of the Palestinians, have been wearing thin. For all Bashar Assad's talk of resistance to Israel, the common border has been quiet for four decades, while the regime has destroyed Yarmouk, a Palestinian camp in Damascus. Egypt's President Abdel-Fattah al-Sisi, who came to power two years ago, says he talks to Binyamin Netanyahu, Israel's prime minister, "a lot". During Israel's war in Gaza in 2014 he sealed his side of the border and outlawed Hamas, the Palestinian Islamist movement. Today everyone is buying Israeli drones, says Yossi Alpher, a former Israeli intelligence officer. Even popular opinion in the Arab world may, in some quarters, be changing. A recent poll by an Israeli organisation found that only 18% of Saudis see Israel as their principal enemy, compared with 22% who said IS and 53% Iran.
Yet the overtures are unlikely to translate into the sort of relations Israel had with pre-revolutionary Iran, when thousands of Israelis, including Mossad agents, lived comfortably in Tehran. Shuttered Israeli representative offices in Muscat and Abu Dhabi show no sign of reopening.
In truth, Mr Netanyahu is keener on the idea of friendship with the Arab states than they are. It helps him that they are delivering the same message in Washington and Europe, where he cuts an increasingly isolated figure. It is noticeable that Israel's interlocutor, Dore Gold, the incoming director-general of the foreign ministry, is far closer to power than his Saudi counterpart.
And even if support for the Palestinians is lip service, few Arab leaders are ready to sell them out in public. "There will be another war in Gaza and this will put everything back," says Bruce Riedel of the Brookings Institution, a think-tank. The day is still far off when anti-Israeli and anti-Semitic cartoons disappear altogether from Arab papers.