Migration, Burundi expected to dominate African Union summit
FRIDAY, 12 JUNE 2015, Daily Nation (Kenya)
JOHANNESBURG, SOUTH AFRICA – Leaders gather in Johannesburg on Sunday for the African Union summit, with the global migration crisis, xenophobia and turmoil in Burundi expected to dominate an event that often avoids confronting thorny issues. The continent's heads of state will meet for two days in the upmarket business and retail district of Sandton under the official theme of the "Year of Women's Empowerment and Development".
But the focus is likely to be on events overtaking the continent, including violence in Burundi over President Pierre Nkurunziza's bid for a third term in office and the threat posed by Islamist militants. "The situation in Burundi is still unresolved… and Nigeria, which is supposed to be an important player, still has challenges around Boko Haram," said Tjiurimo Hengari, research fellow at the South African Institute of International Affairs.
"I see the next two years being very challenging, especially in light of a new threat that is emerging on the horizon — the issue of constitutional revisions to allow sitting heads of state third terms and fourth terms." The summit in South Africa's economic capital comes two months after a wave of xenophobic violence swept parts of Johannesburg and Durban as African immigrants were hunted down and attacked by gangs.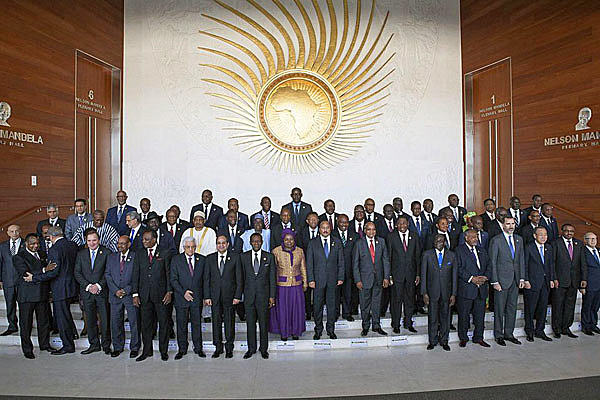 At least seven people died in the unrest, which badly strained relations between South Africa and many countries in the region that were outraged at the targeting of their citizens. In what African Union analyst Liesl Louw-Vaudran said was an unusual move, the subject of xenophobia will be tackled in a closed session before the opening ceremony on Sunday morning. The session will also discuss migration — and will likely focus on the flood of African and Middle Eastern migrants trying to cross the Mediterranean.
Mass drownings have claimed nearly 1,800 lives so far this year, according to the International Organisation for Migration (IOM).
"This is very interesting that they've planned a closed session on these very sensitive issues," Louw-Vaudran said. "South Africa is conscious of the impact of xenophobia and that there's a certain amount of damage control that will have to be done." At a briefing ahead of the summit, Foreign Minister Maite Nkoane-Mashabane was at pains to emphasise South Africa's unity with its neighbours after the furore over the attacks on migrant workers.
"Our future is inherently linked to that of the rest of the continent. We are a member of the African family of nations, the AU, and we are fully committed to the success of the institution," she said. The 54-member union, which is largely funded by international donors such as China and the United States, will also be questioning how to cover its own finances — a cause that AU Commission Chairman Nkosazana Dlamini-Zuma has championed.
"Without the AU being funded by its own member states, the independence and the credibility of the whole institution can (always) be questioned," Louw-Vaudran said. The summit, which comes only five months after the last gathering of AU heads of state in Addis Ababa in January, risks achieving little, said Gilbert Khadiagala, head of the international relations department at the University of the Witwatersrand.
"A lot of issues are put on the agenda just to make broad statements, to say that Africa is concerned about the migration crisis, for example," he said. Substantive discussions between leaders are rare, he said, as they instead prefer to tip-toe around issues to avoid creating friction. Any discussions on Mr Nkurunziza's third-term ambitions in Burundi, for example, will have to politely ignore the fact that current AU chair Robert Mugabe has ruled Zimbabwe since 1980.
"There needs to be an honest debate about why Africa's struggle is always two steps forwards, three steps back," Khadiagala said. Mr Nkurunziza's attendance has not yet been confirmed, officials said.
Mr Mugabe and South African President Jacob Zuma are among the speakers scheduled for Sunday.