Museveni social media critic sent to Luzira
By Anthony Weska & Ephraim Kasozi, Friday, June 12  2015, Daily Monitor (Uganda)
Kampala – After spending three days in police custody, Robert Shaka, the alleged critic of President Museveni on social media, was last evening arraigned before Buganda Road Court and charged before being sent to Luzira prison.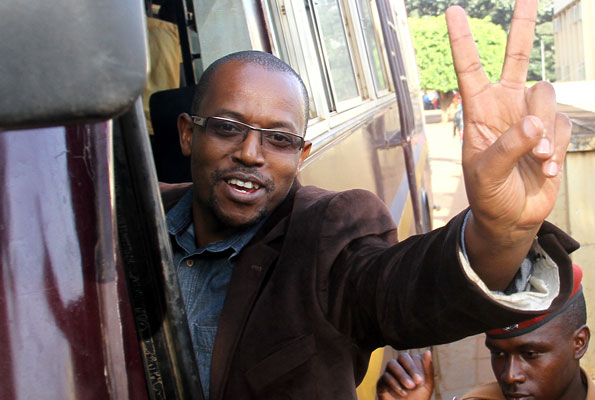 Mr Shaka, an IT specialist, was charged with offensive communication contrary to Section 25 of Computer Misuse Act, which he denied. He was accordingly remanded to Luzira by Chief Magistrate Lillian Bucyana until Monday when he will reappear to apply for bail.
According to the charge sheet, the State alleges that Mr Shaka, who disguised as Tom Voltaire Okwalinga, between 2011 and 2015, in Kampala, willfully and repeatedly using a computer with no purpose of legitimate communication, disturbed the right to privacy of the President by posting statements regarding his health condition on Facebook.
The charge came hours after Nakawa court had ordered the police to unconditionally release him for being held beyond the 48 constitutional hour rule before being formally charged in court.
The accused had been held at Kireka's Special Investigations Unit (SIU) since Monday.
Mr Shaka had through his lawyers, filed the Nakawa court application against the Attorney General jointly with the Inspector General of Police, Gen Kale Kayihura and the SID commandant, Mr Mark Ondong.
But in a rush, the police, instead of releasing him as directed by the Nakawa court, took him to court and he was formally charged.