Actress Angelina Jolie, who is a special envoy for the United Nations' refugee agency, attended a forum at the African Union (AU) summit in South Africa on Friday where she discussed rape as a weapon of warfare and urged support for women's rights.
Jolie had been invited to speak about the issue of women and conflict on a panel that included African Union Commission Chairwoman Nkosazana Dlamini-Zuma, former British Foreign Secretary William Hague and other prominent delegates. "Progress is slow, it is uneven, it is fragile and in some parts of the world it is being erased," Jolie said in Johannesburg.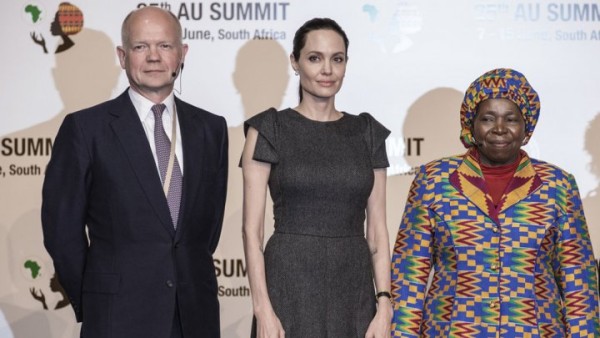 "Think what it would mean if the 54 nations of the African Union press as one toward full rights and opportunities for women, not just for this great continent but for the world," she said. As co-founders of the Preventing Sexual Violence Initiative, Jolie and Hague met with South African rights groups on Thursday to discuss strategies to prevent sexual violence.
Jolie made her plea before African leaders meet at the summit on Sunday. Although this year's theme is the "Year of Women's Empowerment and Development", heads of state are expected to discuss a range of issues including security, immigration, xenophobia and the recent political crisis in Burundi. "The situation in Burundi is still unresolved… and Nigeria, which is supposed to be an important player, still has challenges around Boko Haram," said Tjiurimo Hengari, a research fellow at the South African Institute of International Affairs.
The summit also comes two months after a wave of xenophobic violence swept parts of Johannesburg and Durban as African immigrants were hunted down and attacked by gangs. At least seven people were killed in the unrest, which badly strained relations between South Africa and many countries in the region that were outraged at the targeting of their citizens. In what African Union analyst Liesl Louw-Vaudran said was an unusual move, the subject of xenophobia will be tackled in a closed session before the opening ceremony on Sunday morning.
The session will also discuss immigration – and will likely focus on the flood of African and Middle Eastern migrants trying to cross the Mediterranean. Mass drownings have claimed nearly 1,800 lives so far this year, according to the International Organization for Migration (IOM).