Surge in support for rightwing party emboldens Northern League's Luca Zaia as humanitarian crisis creates political upheaval
After breezily winning re-election earlier this month as governor of the northern Italian region of Veneto, Luca Zaia, a star of the surging anti-immigrant Northern League party, wasted little time showing voters that he had heard and understood their demands.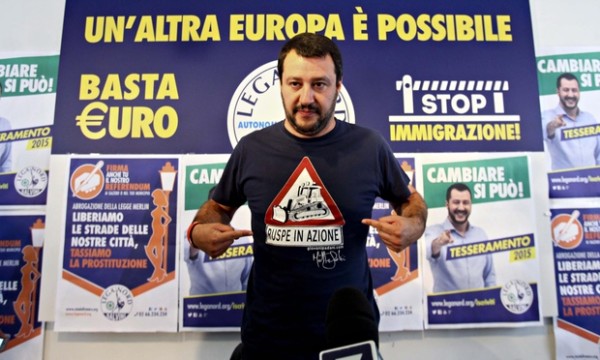 Claiming that the sight of African migrants would have a "devastating effect" on the tourism industry, Zaia called on Friday for local officials across his region to begin clearing all reception centres and other housing occupied by migrants near tourist areas. His decision reflected the dismay that had been expressed to him in "every way and in every place", Zaia claimed, adding that all further placements should be halted.
This was the latest salvo in an escalating standoff between Zaia – and other rightwing governors in Liguria and Lombardy – and the government in Rome, where a fight has broken out over a plan by the centrist prime minister, Matteo Renzi, to distribute tens of thousands of African migrants and refugees acrossItaly.
Renzi's proposal – which called on Veneto and other northern Italian regions to accept 7,500 migrants – was unveiled the day after the Northern League made significant gains in regional elections. "The immigrant bomb is coming," read one headline in Il Giornale, the rightwing newspaper, which claimed that the proposal was revenge by Renzi after his "electoral thumping". Zaia and other rightwing governors responded to the proposal with a resounding "No".
Italy has been praised for its role in saving refugees and migrants amid the debate across Europe over how to handle the humanitarian crisis. But the issue has created political upheaval, where it has helped to propel the Northern League – which was considered a fringe and even wacky extremist party only a few years ago – into the big league.
The Lega Nord, as it is known in Italy, now also holds the governing seat in Lombardy, which is next door to Veneto. A League-backed candidate from Silvio Berlusconi's Forza Italia won the bellwether race in Liguria, and the League even won 20% of the vote in the leftwing bastion of Tuscany in regional elections on 31 May, much to the dismay of Renzi, who was the mayor of Florence before he became prime minister.
At a conference on Friday, the prime minister took a verbal shot at one of his big critics, the Lombardy governor Roberto Maroni, who was sitting next to him. "It's no good thinking that globalisation is a justification to close in on yourself," he said. "There are lots of people in the world today who bark at the moon, live off fear and think that the only way is to lock yourself in at home."
In Veneto, a region which was traditionally the stronghold of the centre-right Christian Democrats but has tilted to the right in recent years, allies of Zaia portray the governor as a moderate force within the Northern League who stands apart from the bombastic leader of the party, Matteo Salvini. They insist that votes for the League do not represent a call for radical policies hostile to immigrants or the euro, which Salvini has also railed against.
"The Lega of Veneto is the Lega of Zaia. The votes are for Zaia. Yes, he is Lega, but he is a man of the government, who knows our people and is bringing a positive change. He is not an extremist," says Luigi Brugnaro, a businessman and candidate for mayor of Venice who is facing a runoff election on Sunday .
In Mestre, a mainland suburb of Venice, locals asked about Zaia point out – first and foremost – that he is not a crook, which is welcome news after a spate of corruption scandals in the region over the years. "He's not stealing," said one woman stepping out of a tram.
But Zaia's rise in politics has included episodes that reveal his opposition to things deemed "too foreign" for Italy. As minister of agriculture in the government of Berlusconi, the former conservative prime minister, he defended authorities in Lucca and Milan when they began cracking down on restaurants that served non-Italian food, saying ethnic restaurants that served kebabs, sushi and Chinese food should "stop importing container loads of meat and fish from who knows where" and use only Italian ingredients.
He denied ever having eaten a kebab – or even a pineapple – because they were not Italian. Zaia did, however, endorse McDonald's McItaly burger, a move thatthe Guardian's food writer criticised at the time as a "monstrous act of national betrayal". Zaia responded tartly: "With regret we are forced to deliver bad news to this kind of left: Stalin is dead. And we can safely bet he never set foot in a McDonald's."
The question now is whether the Northern League can become Italy's leading conservative party, permanently displacing Forza Italia, which has steadily lost influence. Some analysts see Salvini's rise as a blip at a difficult time in Italy, where continuing economic hardship, combined with a political void on the right given Berlusconi's fall from grace and advancing age, means that the Northern League leader is temporarily gaining momentum.
In Venice and its mainland outskirts few Italians mention Salvini as a viable political leader. The rightwing politician regularly makes headlines with outrageous assertions, like his frequent calls for Roma camps to be razed. Last week he suggested that migrants with scabies, a contagious skin condition, ought to give Renzi a "big hug".
While Salvini has sought to distance himself from the Northern League's radical early history as a secessionist party – it wanted to create a mythical-sounding country in northern Italy called Padania and frequently made prejudice assertions about "lazy" southern Italians – most analysts agree that the League will never be embraced fully in southern Italy, even if growing anti-immigrant sentiment has marginally increased Salvini's appeal there.
Lorenzo De Sio, a political scientist at the LUISS University in Rome, does not believe that Salvini's Lega will muster more than 20% of the vote nationally because he is viewed as too extreme. "Many people who used to vote for Berlusconi don't have radical attitudes towards immigrants," he says.