Omar al-Bashir to travel for AU summit
SATURDAY, 13  JUNE 2015, Daily Nation (Kenya)
Sudanese President Omar al-Bashir, who is wanted by the International Criminal Court over war crimes charges, will travel to South Africa for an African Union summit, official radio said on Saturday. Since Bashir was indicted by the ICC in 2009 over alleged war crimes and crimes against humanity during the Darfur conflict, his overseas travel has been severely restricted.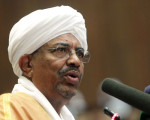 "The president of the republic is taking part in the African Union summit," Radio Omdurman said. "Now we are in the presidential hall of Khartoum airport getting ready to depart," said Radio Omdurman journalist Abdul Rafie al-Obeid, who was due to travel with the delegation.
There had been conflicting reports in local media over whether Bashir would travel. Since Bashir was indicted by the ICC in 2009, and again in 2010 on charges related to genocide, he has mostly travelled to countries that have not joined the court. The ICC relies on signatories to its founding treaty to arrest those it has indicted.
Darfur erupted into conflict in 2003 when ethnic insurgents mounted a campaign against Bashir's government, complaining their region was politically and economically marginalised. More than 300,000 people have been killed in the conflict and fighting has forced some 2.5 million people to flee their homes, the United Nations says.