Bashir banned from leaving South Africa
BY STAFF WRITER, JUNE 14 2015, Business Day (South Africa)
The High Court in Pretoria extended an order on Sunday preventing Sudanese President Omar al-Bashir from leaving South Africa until it made a final decision on calls for his arrest on a warrant from the International Criminal Court (ICC) in the Hague. Judge Hans Fabricuis postponed the hearing until 11.30am on Monday and urged the government to take "all necessary steps" to prevent Mr Bashir, who is in Johannesburg for an African Union (AU) summit, leaving the country.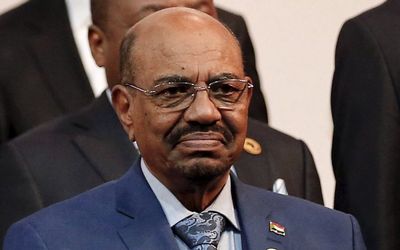 The African National Congress (ANC) said on Sunday the ICC was "no longer useful for the purposes for which it was intended". Mr Bashir looked unlikely to be arrested as the ANC-led government had granted immunity to all attending the summit. With many African states accusing the ICC of selective justice, the ANC also called for a review of ICC statutes to make them apply to all United Nations members to ensure a "fair and independent court for universal and equitable justice."
The judge also ordered that Department of Home Affairs director-general Mkuseli Apleni ensure that the order is served on individual officials in charge of all the country's points of exit. The Southern African Litigation Centre brought the application for an order compelling SA to issue a warrant for Mr Bashir's arrest on Sunday after the ICC called for Sudanese leader to be arrested on Sunday at a summit of African leaders in Johannesburg.
Arguing for the order be served on individuals in charge of all points of exit' the centre's lawyer' Isabel Goodman' argued that this would ensure who should be held liable should Mr Bashir slip off. She said immigration officials at OR Tambo had refused to accept the interim barring order Judge Fabricius granted on Sunday morning.
"We sought to serve the order but officials were not willing to accept it. We fear that officials will not service the order. Individual officials should be given responsibility to service the order so that if he leaves' then we know against whom the contempt application would be brought'" she said. The judge also ordered the Department of Home Affairs to provide proof that the order had been served on the officials.
Human rights
Since his indictment in 2009, Mr Bashir has mostly travelled to countries that have not joined the ICC, but South Africa is a signatory of the court's statutes. "South Africa has an obligation to arrest him," Johannesburg-based rights lawyer Gabriel Shumba told AFP.
"Failure to do so puts them in the same bracket as other African regimes who have no respect for human rights. It's actually a test for South Africa." A South African government official at the summit confirmed media reports that Mr Bashir had arrived, but he declined to give further details.
The ICC said in a statement from its headquarters in The Hague that it "calls on South Africa… to spare no effort in ensuring the execution of the arrest warrants" against Mr Bashir. The summit is chaired by Zimbabwe's President Robert Mugabe, who has urged African leaders to pull out of the ICC, but human rights groups expressed outrage that Mr Bashir could openly defy arrest.
"Allowing President al-Bashir into South Africa without arresting him would be a major stain on South Africa's reputation for promoting justice for grave crimes," said Elise Keppler of Human Rights Watch. "South Africa's legal obligations as an ICC member mean co-operating in al-Bashir's arrest, not in his travel plans," she added.
Darfur erupted into conflict in 2003 when insurgents mounted a campaign against Mr Bashir's government, complaining their region was politically and economically marginalised. More than 300,000 people have been killed in the conflict and fighting has forced about 2.5-million people to flee their homes, the United Nations said.
Khartoum, however, disputes the figures, estimating the death toll at no more than 10,000.