International court calls for South Africa to arrest Sudan president AFP , Sunday 14 Jun 2015
Sunday 14 Jun 2015, Ahram (Egypt)
The International Criminal Court has called for South Africa to arrest Sudan's President Omar al-Bashir, who is reported to have arrived in Johannesburg for a summit of the African Union that starts Sunday. Bashir is wanted by the ICC, of which South Africa is a signatory, over alleged war crimes and crimes against humanity committed during the Darfur conflict dating back to 2003.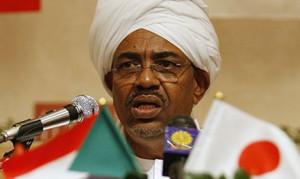 Sidiki Kaba, president of the assembly of the International Criminal Court, said in a statement that he "calls on South Africa, which has always contributed to the strengthening of the Court, to spare no effort in ensuring the execution of the arrest warrants."
He was deeply concerned "about the negative consequences for the Court in case of non-execution of the warrants," the statement added. Officials in Johannesburg declined to confirm Bashir's arrival for the two-day summit, but the South African Broadcasting Corporation (SABC) said in a tweet that Bashir had been "welcomed by South African officials and Sudanese diplomats".
The Sudanese state news agency also confirmed the trip. The African Union summit is chaired by Zimbabwe's President Robert Mugabe, who has urged African leaders to pull out of the ICC treaty, but human rights groups expressed outrage that Bashir could openly defy arrest.
"As a signatory of the ICC, South Africa has an obligation to arrest him," Johannesburg-based rights lawyer Gabriel Shumba told AFP. "Failure to do so puts them in the same bracket as other African regimes who have no respect for human rights. It's actually a test for South Africa."
"Allowing President al-Bashir into South Africa without arresting him would be a major stain on South Africa's reputation for promoting justice for grave crimes," said Elise Keppler of Human Rights Watch. "South Africa's legal obligations as an ICC member mean cooperating in al-Bashir's arrest, not in his travel plans," she added.
Since his indictment in 2009, Bashir has mostly travelled to countries that have not joined the ICC. Darfur erupted into conflict in 2003 when insurgents mounted a campaign against Bashir's government, complaining their region was politically and economically marginalised. More than 300,000 people have been killed in the conflict and fighting has forced some 2.5 million people to flee their homes, the United Nations says.
Khartoum, however, disputes the figures, estimating the death toll at no more than 10,000.