Kagame urges broader debate on 'third term'
By:EUGENE KWIBUKA, 14 June 2015, The New Times (Rwanda)
President Paul Kagame has challenged RPF cadres to broaden and deepen the ongoing debate on third term, saying that each side needed to provide more convincing arguments. Kagame made the call yesterday while speaking at a retreat that drew 600 top cadres of the ruling Rwanda Patriotic Front (RPF-Inkotanyi) party in Kigali.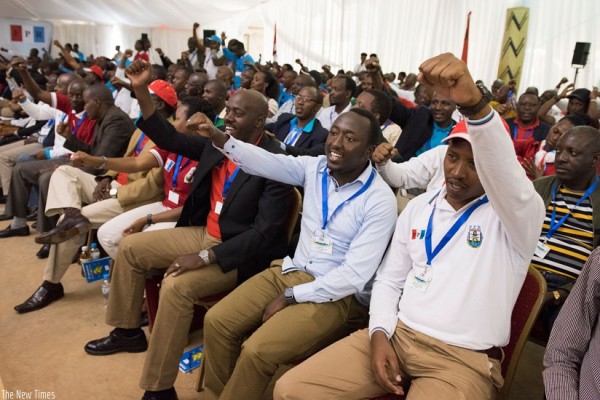 While close to 3.7 million Rwandans have petitioned Parliament to change Article 101 of the current Rwandan constitution to allow President Kagame to run for a third term in office, the Head of State emphasised that the arguments from both sides need to be convincing.
"You just can't say 'I don't want change' and then you can't explain it. If you don't want change while there is a debate about change, those who don't want change should convince others why they don't want it. They have to convince us, they have to convince Africa, and they have to convince the world," he told the RPF cadres.
Laying out one of the prominent arguments in favor of constitutional change, President Kagame pointed to the fear of Rwanda's tragic history repeating itself. "Maybe people have genuine fears based on our history. We have been stung before in our history and when you have been stung before, you are cautious the next time."
He however called on cadres to address these fears and work towards a situation where it is no longer a concern. "Even if fear is genuine, you should not live with it forever. You must work towards removing that fear."
To achieve a sustainable solution, Kagame called on RPF members to delve into a deeper analysis about how the country can achieve change while maintaining stability and continuity adding that what will be decided must be based on the continued social and economic well being of Rwandans.
"You can't say change must happen because it is done this way in other places. You cannot put people at gunpoint or say that change will happen with or without their consent," the President added. Kagame emphasized the importance of stability as the country's priority adding that social and economic transformation must be the foundation on which Rwanda continues to build a future that fulfils the aspirations of Rwandans.
"We must get out of this situation without cheating ourselves," he said. The retreat took place in Rusororo, a suburb of Kigali City, where top party cadres of the RPF will convene for two days.
The party members overwhelmingly appealed to the President to consider the people's request for him to run for office in 2017. In previous debates about the issue of third term, President Kagame stated that he belonged to the side that wanted the Constitution unchanged but encouraged a healthy debate over the issue.
After being swarmed by petitions from Rwandans across the country proposing the amendment of article 101 of the Constitution that mandates two Presidential terms, Parliament has agreed to debate on the issue in its current term which started in early June and ends in August.
Petitioners say that they derive legitimacy to seek the lifting of term limits from Article 193 of the Constitution, which indicates that Article 101 can be amended through a referendum upon approval by both chambers of Parliament.