Uganda: The tough work ahead for the Opposition coalition
By Eriasa Mukiibi Sserunjogi. Posted  Sunday,  14 June 2015, Daily Monitor (Uganda)
Whoever is expected to seriously challenge President Museveni in the coming election was either present or represented at the bloated press briefing at Hotel Africana in Kampala on Wednesday where the founding of The Democratic Alliance (TDA) was made public.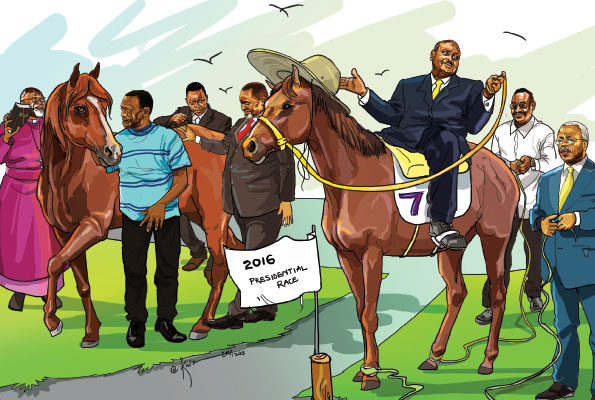 The mood was upbeat as successive speakers roared their readiness to bring about a new dawn. It is Dr Kizza Besigye in the end, the man who has battled Mr Museveni hardest and probably knows what it takes, cautioned that "there is work to do". Dr Besigye's comment was later amplified by different players we talked to outside the room, meriting a hard-nosed appraisal of the work ahead for the coalition.
Kenya lesson half-learnt? 
A close reading of the protocol indicates that a lot of the ideas were borrowed from Kenya, particularly from the National Rainbow Coalition (NARC) that propelled former president Mwai Kibaki to power against the wishes of the then retiring Arap Moi. There is a major difference, however, regarding the way the two coalitions approach the issue of membership. Whereas in Kenya one's weight in the coalition depends on what they bring to the table in form of votes, it doesn't appear to be the case with TDA.
Take the composition of TDA's summit as an example. All the eight political parties which are party to the original agreement are each entitled to two members on the summit. The parties are Mr Ken Lukyamuzi's Conservative Party (CP), the Democratic Party (DP), the Forum for Democratic Change (FDC), Jeema and the Uganda Peoples Congress (UPC). The others are Uganda Federal Alliance (UFA), the Peoples Progressive Party (PPP) and Prof Gilbert Bukenya's emerging Pressure for National Unity (PNU).
But why, for instance, should FDC, the biggest Opposition party going by recent performance in presidential and parliamentary elections, have equal powers in the summit as Mr Lukyamuzi's CP?
We call it Mr Lukyamuzi's CP because his leadership of the party is contested, with Mr Dan Walyemera Masumba claiming to be the rightfully elected party president.
In any case, it is hard for CP to lay claim to any influence in any part of the country and it has always had one MP slot, Rubaga South, which has alternated between Mr Lukyamuzi and his daughter, Ms Susan Nampijja. Is it fair that CP should wield equal decision-making power in the summit as FDC? Or is it a case of overstretching the importance of swelling membership?
The summit, in addition to the 16 representatives of the eight original parties, whose number is likely to increase with more groups joining the alliance, will also include "eminent persons" numbering two-thirds of the representatives of political parties and other groupings.
Assuming that the number of representatives of political parties and other groupings will remain 16, therefore, the summit will attract 11 "eminent persons", bringing the number to 27.
Mr Mwambutsya Ndebesa, a political historian at Makerere University, thinks this is too big a number for a summit. "Achieving consensus with too many people is not easy," Mr Ndebesa says, "Maybe they should call that 'assembly' and then constitute a smaller summit."
He says as the atmosphere hots up, speed in reaching decisions will become vital and the alliance members could get frustrated as some of their colleagues drag their feet on key decisions.
Having a big summit could also increase the risks of infiltration "at the topmost level of the alliance" by people planted by the ruling party, Mr Ndebesa further observes. He says the smaller the group, the more the chances of guarding against such happenings.
Prof John-Jean Barya, a law don at Makerere University, however, says the alliance can guard against the dangers of infiltration by exercising some form of discrimination even within the summit. "Some of the major decisions could be reached between a few selected individuals," Prof Barya said at the sidelines of the launch of TDA.
One possible danger with such discrimination, however, is the criteria to be employed in determining who among the summit members participates in the most sensitive decision making and who doesn't. It could be damaging to the coalition if in the middle of the campaign, for instance, those who are left out of critical decision making complained about it publicly. It would probably be better to deal with such possibilities structurally and beforehand.
The real tinderbox
But perhaps the stickiest issue regards the selection of candidates for parliamentary and lower level elections. TDA, according to its protocol, will field joint candidates for Parliament, LC5 chairpersons and councillors, city and municipal mayors and councillors, LCIII chairpersons and councillors and LCI chairpersons.
This, in the words of UPC vice president Joseph Bossa, is "a monumental undertaking". As the Opposition mulled forging a coalition for next year's elections, Sunday Monitor, on February 22, published an interview by two-time presidential candidate and former DP president-general, Dr Paul Ssemogerere about the subject.
Dr Ssemogerere argued that it would be better for two or three strong candidates to challenge Mr Museveni with the view to stopping him from garnering more than 50 per cent of the votes in order to push the vote to the second round. That way, he said, the Opposition candidates would coalesce around the stronger one among them and stand a better chance of winning at the second round.
Mr Ndebesa, however, says fielding a joint presidential candidate straight-away will likely motivate voters to turn up in bigger numbers than they did last time (voter turnout in the 2011 presidential election was 59 per cent, the lowest since 1996). He also says belief levels in a possible Opposition victory will likely be enhanced by fielding a joint Opposition candidate. Even if Mr Ndebesa's view, which is shared by many, carried the day, Dr Ssemogerere argued, the alliance should stop at fielding a joint presidential candidate and not go into selecting candidates for parliamentary and lower level elections.
"It is not easy to work out an arrangement to govern the process of agreeing on candidates," Dr Ssemogerere said, "It is difficult enough to agree on a joint presidential candidate, but to agree all the way down … is much more difficult." When he contested against President Museveni under the banner of the Inter-Political Forces Cooperation (IPFC) in 1996, Dr Ssemogerere said, his cooperation stopped at naming him presidential candidate and avoided handpicking candidates for the other elective positions.
He, drawing from his experience as leader of DP from 1980 to 2005, said it is a difficult task to agree on candidates even within one party. And this is supported by evidence from recent times. The 2010 primaries for parliamentary elections within the ruling party, for instance, were heavily contested and took a violent turn in many places, threatening to tear up the party. The situation in the other parties was heated too, albeit at a lower scale.
Dr Ssemogerere, although he attended the launch of TDA on Wednesday, did not get a chance to feed his views into the planning process. He said at the launch that he received his invitation to the launch only a day before when Bishop Zac Niringiye and Fr Gaetano Batanyenda paid him a visit. He, however, gave a ringing endorsement of the initiative, saying the architects of the initiative "mean well and deserve your support".
The framers of the alliance, however, will probably have consulted with former Buganda Katikkiro Joseph Mulwanyammuli Ssemwogerere, who was also at the launch. As patron of the pro-Buganda pressure group Ssuubi 2011, Mr Mulwanyammuli was charged with identifying pro-change parliamentary candidates in Buganda region as he mobilised support for Dr Besigye's presidential effort under the Inter-Party Cooperation (IPC) in the last election.
Troubles of a joint candidate
But this caused complications. Being the leader of FDC and presidential candidate, FDC parliamentary aspirants expected Dr Besigye to campaign for them too along the way. In some cases, however, Dr Besigye's situation was too complicated for him to discharge this duty.
Take the case of Rubaga North constituency, where FDC's John Kikonyogo and DP's Moses Kasibante, who was also the Ssuubi 2011 candidate, were running. Mr Kikonyogo had hoped for a prop-up by Dr Besigye, his party leader, at a rally in Namungoona. At the same rally, however, Mr Erias Lukwago, then running to become Kampala Lord Mayor, also showed up and of course Mr Mulwanyammuli too.
Would Dr Besigye invite the crowd to support Mr Kikonyogo or Mr Kasibante? Torn between allegiances, he chose to root for none of them. This reporter spoke with Mr Kikonyogo afterwards; and he was very angry about the lack of a mention by his party leader. He wondered why he had to continue campaigning for his party leader to become president yet Dr Besigye would not return the favour. There are a number of individuals in FDC who were in the same situation during the last campaigns and Dr Besigye came under some form of criticism.
Another complication that manifested in the last coalition effort under the IPC was that smaller parties, because they were backing Dr Besigye for president, looked to use the opportunity to have him support their parliamentary candidates and problems emerged when this did not happen. The most vivid example of this was Mr Michael Mabikke's Social Democratic Party's pressing for its candidates' right to be supported by the coalition.
Mr Mabikke said he had pulled out of the presidential race in Dr Besigye's favour and that since he wanted to run for the Kampala Lord Mayor job, he was entitled to being the IPC candidate for the position.Coming up against Mr Lukwago, who was deemed more popular, the IPC had trouble letting Mr Mabikke have his way.
On the other hand, Mr Henry Lubowa, the secretary general of Mr Mabikke's party, argued that he had the right to be the IPC candidate ahead of both Mr Kikonyogo and Mr Kasibante in Rubaga North. He said he was a secretary general and that according to the IPC protocol, the details of which not many were privy to, secretaries general of parties would be automatic IPC candidates wherever they sought to stand. His claim was also rebuffed. SDP withdrew from IPC.
The candidates committee of the coalition will probably have studied all such situations to be able to handle similar challenges when they arise.
And FDC president Maj Gen Mugisha Muntu was sure that since the alliance was composed of humans, it will inevitably "hit turbulence" at some point. All that matters, he said, is the ability to handle such situations.
Challenging in the rural areas
But, of course, the candidates committee is utterly important for the coalition. This is especially the case in rural constituencies where the ruling party enjoys almost free reign. While covering Dr Besigye's campaign for 2011, for instance, this reporter came into contact with obvious unreadiness of the Opposition in Kamuli District. Ms Salaamu Musumba, a deputy president in FDC, had to ensure that all the three constituencies in the district had FDC/IPC parliamentary aspirants.
But, it was apparent, she couldn't come across suitable candidates for Buzaya and Bugabula North constituencies. She was herself vying for Bugabula South, which she lost narrowly to Works state minister Asuman Kiyingi. But Ms Musumba's other two FDC/IPC colleagues never seemed poised to win in their respective constituencies. This reporter found out as Dr Besigye combed the district that the two parliamentary aspirants were so unprepared that they even had no vehicles to move around. One of them told us that he was convinced to stand with hardly a week left to nomination day.
It would appear, then, that most valuable contribution the candidates committee can make in this regard is to identify and encourage individuals with considerable financial and other means to contest in far-flung places.