Confront Mugabe head-on: Gumbo
FUNGI KWARAMBA, CHIEF WRITER  •  17 JUNE 2015  • Daily News (Zimbabwe)
HARARE – Liberation struggle stalwart and spokesperson of the "original" Zanu PF that uses the slogan "People First", Rugare Gumbo, says the only way positive change will take place in the country is if Zimbabweans agitate for this constitutionally but robustly from President Robert Mugabe and the ruling party — and not employ "empty boycott protests".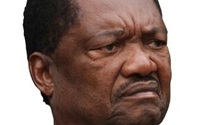 Speaking in an interview with the Daily News yesterday, in the wake of the post-congress Zanu PF's hollow victories in last week's by-elections which were boycotted by the main opposition MDC led by former prime minister Morgan Tsvangirai, Gumbo said Zimbabweans needed to do more to foster democracy in the country.
He also defended his Zanu PF formation's "moral support" for a number of independent candidates who took part in the by-elections even as they were "always aware that our erstwhile comrades are grand masters in vote manipulation".
"That was a bogus and sham election full of irregularities and intimidation. The CIO (Central Intelligence Organisation), and post-congress Zanu PF party members were running the show.
"Zec (the Zimbabwe Electoral Commission) failed to conduct a free and fair election. It allowed Zanu PF to supervise the whole process and what really happened was unbelievable — a lot of intimidation and a lot of violence.
"This whole process must be overhauled. It is a rotten system which stinks to high heaven," the straight-talking Gumbo said.
Asked whether the main opposition was right in boycotting the elections, Gumbo said in his view staying away from electoral processes would not on its own give the "shameless post-congress Zanu PF any sleepless nights" — but would instead allow it to enjoy what it had always dreamt about, "the creation of a one-party state".
"Let us take them head-on. They want to push their programmes without any opposition. But what we have had are mere by-elections. When we go to national elections, it will be difficult for them to cheat as they did in these by-elections," he said.
In the run-up to the discredited by-elections, the Zanu PF leadership — including Vice President Emmerson Mnangagwa — urged the MDC to continue boycotting elections while expectedly ignoring to address needed electoral reforms.
"They have nothing to offer the people… all they do is to boycott elections while we continue to rule. They (MDC-T) have no legacy without calling for election boycott. We shall rule…and rule… and rule while they continue to boycott the elections," Mnangagwa said at one of his rallies before the by-elections.
Gumbo a former Cabinet minister with intimate knowledge of the modus operandi of Zanu PF said his "power hungry" erstwhile comrades were not easily shaken by "petty resistance" — hence his call for a more robust approach to demands for change.
Commenting on social network site Facebook, political analyst Pedzisai Ruhanya concurred with Gumbo saying by boycotting the recent by-elections, Tsvangirai had only managed to give away power to Zanu PF in his urban strongholds.
"Zanu PF has come to town (Harare, Kwekwe and Bulawayo) courtesy of a clumsy decision by MDC-T. The opposition must now budget for violent bases, torture chambers, and huge patronage networks to be set up by Zanu PF as it defends its seats in 2018!
"As I write there is QUEEN OF GRACE ZIM ASSET TRUST set up by Zanu PF to bring all vendors in the Harare city centre to Zanu PF; all vendors are buying cards to join this group" Ruhanya said.
Obert Gutu, spokesperson of the MDC, said yesterday that the opposition would reclaim its seats and more in the eagerly-anticipated 2018 national elections — on condition that necessary electoral reforms were put in place.
"The MDC is going to resoundingly reclaim its territory as soon as conditions for a free and fair plebiscite are put in place. Mind you, Zanu PF is a crumbling edifice and by the time we get to 2018, there will be virtually no Zanu PF to talk about.
"They are busy decimating each other and at the rate they are self-cannibalising, Zanu PF will soon be as extinct as the dodo of Mauritius," Gutu said.
Notwithstanding the fact that the main opposition had shunned the by-elections, a rattled Zanu PF — severely weakened by debilitating and seemingly unstoppable factional and succession wars — threw everything at the electorate in its desperation not to lose the seats that were up for grabbing.
Mugabe's two deputies Mnangagwa and Phelekezela Mphoko led massive and expensive campaigns across the country almost on a full-time basis.
"I have never seen anything like this in my life in politics where both of the VPs were campaigning as if those were general elections.
"To have the whole leadership making fools of themselves and saying if you don't vote for Zanu PF you will not benefit from any development programmes was indeed laughable, albeit expected from the post-congress Zanu PF.
"As People First, we will continue to demand development and we will take part in any future elections because that is the only way the post-congress Zanu PF can be moved," Gumbo said.