Hand over power peacefully – Amama tells Museveni
By ALLAN CHEKWECH, Posted  Wednesday, June 17  2015, Daily Mirror (Uganda)
KAMPALA. Former Prime Minister, John Patrick Amama Mbabazi has written to President Yoweri Museveni informing him officially that he will contest against him for the post of NRM party chairman. Mr Mbabazi also informed the President, who is also the NRM chairman that he will seek to become the flag-bearer of the ruling party, and asked him to embrace the culture of peaceful handover of power.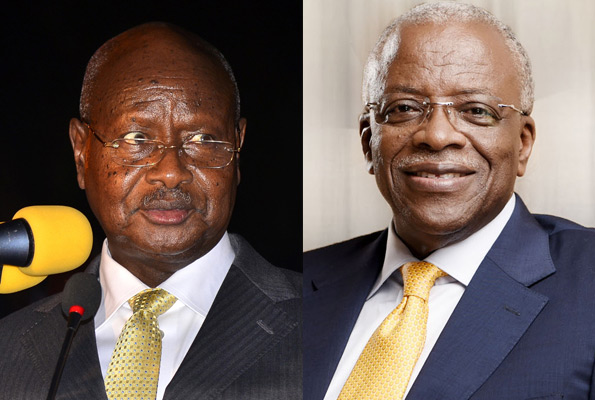 In a three-page letter dated June 13 and the President's office acknowledged receipt two days letter, Mr Mbabazi pointedly tells Mr Museveni that the apprehensiveness by the current leaders to change has put the country at crossroads.
"While we have done many great things, we now need to look not at the quantity but the quality of the product," he wrote … Uganda is at a crossroads; stuck between old and new and very different economic development stages. Our future leaders need to understand this," Mr Mbabazi wrote. "NRM must adapt and Uganda must progress. It is time to evolve."
"What the Front for National Salvation (FRONASA) began, and NRA achieved, was a revolution. This was akin to building the foundation of one's house. But now we must build upon our achievements, constructing the pillars and columns that will elevate our nation to new heights and form the basis upon which a stronger, more enduring and equitable social order can be laid. NRM must adapt and Uganda must progress. It is time to evolve," Mr Mbabazi said in a letter to Mr Museveni, a copy of which Daily Monitor has seen.
"The coming election is not simply about a change of leader, but about changing systems in Uganda for this generation and generations to come. We simply must join those nations where a change of guard happens regularly and through the ballot. It is time for a peaceful transition," Mr Mbabazi wrote.
In the wee hours of Monday morning, Mr Mbabazi announced his presidential bid in a five-minute recorded video, ending months of guessing about his next political move. Mr Mbabazi will be taking on Mr Museveni inside the NRM first, before he launches a bid for the top office.
In a recorded statement circulated to the media on Monday evening, Mr Museveni accused Mr Mbabazi of engaging in "premature electioneering".
Mr Museveni said: "Our method of work does not involve that kind of conduct; neither the party nor the electoral commission has announced the dates of elections. I, therefore, do not think it is proper for Mr Mbabazi to waste your time with that premature electioneering; those are issues that should be handled in NRM at the right time when the EC of NRM has arranged for those elections. I think that method of work is wrong."
Former Prime Minister, John Patrick Amama Mbabazi to President Yoweri Museveni: