Special Report: Military knew about bizarre methods of doctor hired to train troops
WASHINGTON | BY JOHN SHIFFMAN, Wed 17 Jun 2015, REUTERS
For years, a doctor now accused of performing macabre procedures on the troops that he trained took steps to cloak his battlefield-medicine classes in secrecy. The doctor, John Henry Hagmann, often required that those who took or helped teach his courses sign non-disclosure agreements. The agreements may have helped ensure that his most extreme training methods – including allegedly inducing shock among students – would remain confidential.
But some of the same unorthodox procedures that led the Virginia Board of Medicine to suspend Hagmann's medical license earlier this year had raised concerns within military circles nearly a decade ago.
In 2005, for instance, the commander of U.S. Special Forces became so alarmed by what his aides observed during one of Hagmann's training courses that the commander ordered all such private training halted, according to interviews and military documents reviewed by Reuters. In his order, General Bryan Brown wrote that aides witnessed "potentially hazardous physiological demonstrations" performed on U.S. troops.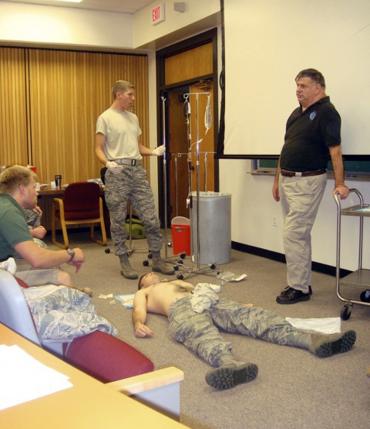 Not long after, a Navy captain banned Hagmann from his base, disturbed that the doctor was giving drugs to some trainees so that other students could observe the effects. "I refused to let him into my facilities," said Efren Saenz, a now-retired Navy officer who led a field medical training battalion at Camp Johnson from 2006 to 2009. Even so, Hagmann continued to draw government business, earning at least $10.5 million in federal contracts since 2007 through his company, Deployment Medicine International (DMI).
It was not until last week – after Reuters reported that the medical board had suspended Hagmann for allegedly exploiting his students as part of the training – that the Special Forces and Navy dropped DMI as a contractor and a leading industry association withdrew the company's coveted accreditation.
How Hagmann continued to thrive as a contractor despite the earlier concerns remains unclear. One member of the U.S. Armed Services Committee, Representative Hank Johnson, is pushing for answers. Johnson, a Democrat from Georgia, said he has asked the Pentagon "what policies and procedures are in place to root out bad actors – and what reforms should be put in place to ensure this doesn't happen again." Johnson has called Hagmann "a renegade contractor" and likened him to "a diabolical mad scientist at work in a horror movie."
On Friday, Hagmann is expected to appear before the Virginia medical board, which will consider whether to revoke his medical license. The board alleges that in 2012 and 2013, Hagmann induced shock by withdrawing the blood of students, provided trainees with the hypnotic drug ketamine, performed penile nerve blocks and instructed troops to insert catheters into one another's genitals. He is also accused of conducting rectal exams for his own sexual gratification.
In email exchanges, Hagmann told Reuters that he violated no rules and harmed no one. He dismissed critics as "administrators who are more concerned with political correctness and skewed publicity." And he said Virginia authorities have misapplied rules that pertain to patients, not trainees.
"There were no 'patients' and no 'physician-patient relationships' involved – only students undergoing training," Hagmann said. "In 25 years no one has ever been harmed. What military training – or even most sports – can report that?" Spokespeople for the Navy, Marine Corps, Air Force, Army and Special Operations said the training techniques described in the Virginia medical board's report are not appropriate battlefield-trauma training.
Last week, a leading industry oversight association – the Continuing Education Coordinating Board for Emergency Medical Services – removed DMI from its list of accredited companies, records show. The board's executive director, Jay Scott, wouldn't comment on Hagmann's case, but said: "I don't think any educational institution condones putting students at risk – period."
EARLY WARNING SIGNS
An Army doctor, lieutenant colonel and medical professor during the 1990s, Hagmann was part of a revolution in battlefield-trauma care. By the time the Iraq and Afghanistan wars began, medical advances made it possible for regular troops to apply tourniquets, chest seals and other devices to wounded comrades before medics arrived. The techniques saved lives, and a year after Hagmann retired from the Army in 2000, he founded DMI and began to work with the military to teach such procedures to thousands of troops, often at his farms in North Carolina and Virginia.
In 2005, as the wars raged, an inspection team representing General Brown visited a Hagmann class, according to military spokesman Kenneth McGraw. The Special Operations commander, Brown supervised some of the U.S. military's most elite units, including the Navy SEALs, Green Berets and Army Rangers.
His inspection team returned from the visit and reported "a number of problems, including deviations from the Special Operations standard of combat trauma care," according to a memo Brown sent to subordinates on Dec. 9, 2005. This included "potentially hazardous physiological demonstrations being conducted on volunteers from the course attendees," the memo said.
The memo did not elaborate and Brown told Reuters he could not remember the specific concerns. But the medical team's findings prompted the four-star general to order that all Army, Navy and Air Force units under his command immediately stop using private contractors for combat-wound training.
The general created a list of new guidelines that banned techniques such as inducing shock or having trainees perform certain medical procedures on one another. After agreeing to the new rules, Hagmann and other contractors were to be reviewed every two years. Meanwhile, the Navy performed its own review. One Navy officer who was involved, Saenz, told Reuters that he prohibited Hagmann from providing training on his base.
"I knew of and did not care for his techniques," Saenz said. "Combat trauma training is essential, but we have simulation labs where we can do that training on mannequins without having to use a human subject." Hagmann did not respond to questions about the general's memo or Saenz's criticism.
NEW CRITICS EMERGE
Other U.S. agencies – in particular, law enforcement – also sent employees to Hagmann's DMI training. Alfonso Jaramillo, an agent with the National Nuclear Security Administration, said he and colleagues took Hagmann's training in 2012 and 2013. The agency protects nuclear material during shipment.
"All the things that I read in the [medical board] complaint is exactly what we were being trained and were practicing on each other," Jaramillo wrote to the Virginia Board of Medicine last month. The email was obtained under public records laws. A spokeswoman with the nuclear security administration said the agency no longer contracts with DMI.
In an interview, Jaramillo said he appreciates that Hagmann's training is designed for treating the wounded before they reach a hospital. But he said the gung-ho approach troubled him. He recalled a demonstration in which an instructor gave one fellow student pain medication and then twisted the student's nipples in front of the class. The purpose, Jaramillo said, was to show the class that the man felt no pain.
"We were doing stuff way out of our league," Jaramillo said. "It was a garage-like setting, and felt like Dr Hagmann's backyard. It didn't seem sterile."
David Morehouse, DMI's vice president for operations from 2005 to 2011, also emailed the Virginia board shortly after Hagmann's license was suspended. The email was obtained by Reuters through a public-records request.
"Thank you for doing this, for finally stopping this heinous physician who places so many people at risk, and has done so without penalty for decades," Morehouse wrote to the board.
WARS FUEL BUSINESS
Before a bitter falling out, Morehouse had been one of Hagmann's top employees and biggest fans. Morehouse is a former Army Ranger officer with an interesting past: According to his 1996 book, "Psychic Warrior: The True Story of the CIA's Paranormal Espionage Program," the Army placed him in a top-secret program as a psychic – a "remote viewer" who could transcend space and time to observe far-away people and events.
Morehouse joined DMI in 2005 after taking a class and being impressed by stories about how Hagmann's cutting-edge techniques had saved wounded soldiers in battle. "There were thousands of warfighters who needed this training," Morehouse said in an interview. "Hagmann was a former Army doctor, a former medical professor and he was attractive to commanders looking for a qualified contractor."
As business boomed, the company trained thousands of troops at locations in Virginia, North Carolina, California, Hawaii and Washington state. Sessions also were held in Great Britain on the grounds of Hagmann's Pengethley Manor Hotel.
Reuters reviewed a 199-page version of a DMI training manual given to students. It offers a window into Hagmann's philosophy: that the most effective battlefield training comes from simulating stressful combat conditions.
"This is the educator's dilemma, especially when training Warfighters to be their best is needed," the manual says. "This is medicine to save life while all around you, the enemy will be trying to take your life…. If the sights, sounds, tastes, smells and textures of the battlefield are not unfamiliar to you – if you have to a degree experienced these factors – you will perform at a higher rate."
Hagmann also trained law enforcement agents. He had a relationship with the FBI, for example, dating to his Army days. In 1993, he assisted the FBI during the standoff with the Branch Davidian sect in Waco, Texas. Government transcripts show Hagmann offered medical advice by phone to injured Davidian members who refused to leave during the 51-day siege. As a private contractor, Hagmann later provided medical support for about five years to the FBI's elite Hostage Rescue Team, an FBI official said.
FOES AND BETRAYALS
Despite DMI's success, Hagmann faced a persistent foe: People for the Ethical Treatment of Animals. The animal-rights group opposed a key and controversial component of DMI's classes – "live-tissue" training. The training involves students practicing medical techniques on sedated, live pigs that have been shot or stabbed in ways that mimic war wounds. PETA focused on Hagmann because the group believed him to be the contractor who was using the most live animals in training, said Justin Goodman, PETA's director of laboratory investigations.
The PETA campaigns cost Hagmann time and money. Local officials in Germany, for example, stopped DMI from conducting live-tissue sessions with U.S. soldiers who were training there, according to a document issued by the German state of Thuringia.
The 2005 memo from Special Operations, which cited minor animal-use violations at DMI, set rules that required proper water, food and shelter for the animals. The rules also state that animals that haven't been sedated are not to witness surgical training on other animals. And it directed that troops wear civilian clothes – not military uniforms – during that portion of the training.
Last week, PETA released an undercover video that it said shows DMI employees performing gratuitous violence against pigs in 2013. "We've been following DMI closely for a decade, and where there's smoke there's fire," said PETA's Goodman. In addition to his battles with animal-right activists, Hagmann also fought some of his most trusted confidants, records show.
In 2006, key company employees left to form a competing business. Then, in 2008, Hagmann alleged that an administrative assistant took $200,000 in company funds – along with a variety of equipment and books, including "The Laboratory Swine," "Experiments in Physiology" and a compilation of The Far Side comics. The employee denied the theft allegation and declared bankruptcy, and the case was settled.
In 2011, DMI lost its advantageous status as a small-business contractor because it had grown so successful, a Small Business Administration spokesman said. That same year, top deputy Morehouse and others left. Hagmann sued Morehouse, alleging he took confidential information with him; the lawsuit was dismissed within weeks, records show.
In 2012, the Internal Revenue Service filed a $207,532 tax lien against DMI. Then, in July 2013, an unidentified employee from the Uniformed Services University of the Health Sciences – the military medical college where Hagmann had earned his degree and spent 15 years as a professor – filed a complaint against him. Although the complaint has not been made public, it prompted a series of investigations that led to Hagmann's suspension by the Virginia medical board in March, said school spokeswoman Sharon Holland.
Holland said that about a week after the school received the complaint, the matter also was referred to the Defense Criminal Investigative Service, a law enforcement agency that oversees the Department of Defense.
DRILLING INTO CHEST
The medical board's allegations are administrative in nature. One allegation in the Virginia report cites a July 2013 session at Hagmann's Virginia farm during which a student identified only as "Patient C" received a sternal intraosseous infusion, an invasive procedure that involves drilling a hole in the upper chest to provide fluids to injured patients.
"After making an incision … Dr. Hagmann or a course participant removed the device with needle drivers, and according to Patient C, called for course participants who had never sutured a live person to use the opportunity to get some practice," the report said. "Subsequently, when several of the course participants began suturing, Dr. Hagmann left the area, claiming that he could not bear to watch."
Hagmann denies that he left the room.
The same month, Hagmann allegedly conducted a "cognition lab" – several course participants drank eight shots of 80-proof rum in 10 minutes, then an hour later were injected with the hypnotic pain killer ketamine. One intoxicated student received a penile nerve block procedure, the report said, while other trainees stepped in to stop a second student from receiving one.
"On that same evening," the report said, "Dr. Hagmann volunteered himself for a penile nerve block, which course participants performed on him."
Of the alcohol and drug lab, Hagmann said: "This demonstration is closely controlled so that medically informative observations can be made by the students." Of the penile block performed on him, Hagmann said: "The student's claims of unprofessional conduct are inaccurate."
(Reporting by John Shiffman in Washington. Additional reporting by Stephen Grey in London. Edited by Blake Morrison)