Sudan denies threatening South African peacekeepers amid Bashir dispute
BY AGENCY STAFF, JUNE 16 2015, Business Day (South Africa)
SUDAN'S army denied a report that its troops surrounded bases in Darfur where South African peacekeeping forces are stationed while President Omar al-Bashir attended an African Union (AU) summit in Johannesburg. "There is no military conflict between the two nations to involve the army," spokesman al-Sawarmi Khaled said Tuesday by phone from Sudan's capital, Khartoum.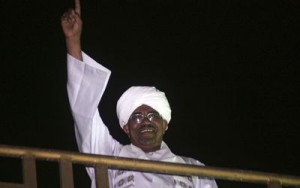 Netwerk24 earlier cited unidentified military officials as saying Sudanese soldiers had encircled the bases as a South African court debated Mr Bashir's potential arrest on war-crimes charges. The High Court in Pretoria on Sunday ordered the government to ensure Mr Bashir stay put while it decided whether he should be arrested under a war-crimes indictment.
At a hearing in Pretoria on Monday, a judge ordered preparations to be made for the 71-year-old's detention, only to be told by a state lawyer that he had left the country. Netwerk24 reported that the Sudanese troops withdrew after Mr Bashir's departure.
About 1,400 South African troops are in Darfur as part of a combined AU, United Nations (UN) peacekeeping force. Mr Bashir was indicted in 2009 and 2010 for his alleged role in atrocities in the western Sudanese region.
The Darfur conflict has led to the deaths of as many as 300,000 people, mainly due to illness and starvation, while about 2.5-million people have been displaced, according to UN estimates.