60 Million People Fleeing Chaotic Lands, U.N. Says
By Somini Sengupta, 18 June
UNITED NATIONS — Nearly 60 million people have been driven from their homes by war and persecution, an unprecedented global exodus that has burdened fragile countries with waves of newcomers and littered deserts and seas with the bodies of those who died trying to reach safety.
The new figures, released Thursday by theUnited Nations refugee agency, paint a staggering picture of a world where new conflicts are erupting and old ones are refusing to subside, driving up the total number of displaced people to a record 59.5 million by the end of 2014, the most recent year tallied. Half of the displaced are children.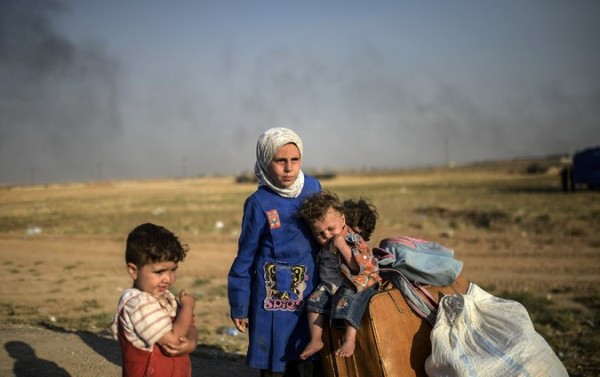 Nearly 14 million people were newly displaced in 2014, according to the annual report by the Office of the United Nations High Commissioner for Refugees. In other words, tens of thousands of people were forced to leave their homes every day and "seek protection elsewhere" last year, the report found.
That included 11 million people who scattered within the borders of their own countries, the highest figure ever recorded in the agency's 50-year history. Tens of millions of others fled in previous years and remain stuck, sometimes for decades, unable to go home or find a permanent new one, according to the refugee agency. They include the more than 2.5 million displaced in the Darfur region of Sudan, and the 1.5 million Afghans still living in Pakistan.
When refugees flee their own countries, most of them wind up in the world's less-developed nations, with Turkey, Iran and Pakistan hosting the largest numbers. One in four refugees now finds shelter in the world's poorest countries, with Ethiopia and Kenya taking many more refugees than, say, Britain and France. As the report states, "the global distribution of refugees remains heavily skewed away from wealthier nations and towards the less wealthy."
Even so, there has been a sharp backlash in European capitals against the waves of people coming across the Mediterranean Sea, including many who are fleeing conflict and repression in countries like Syria and Eritrea. For now, the European Union has shelved its plans to get approval from the United Nations Security Council to target human smugglers who operate in lawless Libya and to destroy the ships they use to bring migrants across the sea.
Instead, the European Union is scheduled to meet on Monday to discuss whether it will start military operations in the international waters of the Mediterranean Sea, for which it does not need the Council's blessings.
European Union leaders are still squabbling with one another over how to split up at least 40,000 asylum seekersacross their 28 member states. And they have stepped up search-and-rescue operations after intense public pressure stemming from a sharp increase in the deaths of migrants crossing the Mediterranean this year.
Australia has felt no such compunction. Its prime minister, Tony Abbott, has pledged to turn around migrant boats before they enter Australian territorial waters, including those with minority Rohingyas fleeing persecution in Myanmar. His administration faces scrutiny over allegationsthat it paid smugglers to turn a boat back to Indonesia after it was intercepted on the high seas.
"For an age of unprecedented mass displacement, we need an unprecedented humanitarian response and a renewed global commitment to tolerance and protection for people fleeing conflict and persecution," António Guterres, the high commissioner for refugees, said in a statement accompanying the annual report.
Amnesty International, in a report issued this week, accused governments and smugglers alike of pursuing "selfish political interests instead of showing basic human compassion." The United States offers permanent resettlement to roughly 70,000 refugees each year, though its plans to admit 2,000 Syrian refugees this year have drawn scrutiny from Republican lawmakers who worry that some among them might be terrorists.
The war in Syria is the largest source of displacement. By the end of 2014, 7.6 million Syrians were displaced within the country itself, and nearly another 3.9 million were refugees living outside the war-torn nation. But Syria is the not the only country where conflict is forcing people to flee. The latest of 15 new conflicts to erupt in the last five years have arisen in Burundi and Yemen.
Older conflicts, like the ones in Somalia and Afghanistan, are nowhere close to a lasting peace, which means that refugees and internally displaced people remain in limbo for years. The agency said that in 2014, fewer than 127,000 refugees returned home, the lowest number in 31 years.
Those who live in refugee camps are extremely vulnerable to hunger, unemployment and sexual violence, if they make it to one at all. "We don't have the capacity and we don't have the resources to support all the victims of conflict around the world and to provide them with the very minimal level of protection and assistance," Mr. Guterres told reporters in Geneva on Tuesday.
The nearly 60 million displaced people across the globe are, of course, not the only ones who have left their homes because of hardship. The refugee agency's numbers include only those who say they have fled conflict and persecution, not poverty or lack of economic opportunity.
Often, refugee experts say, life is more complicated than that. People flee their homes for a host of entangled reasons, including hunger, gang violence, or even the havoc climate change wreaks on local economies. Many migrants who are not strictly fleeing conflict take as many risks in their search for a better life.
Over the weekend came evidence of how dangerous their journey can be. The International Organization for Migration said on Wednesday that it had found the remains of more than two dozen people, mostly West Africans, who apparently got lost in a sandstorm in Niger and then died of heat and thirst near the border with Algeria.
European Union officials, including the bloc's foreign minister, Federica Mogherini, met with African foreign ministers in Brussels on Wednesday to discuss ways to help countries of the region tackle migration and youth unemployment.