Africa's Richest Man, Dangote, Takes His Cement Empire to Asia
By Chris Kay, 18 June 2015, Bloomberg
frica's richest man, Aliko Dangote, says he's expanding his cement empire to Asia and it will be operational in 30 months.
The 58-year-old Nigerian billionaire said Dangote Cement Plc should complete a factory in Nepal by the end of 2017. It has received 90 percent of the regulatory approvals needed to start construction in the south Asian nation hit by two earthquakes this year, he said.
"It's going to be one of the first factories for us to build outside our comfort zone, outside Africa," Dangote, wearing white traditional robes, said in a June 16 interview at his office in Nigeria's commercial hub, Lagos. Further expansion beyond Africa mainly "will happen through acquisition," he said.
 Dangote, who has never visited Nepal, will invest $400 million in the country to build a cement plant with a capacity of as much as 2 million metric tons. He's also eyeing South America and surveying for limestone in Brazil, where he registered a company two years ago.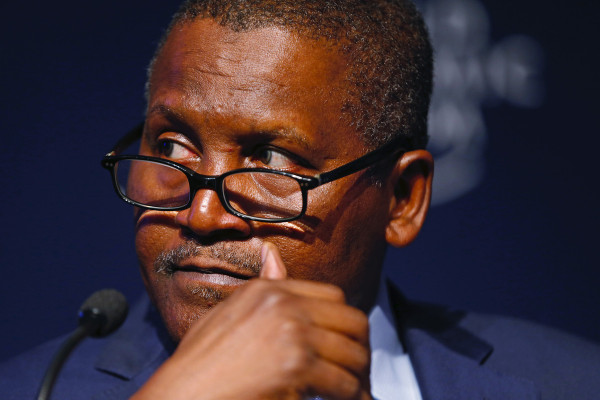 Nepal's government estimates reconstruction costs from April's quake, which killed thousands, alone will exceed $10 billion, even before the country was hit by a separate7.3 magnitude temblor last month.
"It will be a major boost for them, especially with what happened," Dangote said. "They don't produce cement at the moment, they import mainly from India."
Growth Story
There is room for Dangote to move into Nepal, said Andy Gboka, a fund manager at Bellevue Asset Management AG, which manages more than $5 billion and holds Dangote Cement shares.
"There is not enough production capacity and unfortunately you saw what happened with the earthquake and the infrastructure that was damaged," Gboka said by phone from Zurich. "Even though this is coming from a negative event, there is a strong growth story in the Nepal region."
The tycoon, with a net worth of $15.5 billion according to the Bloomberg Billionaires Index, has made the vast majority of his fortune in African cement production. He also has interests including sugar and more recently oil refineries in Nigeria.
Dangote's charity gave $1 million to Nepal's government after the deadly earthquakes. He said he has made more than 20 billion naira ($100 million) of donations in more than two years, mainly in African countries such as Nigeria, Niger, Kenya, Tanzania and Ebola-hit nations in West Africa.
Charity Donations
He denied that his foundation gave only to countries where he has business interests, citing a $2 million donation given to Pakistan in 2010 through the United Nations World Food Programme after the country was hit by flooding. "I've only been to Pakistan on transit maybe 20 years ago," Dangote said.
Dangote Cement has been expanding in new African markets to tap demand for building materials as governments invest in infrastructure. The company is planning $1 billion in capital expenditure this year to increase capacity from 29 million tons.
His moves to dominate the African market haven't been without some snags. Dangote said the building of a $350 million cement plant in Niger, announced in 2013, was delayed after some "internal fault" at the company, which has been addressed. He declined to elaborate further.
Construction on the Niger factory will start this year and will take 26 months to complete, he said.
Dangote has also seen his wealth decline $2.9 billion this year as the share price in his cement business has fallen 13 percent in the same period, more than the Nigerian Stock Exchange All Share Index, which has slumped 3.4 percent. Nigeria's local currency, the naira, is down 7.8 percent so far in 2015 against the dollar.
"In the future we will try and replicate the other businesses outside Nigeria," Dangote said, referring to his interests other than cement. "But we have so much we're invested in right now, so we want to continue with just cement, cement, cement for the next two, three years."