Booze firms toast Africa's ripening market
BY AGENCY STAFF, JUNE 21 2015, Business Day (South Africa)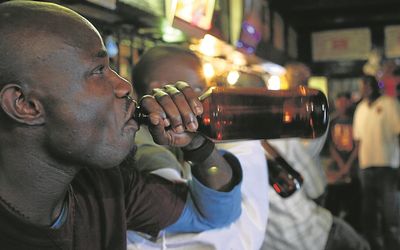 BORDEAUX — For wine and spirits companies looking to expand their businesses, Africa and its growing middle class clamouring for refined tipples is now one of the world's fastest-growing beverage markets, analysts say. Wine consumption in Africa is rising five times faster than the global average, according to a study of 24 sub-Saharan African countries released this past week by British wine consultancy IWSR at the world's leading wine fair, Vinexpo.
Africans gulped down a total of 864-million bottles of still light wine in 2013 — a rise of 17.3% in five years. That remains relatively modest for a continent of 1.1-billion people. But the market is forecast to grow another 11% by 2018, as lifestyles evolve in the wake of African growth that has outstripped global GDP by nearly three percentage points over the past 15 years. "More and more Africans have disposable income," said Daniel Mettyear, who led the IWSR study.
"The growth is exponential, the demand is there," agreed Cameroonian importer Felix Kamdem. Yet despite rising activity driven by a growing African middle class with globalised tastes, the sector's expansion has been limited by obstacles across the continent — including high import taxes, complicated customs procedures and corruption, industry experts say. Meanwhile, a lack of infrastructure also means importers encounter problems keeping products chilled to the right temperature, and in finding reliable distributors.
Undaunted, however, importers in Africa have worked around complications to supply the booming demand. Analysts frequently cite Nigeria — Africa's most populous country and biggest economy — and South Africa as markets with the highest potential for growth. Resource-rich countries such as Angola and Cameroon, as well as Ethiopia, Kenya and Ivory Coast, are also on the target list.
African urbanites, and youngsters in particular, are increasingly turning to wine as their libation of choice. "Young people are taking to wine because it's considered a sophisticated product. Drinking wine or spirits has a touch of luxury,' says Kamdem. Miguel Chan, chief sommelier of the South African hotel group Tsogo Sun Hotels, said social media was playing a significant role in shaping the tastes of young African consumers.
Sommelier master classes, offering amateurs tips on how to appreciate a fine vintage, are increasingly popular, he added. "Wine can be intimidating for new consumers who have never been brought up in a wine culture," Chan said. Mettyear said that sparkling wine is increasingly seen as a "glamorous alternative to beer," particularly in Nigeria. Sweet rose wines are meanwhile in high demand in South Africa, Chan said. Aromatic white wines such as Sauvignon blanc and Chardonnay are also popular, along with "juicy" reds like Merlot.
Spirits exporters are enjoying an even bigger African boom, with whisky in the lead along with brandy and Cognac. The African hard liquor market grew 13% between 2010 and 2014, compared to 3% growth for wine. "The African market is the market of the future for Cognac, absolutely," said Herve Bache-Gabrielsen, president of the French Cognac firm that shares his name. The modest-size brand is making tentative forays into the African market, along with big international groups like Hennessy, Courvoisier and Pernod Ricard that have been eyeing the continent for several years.
Africa's growth has seen a surge of foreign investment and, as a consequence, changes to its population. "There's been an influx of Chinese who are big consumers of Cognac," said Mr Bache-Gabrielsen. Castel, the world's fourth biggest wine company and a distributor of beer in Africa, is also courting the continent's expat residents. In 2013 the group began producing wine in Ethiopia, largely for "local consumption, including many foreigners," according to its communications director Franck Crouzet.
Africa remains far behind China in terms of consumption, with the Asian giant still seen as the current El Dorado for wine exporters. But "the opportunities are considerable," he added.
The African market has yet to reach "maturity," said Mettyear.