Shabaab militants attack military intelligence base in Somalia capital Mogadishu
SUNDAY, JUNE 21, 2015, Daily Nation (Kenya)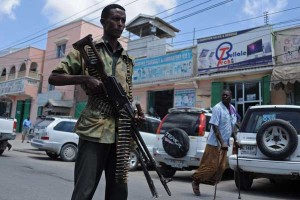 MOGADISHU – Al-Shabaab militants launched a major suicide raid on Sunday against a military intelligence base in the Somalia capital of Mogadishu, setting off a car bomb before storming inside, security officials said. "There is an attack against a base belonging to the security forces.
"The violent elements used a car bomb to get inside the compound. There was a heavy exchange of gunfire," said Adan Mohamed, a Somali security official. Witnesses near the base, belonging to the internationally-backed government's National Intelligence and Security Agency (NISA), reported a loud explosion followed by intense gunfire.
"There was a heavy explosion and in seconds heavy gunfire broke out. We cannot go outside the house because of the shooting," said Abdulahi Yare, a resident who lives near the base. In a brief statement, NISA said the attack had failed. "The attack was successfully thwarted by our forces. None of our buildings nor bases were entered," it said.
The attack comes at the start of Islam's holy month of Ramadan. The Al-Qaeda-linked Al-Shabaab, who are fighting to topple the Mogadishu government, have in past years intensified attacks during the month of fasting.