Museveni age case kicks off
By IVAN OKUDA, Friday June 26  2015 , The Monitor (Uganda)
KAMPALA – The case in which former prime ministerAmama Mbabazi's spokesman sued President Museveni challenging his eligibility to contest in the 2016 general election has kicked off with lawyers for either party agreeing on five issues the Constitutional Court will resolve next month.
Yesterday's conferencing before Court of Appeal registrar Deo Ninzeyimana came after a ping pong between the two legal teams and the court, with the petitioner's lawyers protesting the continued adjournment of the case.
Mr Benjamin Alipanga's legal team led by lawyers; John Mary Mugisha and Severino Twinobusingye agreed with Mr Museveni and NRM's lawyers led by Mr Kiryowa Kiwanuka and Hussein Kashilingi on five issues that they shall tussle out before the justices of the Constitutional Court.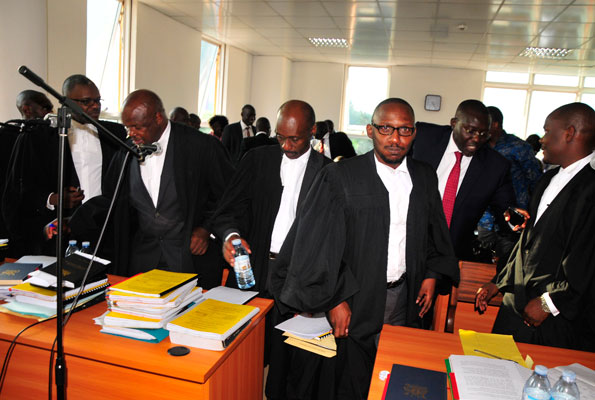 "We agree on whether the amendment of the NRM party constitution to provide that the positions of secretary general, deputy secretary general, national treasurer and his deputy be appointive rather than elective in disregard of the cited articles of the Constitution is an issue," Mr Mugisha said, adding, "We also agree on the issue on whether President Museveni is physically and constitutionally incapacitated to contest in the 2016 election given the age bar of 75 years by the Constitution."
The lawyers also agreed to tussle out whether the 'sole candidate' resolution reached by the NRM's Parliamentary Caucus at Kyankwanzi urging President Museveni to stand and other members to shelve their presidential ambitions violated the party constitution.
The hearing of the case by a yet-to-be announced panel of five justices of the court will also see the legal minds debate whether, "the termination of Mr Amama Mbabazi's tenure as secretary general of the NRM and the amendment of the party constitution to target him as an individual violated the Constitution of Uganda."
The petitioner's lawyers said they would present among other pieces of evidence, an affidavit by former Agriculture minister, Hope Mwesigye accusing the NRM of, "stage managing the December 15, 2014 delegates conference at Mandela National Stadium, the deployment of security agencies to intimidate members, some of whom did not understand English and Museveni's conflict of interest as he is a beneficiary of the flawed process he chaired."
The atmosphere in the court room was tranquil yesterday with either legal team and the registrar exchanging jokes and pleasantries as they agreed on whether, as Mr Mugisha cheerily put it, "the so-called Seninde report and its recommendations violated the constitution."
The report by Wakiso Woman MP Rosemary Seninde is one of the kick-off events. The report recommended that Mr Mbabazi relinquishes his secretary general job and tasked the party to compile a new register as he, "failed to cooperate with the committee and submit the register he had."
On July 17, the court shall determine the actual date for the substantive hearing of the case.