Owen Bowcott Legal affairs correspondent, Thursday 25 June 2015, The Guardian (UK)
Foreign secretary condemns detention of Andargachew Tsige in solitary confinement with no access to consular help or right to appeal
The treatment of a Briton on death row in Ethiopia is threatening to undermine the country's relationship with the UK, the foreign secretary has warned. In an unusually blunt statement, Philip Hammond has called for rapid progress in the case of Andargachew Tsige, who is being held in solitary confinement in an unknown location in Ethiopia.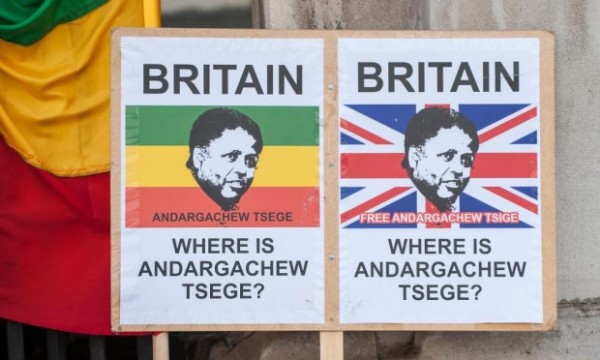 The foreign secretary's comments, released a year after Tsige was abducted while transiting through Yemen, is a clear sign of official disapproval of the approach taken by the regime in Addis Abbaba. The Foreign Office is escalating the case beyond confidential diplomatic exchanges.
On Wednesday, Hammond spoke to the Ethiopian foreign minister, Tedros Adhanom Ghebreyesus, about the case on the phone. His statement said: "I am deeply concerned that, a year after he was first detained, British national Andargachew Tsige remains in solitary confinement in Ethiopia without a legal process to challenge his detention. "I am also concerned for his welfare and disappointed that our repeated requests for regular consular access have not been granted, despite promises made.
"I spoke to foreign minister Tedros and made clear that Ethiopia's failure to grant our repeated and basic requests is not acceptable. I informed Dr Tedros that the lack of progress risks undermining the UK's much valued bilateral relationship with Ethiopia.
"I asked Dr Tedros once again to permit immediate regular consular access and for our concerns regarding Mr Tsige's welfare to be addressed. I have also asked that the Ethiopian authorities facilitate a visit by Mr Tsige's family. Foreign Office officials will continue to provide consular support both to Mr Tsige and to his family during this difficult time." Tsige's partner, Yemi Hailemariam, also a British national, lives in London with their three children. She has spoken to him only once by phone since his abduction.
"He's in prison but we have no idea where he is being held," she told the Guardian last month. "He said he was okay, but I'm sure the call was being listened to. He had been in Dubai and was flying on to Eritrea when the plane stopped over in Yemen. He hadn't even been through immigration. We think Yemeni security took him and handed him over to the Ethiopians.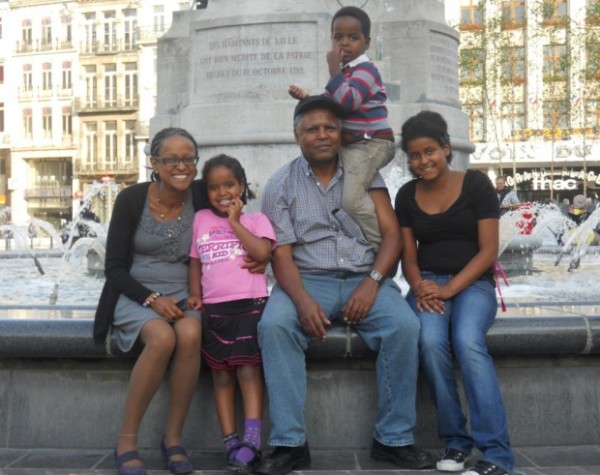 "They say there was an extradition agreement, but it was so quick there was no time for any semblance of a legal hearing. Yemen and Ethiopia had close relations then. The [Ethiopian] government have put him on television three times in heavily edited interviews, saying he was revealing secrets. "He has been kept under artificial light 24 hours a day and no one [other than the UK ambassador] has had access to him."
Tsige, 60 – known as Andy – had previously been secretary general of Ginbot 7, a political opposition party that called for democracy, free elections and civil rights. He first came to the UK in 1979. The Ethiopian government has accused him of being a terrorist. In 2009, he was tried with others in his absence and sentenced to death. The latest reports suggest that his health is deteriorating.
His lawyer, Ben Cooper, of Doughty Street Chambers, said: "We welcome the Foreign Secretary condemning the illegality of Andy Tsige's detention, confirming the fact of his solitary confinement and demanding consular visits. But we have a simple ask: please request Andy Tsige's return home to his family in London. Mr Tsige was kidnapped by Ethiopia at an international airport and the only remedy for kidnap is release. Why has Mr Hammond not yet asked Ethiopia to release Andy so he can return home to England?"
Juan Méndez, the UN special rapporteur on torture, has written to the Ethiopian and UK governments saying he is investigating Tsige's treatment.
Who is Andargachew Tsige?
Andargachew, or Andy, Tsige fled Addis Abbaba in the 1970s following threats against his life from the military regime, the Derg, which then controlled Ethiopia. A student activist, he had attracted the attention of the authorities. His younger brother was killed by the security forces. Tsige escaped into the mountains to join opposition groups.
In 1979, after falling out with fellow rebels, he sought asylum in the UK. He studied at the University of Greenwich and obtained full UK citizenship. Tsige returned to Ethiopia after the Derg was overthrown but moved back to the UK in the early 1990s where he became active in opposition politics.
In 2005, he returned to Addis Abbaba again. He took part in that year's election and was briefly imprisoned. after being freed, he founded a new political movement, Ginbot 7, from his exile in London. The organisation was alleged by the Ethiopian government to have launched a failed coup in 2009. Tsige was condemned to death in his absence.
In June 2014, he had flown to the Gulf to give lectures. An unexpected change to his return route saw him fly back via Yemen where he changed planes. At Sana'a airport, he was arrested by guards and put on a plane to Ethiopia on the grounds that there was an extradition agreement between the two countries. Supporters say that had he been born white and in the UK, the Foreign Office would have taken a more forceful line in campaigning for his release from death row in east Africa.
His partner, Yemisrach Hailemariam, and their three children live in London. She has campaigned actively for his freedom. In February a delegation of MPs, led by Jeremy Corbyn, his local member, was scheduled to visit Ethiopia in an attempt to secure his release. The trip was abandoned following a meeting with the Ethiopian ambassador.