VIDEO: Gen Karake's arrest is based on absolute arrogance and contempt, says Kagame
By: EUGENE KWIBUKA & EDWIN MUSONI, 26 June 2015, The New Times (Rwanda)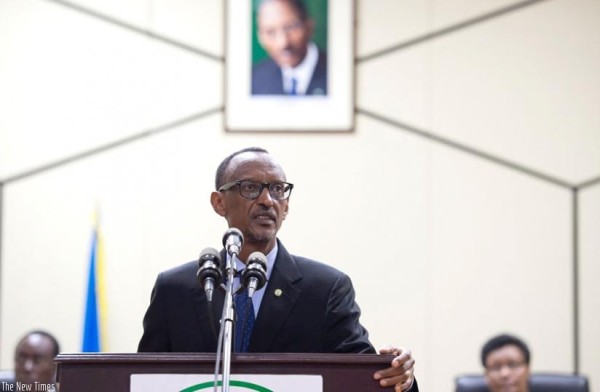 President Paul Kagame has come out strongly against the UK's recent arrest of Rwanda's head of Intelligence and Security Service, Gen Karenzi Karake, saying absolute arrogance and contempt was the only basis for the arrest. The Head of State made the statement, yesterday, as he presided over the swearing-in of the new Minister for Education, Dr Papias Malimba Musafiri, along with three new Members of the Lower House, a senator, three judges from the Supreme Court and one judge from the High Court.
"What right does this country have to arrest him in this manner? None of them have any basis other than absolute arrogance. Absolute arrogance and contempt is the only basis for this arrest," Kagame said. Karake, who was in London for official duties and travelling on a diplomatic passport, was over the weekend barred by the UK immigration officials from boarding a flight back home in connection with a highly controversial indictment by a Spanish judge over alleged war crimes.
He is one of the 40 former and current senior Rwandan leaders targeted by Judge Fernando Andreu Merelles' indictment. UK claimed that Karake's arrest is a legal obligation but President Kagame challenged the notion, questioning the legality of arresting an official of another country under unjustified circumstances. "UK has another legal obligation. This is an official of the state of Rwanda, of a people who respect themselves.
A people who respect themselves and don't offend others. A people who want to decide what they become. It is not UK, Spain or France who decide who they become. It will never happen," said the President. His remarks came barely three hours before Karake was granted conditional bail that came with a £1 million surety – by the Westminster Magistrates' Court.
'Freedom fighter'
Kagame referred to Gen Karake as "a freedom fighter who fought with us to make this country what it has become on this long journey towards who we want to become." He condemned the manner in which the UK treated Karake, comparing his treatment to that meted out on illegal migrants. "They must have mistaken him for an illegal immigrant. The way they treat illegal immigrants is the way they treat all of us," the President said.
The Spanish judge's indictment has been criticised by many who referred to it as politically motivated, a position further reinforced by findings of a 2009 UN Panel of Experts, which showed a strong link between Judge Fernando Andreu Merelles and supporters of the FDLR, a militia composed of members that committed the Genocide against the Tutsi.
President Kagame castigated the manner in which western jurisdictions treat Africa, wondering how: "a village judge wakes up one day and decides to indict African leaders and western authorities also play along and enforce the indictments."
"First, it was France, then Spain, now the UK. I don't know who is next. It is all directed to inconvenience, to destabilise and show [the] absolute contempt they have for Rwanda and for Africans," said Kagame, adding that any decent Rwandan, "any decent African, any decent person from these countries cannot accept this."
"We don't have the power of wealth, of military strength, of technology. But we have the power of the spirit. We have the power that comes from the anger of being held in contempt. The power that comes from anger of being insulted. The power that comes from the anger of being pushed against the wall," Kagame said.
"When you are left with nothing else, building on that spirit, you come back in full strength. We have the power of resilience. We have the power that we derive from the anger of the attempt in history to wipe us off the surface of the earth, and we refused to go. People may think they can put us down, but they'll never take us out," he added.
Controversial judge and FDLR links
According to UN experts, the Spanish judge, whose indictment has also been dismissed as "outrageous and inaccurate" by the US government, received support to work on the indictment from NGOs that have extended financial support to FDLR genocidaires.
The President pointed out that the move is an example of history repeating itself in different forms.
"It is a continuation of slavery, of colonialism, of violence and bigotry. It is wagging a finger at the African and telling him this is where you belong. We are no longer the African that belongs there," he said defiantly.
He drew parallels between the controversial BBC documentary titled, "Rwanda, the Untold Story," and the recent arrest of Gen Karake, saying it is all part of a scheme to change the narrative of what happened in Rwanda 21 years ago.
"The real untold story is they want to change the narrative of what happened in Rwanda that they were so deeply involved in. They want to mask their responsibility by saying it's not us, it is savages of Africa who killed each other. Since when did we become killers?" Kagame said.
"How do we give our lives to save our country and our people and at the end of the day we are called killers?" Kagame added.
Following the arrest, the British High Commission in Kigali issued a statement in which it indicated that 'the UK has a strong and effective aid partnership with the Government of Rwanda. We co-operate closely on a growing range of regional and international issues.'
However, Kagame questioned whether such support should come at the expense of stripping people of their dignity.
"People say we are friends and support your development. Do you support my development and take away my dignity? Do you support my development but at the same time hold me in contempt?" Kagame asked.
Meanwhile, tens of thousands of Rwandans across the country took to the streets yesterday in peaceful protests against the arrest of Karake. In Kigali, thousands of protestors once again gathered in front of both entrances of the UK High Commission in Kacyiru demanding Karake's unconditional release.
While praising Karake's role in stopping the 1994 Genocide against the Tutsi in Rwanda during the liberation struggle, they denounced what they described as disrespect toward Rwanda and vowed to keep protesting until Karake is released. The protestors included Rwandans from all walks of life, from working professionals to students and both the young and old.
Officials sworn in
Meanwhile, during the event at Parliament, the officials who were sworn-in alongside Musafiri, include Senator Jean de Dieu Mucyo. Others were three members of the Lower House; Pierre Claver Rwaka, who returns to Parliament; Dr Damien Nyabyenda; and Jean Pierre Hindura.
The judges sworn-in are Xavier Ndahayo, as the new vice-president of the High Court, and three new members of Supreme Court bench; Dr Alphonse Munyamfura Ngagi, Agnes Murorunkwere Nyirandabaruta, and Dr Aime Muyoboke Kalimunda. The judges were nominated by cabinet in May and later approved by the Senate.
The addition of three judges to the Supreme Court bench increases the number of judges in the country's top judicial organ to 19.