'Africa's problem is poverty and hunger, not term limits'
By Henry Mukasa, Sunday 28 June 2015, The Monitor (Uganda)
We have witnessed what I can call people's power, several people making calls and signing petitions, urging you not to leave them, to continue as their leader. Why are you not listening to them?
I think I am listening to them. I have always listened to my people. Even so in the context of the responsibility I have to them, there is no way I can't listen to them.
But I think there is no need to be distracted from what we have to do. Many people seem to have made up their mind but others think otherwise. The debate goes on. That's fine.
For me, there's no hurry. When people talk about 2017, we have something like more than two years to finish this mandate. My position will come out sooner than later, but it has to be within context.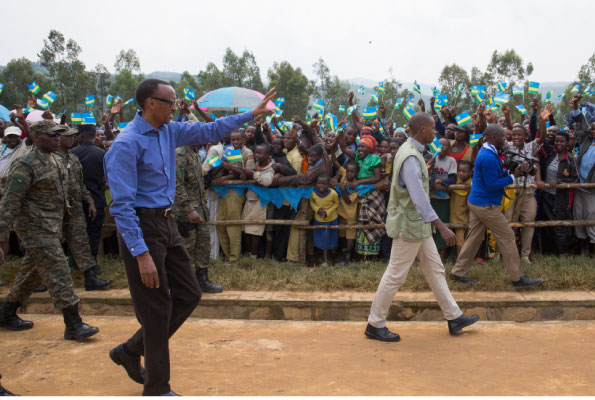 I haven't been in a hurry and I haven't had any pressure (to declare whether I will seek for a third term). Of all the problems I have faced in my life, this isn't the most complicated one.
Do you think constitutions should have term limits?
What is said about term limits is sometimes exaggerated: Whether they are a problem or a solution. Whether to say the problems of Africa will be addressed by term limits or it's a solution.
What are the problems of Africa? (It's) poverty, hunger and underdevelopment. Whether countries in Africa have term limits or not, things have gone wrong. We need to create institutions that serve us; creating the rule of law, parliaments that function, governments that are responsive to the needs of the people, term limits or not!
It has been presented that term limits have to do with democracy. But when you look at this island country of Singapore; this wonderful man Lee Kwan Yew was there for 32 years. What he managed to do for his people. The people who criticised him when he was there said different things when he was gone!
If limiting terms is democracy, why go even for a second? Let's look at (former South African president) Nelson Mandela; he was a wonderful person after serving one term. If we are to emulate Mandela, serve one term and go.
If leaders of Africa can look at the needs of the people with some anger – that we cannot continue to be underdeveloped with poverty and hunger!
What's this obsession with this thing called 'term limits'? Some people sing this song because some people, the so-called professors of democracy, who are good at speaking but not practicing, have said it. We want to appear nice to them. They have kingdoms where someone rules for life, they have prime ministers who can go on as long as their political parties want them or as long as they get elected.
But there is some merit in term limits; when they are implemented as checks and balance. But it has to be in context, you check and balance, not only check.
Let me dig in a bit deeper in this question of the third term; it might appear that you have adopted the tactic of your counterpart in Uganda for it to appear that you are not interested but it's the people asking for third term…
I am not telling anyone to ask! If they asked a different thing that; 'we loved you, you have done wonderful things, thank you but leave' I will respect that. Those who put term limits in constitutions and change them after some time, it's because things change. Tell me, which part of the world has not tampered with their constitution?
You put it (provision of term limits) because it served you at that particular point in time. (I know that) not all changes to the constitution are not okay. Some change for things that suit them. Let's take case by case.
African Union chairman Robert Mugabe at the just concluded summit in South Africa wondered why African presidents even bother to put that yoke of term limits in the constitution. Would you think term limits should be erased?
It should be looked at in that context. Maybe it was a wrong context under which they were put in the constitution or they were under pressure when they did it. You might find where term limits were put, people didn't think (about their implications), they were under pressure, or realise it served them for a while and need to change.
At the rallies, there was this wave of people asking you not to leave them. What goes through your mind when speaker after speaker ask you to stand again?
It's not that people want something for the sake of it. It's because they are living in it. 'This person (Kagame) has maybe delivered something for us'. You have heard people give their stories: Where they came from, what they are not doing and how they are benefitting from the various programmes. You have listened to their journey.
I feel good about it (when they ask) in the sense that all of us are about this transformation that is happening. It's not about me. It's them living it. It's not about the lectures I have given them. If they go and don't do what I tell them and sleep, it would be different. We share the credit.
If you see where Rwanda is and where other countries are; you ask yourself, "Where have we been?" How can we get there? You feel challenged.
In your address to opinion leaders last night in Rutsiro District in the western province, you attacked some countries that accuse Rwanda of stealing minerals from DRC. Can you name the countries?
It's not about naming the countries. It has been in the newspapers. I will tell you from this angle: You don't know how much we have gone through to explain that Rwanda had minerals. And it was used against us by political opponents. 'Rwanda exports a lot of Coltan, that's why they are in Congo.' We have brought these people's representatives and journalists but when they go back, they tell another story.
 Let me tell you; Rwanda's Coltan is of much better quality than Coltan in this region. But people have formed a story, a narrative on Rwanda that we are not in Congo because of FDLR (Democratic Forces for the Liberation of Rwanda) but to export minerals. But overtime, this has been exposed and it's no longer a problem. Maybe they have realised that if they continue with this (accusation), they look silly. We cannot continue to argue stupid things.
What have you done to inject an extra dose of patriotism among Rwandans? Everybody here looks patriotic
I don't think that patriotism is something that you push down someone's throat and they swallow it. We explain it with what they can benefit from: What about you and comparing with other countries, how did they get there? With these illustrations and explanations, when they interact with people they have elected as their leaders, patriotism becomes a reality. It is complex but it's about sharing lessons and examples. You only keep massaging it. They will even get together and fight things that might undermine them.
You get leaders to account at public rallies. This is a unique form of accountability. How do you do it?
We are conscious that when we use the normal processes; from point A through point B and C, by the time you get to point D, a great amount of truth will be lost, or so many things will be added to the truth. That's why we have this form of accountability and then add interaction. You hear someone say, 'I (had a problem and) went to this leader and this is what happened.'
The good thing is that the person who gets caught in it will never do it again and those who have not done it would like to live without doing it. Someone standing before that crowd and you see how guilty he is, is a bigger punishment than putting them 10 months in prison. It's a good lesson without hurting anyone. It's corrective in a sense and a deterrent.
You talked of generating power from Lake Kivu. Do we see you putting up a power plant soon?
We are launching the power plant next month. We have a lot of methane gas in the lake. We have resolved to convert it to power. The process is complex. This is methane mixed with other gases under water. You separate methane and return other gases under that lake and it's dangerous when you create some imbalance of gases under the lake. This company you have heard, Contour Global, has built a plant for 25 Megawatts. When it happens it means the technology had worked. It has taken them three years. If it happens, adding more megawatts will be easy.
You have emphasised this idea of the dignity of Rwandans so much, you said it at the international conference on governance last year and at all rallies. Is it because Rwanda is lagging behind or because you have noticed it works. We have been to the remotest district and there are no grass-thatched houses?
It's born out of the desire that we desire more. I am saying this in the context of my country, but also the continent. I don't see why we keep lagging behind in development and I have never understood it. I can't do it for Africa, but I have my small country where I have a voice. The good thing about that is that we don't just say it, we do it. There is nothing more powerful than using the power of examples.
Once you tell someone that the reason you have less is because you think you can't do it; roll your sleeves and do it with them. That's how it has spread. The reason I am hitting at it is because with examples, they begin doing things conscientiously.
The grass-thatched houses no longer exist in our country. We have now started something new; people are making and using roofing tiles. The transformation is happening and it's something that preoccupies our people. It's good to see something you aspired for happening.
Where do you want to see Rwanda 20 years from now?
A prosperous country where poverty isn't something we talk about, our children are going to school, technology is part of us and people being in middle class as a minimum. But all of that would be nothing if society is not stable. Security is paramount.
We can't make the little progress without security and also you can't have security and you do nothing. I would want GDP per capita in a couple of thousands. If I take you 15 years ago; people say, 'why was I not seeing this?' They see it (progress) more than us living it here. You see, challenges come when you have more tools.
Under the EAC Northern Corridor Infrastructure Programme, you agreed on several projects, but we don't see anything being implemented apart from Kenya where the railway is being constructed
I don't want to categorise it like that. It's because in Kenya, something existed before in form of a railway. It's about mobilising resources and putting up infrastructure. These projects require a substantial amount of money yet we are not about to invest in infrastructure and forget about everything else. But I am happy that this thing happened.
Countries need investors to develop. What would attract an investor to Rwanda?
Start with security. When people are here it's not only that they feel secure but also their property. We put in place a process for investors to invest comfortably here. They will also have descent returns. We need so much energy here if someone invested in the generation and distribution of power, their money will come out.
It will not disappear. We also have the service sector. Investors know you don't pay for corruption in Rwanda. So we are being differentiated on this basis: Security and good governance.