Diaspora Eritreans rally against human rights abuses
Fatma Naib |
Thousands of Eritreans gather in Geneva to protest against alleged rights abuses in their home country.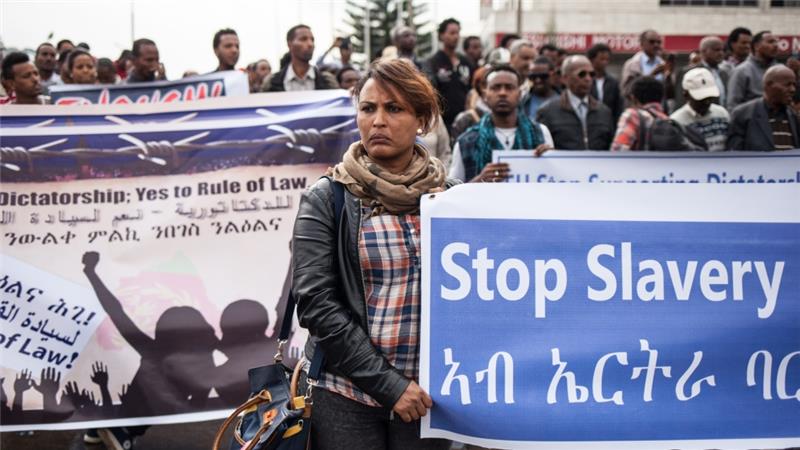 Diaspora Eritreans have demonstrated in front of the European headquarters of the United Nations in Geneva, Switzerland. The rally on Friday is in support of a recently released UN report that detailed widespread rights abuses in Eritrea.
Thousands of Eritreans from all over Europe, the US and Canada took part in the rally that began around midday. Nagash Osman, a Sweden-based opposition figure and one of the organisers of the protest told Al Jazeera that he is in Geneva to say thank you to the Human Rights Council Commission of Inquiry, which conducted the investigation. "There are people coming by buses from Sweden, the UK, Germany, France and the rest of Europe. A few representatives are also flying in from the US and Canada.
"It is the first time Eritreans feel that the world is finally listening to us. The findings of the report are not new to us, we already know this. But it feels like the world is starting to understand our suffering," said Osman.
The Commission of Inquiry presented their findings on Tuesday to the UN. A day earlier, a protest attended by thousands of Eritreans in the diaspora opposing the UN findings held a rally outside the UN headquarters in Geneva.
Crimes against humanity
Although the two opposing sides of Eritreans in the diaspora avoided holding their rally on the same day, some reported cyber harassment from the side opposing the report. Salam Kidane, a human rights activist, based in the UK, told Al Jazeera that a lot of pestering has been reported on Twitter and Facebook.
Kidane arrived in Geneva on Tuesday and demanded accountability over the abuses outlined in the report. "Crimes have been committed against humanity, and we need the Eritrean government to be held accountable. We are demanding justice, " she said. But Kidane's sentiment is not shared by all.
Rahel Weldeab, a Sweden-based Eritrean who rejected the UN findings, said she is opposed to the methodology used by the investigators as well as their conclusions. "They based the report on over 500 interviews from outside the country. It's not representative, especially when the UN claims that 5,000 Eritreans flee the country each month," she said.
The commission had collected testimonies from more than 500 Eritreans in the diaspora and refugees, many of whom had left the country recently. Weldeab added that she does not wish to see the type of democracy imposed in Eritrea that Libya and Iraq have today. "The report recommends foreign intervention. They [UN] want to bomb democracy into our country, I feel that threat is real to Eritrea."
RELATED: Eritreans divided over UN torture report