Four countries at Europe's frontier will continue to bear brunt of crisis; refugees yet to make journey will still view sea as logical option
To misquote the first man on the moon: the EU's new migration agreement is one small step forwards for European bureaucrats, and one giant leap sideways for mankind.
On the plus side, the decision by the majority of EU members to accept 40,000 asylum seekers currently in Italy and Greece is at least a start. With nationalism and xenophobia on the rise throughout Europe, the argument goes, the continent's leaders were still brave enough to share at least a fraction of the Italian and Greek burden.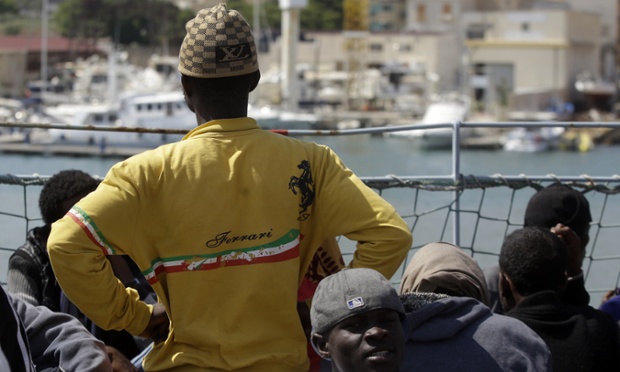 The agreement to welcome 20,000 Syrians and Eritreans who still lie beyond Europe's borders is also seen as an important gesture. Resettlement has not hitherto been seen as a major role of the EU. But this move, amid the biggest global refugee crisis since the second world war, is a tiny admission that it might have to become one.
But beyond the world of EU tokenism, the two decisions are next to meaningless. The redistribution scheme is voluntary – the UK has already said it will not take part – and therefore it is unclear how it would function in practice. "It could work if there is goodwill behind it, but you have to wonder whether it will work," said Cathryn Costello, an expert on refugee law at Oxford University's Refugee Studies Centre. There are already comparable systems that don't work even though they are legally binding, she said.
More worryingly still, the 40,000 asylum seekers due to be shared throughout Europe form only a small proportion of the 250,000 migrants likely to land in Greece and Italy this year. Thousands more will continue to arrive in Bulgaria and Hungary, two other EU states that are on the frontline of the migration crisis but which will not be covered by the scheme. So even if all 40,000 asylum seekers are successfully redistributed, the four countries at the EU's border will continue to bear the brunt of what is essentially a European crisis.
Most significantly, the tiny number of refugees due to be resettled from outside the EU – 20,000 – will do nothing to curb the death toll in the Mediterranean. Time and again, refugees planning to make the voyage across the sea argue that despite the risks the Mediterranean is a more likely route to safety than the legal routes available to them. So few places are on offer to the four million Syrian refugees eligible for asylum from outside Europe (the UK has taken 187 so far) that the sea seems a more logical option.
"Of course I'm scared, but I don't have any choice but this one," said Houthayfa, a 21-year-old Syrian cook who plans to go by sea from Egypt in the coming months. "It's like everything is closed in your face, so there's nothing else but the sea. There's nothing but the sea as a way to get out."
The UN gave a cautious welcome to the EU initiative but also stressed that the numbers were a drop in the ocean compared with what was required. "These are baby steps," said François Crépeau, the UN special rapporteur on the human rights of migrants. "One has to understand that 20,000 refugees taken by 28 countries is only one-tenth of the number of asylum seekers who arrived in Italylast year. This is a very, very small step forward.
"It's a very small number. As the special representative of the secretary general of the UN Peter Sutherland said, I trust that the numbers will go up."
Crepeau has argued that in order to quell demand for migrant smuggling by sea, western countries need to make a credible commitment to welcoming as many as one million Syrian refugees, rather than a paltry 20,000.
To many, the size of this figure sounds fanciful. But spread among Europe's total population of 740 million, it does not seem so large. And it seems tiny when compared with the burden the refugee crisis has already placed on Middle Eastern countries such as Lebanon and Jordan. According to UN figures, the former houses a record 232 refugees per 1,000 residents, while the latter, in second place, has 87 per 1,000. Sweden, the most refugee-heavy country in Europe, has 15 per 1,000.
Such a grand resettlement programme has been achieved before. After the Vietnam war, more than 1.3 million refugees from Indochina were resettled in Europe, north America and other parts of the northern hemisphere. To begin to match those numbers would be a giant step forward, but it would not be an unprecedented one.