Former Ugandan leader told not to hold meetings
BY ELIAS BIRYABAREMA,  24 JUNE 2015,BUSINESS DAY (SOUTH AFRICA)
KAMPALA — Uganda's police force on Wednesday barred a former prime minister from holding meetings to promote his challenge to President Yoweri Museveni for power, saying their party had not yet nominated a candidate. The east African country plans presidential elections between February and March next year and Amama Mbabazi, whom Mr Museveni replaced as prime minister last September, has emerged as a rival to the 70-year-old leader within their ruling National Resistance Movement party.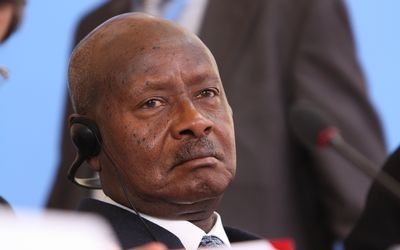 The decision by Mr Museveni, one of Africa's longest-serving leaders, to sack his former ally revealed a growing power struggle between him and Mr Mbabazi, analysts said. Mr Museveni is expected to seek another term. Insp-Gen of Police (IGP) Kale Kayihura told Mr Mbabazi in a letter that his planned meetings would not be allowed.
"Your party has neither sponsored nor endorsed you as an aspirant … your aspirations are illegal," he wrote. "Your programme of public meetings are not cleared by the police and can not go ahead." Mr Mbabazi recently notified the police that he would conduct countrywide meetings in July and August to promote his bid to win nomination as the presidential candidate of the NRM. The party will choose its candidate in September.
Mr Museveni last week dismissed Mr Mbabazi as "a non-starter". Ugandan law requires anyone planning to hold a political rally, demonstration or meeting to inform the police, who have wide-ranging powers to stop them if they have "reasonable grounds" to do so.
Mr Museveni, in power since 1986, has been accused by the opposition and rights groups of using security agencies to intimidate and harass opponents. Kizza Besigye, Uganda's most popular opposition leader, has lost three times against Mr Museveni. He has been repeatedly arrested and his public rallies often broken up by volleys of tear gas and sometimes live rounds.
"Mbabazi has no intention of respecting the police's directive because there's no law stopping him as an aspiring candidate from conducting his meetings," Mr Mbabazi's spokesperson Josephine Mayanja-Nkaji told Reuters.