Mugabe 'manhandling' of Moyo alarms ministers
GIFT PHIRI, NEWS EDITOR  •  26 JUNE 2015  •  DAILY NEWS (ZIMBABWE)
HARARE – There were strong suggestions yesterday that Tuesday's surprising freezing of voluble Zanu PF politburo member Jonathan Moyo from Cabinet could be a precursor to the long-mooted major executive reshuffle — a prospect that has put many ministers on tenterhooks.
Well-placed sources told the Daily News yesterday that the "speed and stealth" with which Mugabe had dealt with Moyo not only suggested that "there is one centre of power in Zanu PF" but also that a major Cabinet reshuffle was in the offing, "which spells danger for many complacent bigwigs".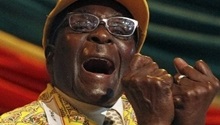 "It is squeaky bum time at the top in Zanu PF and government, to borrow football lexicon. By freezing Moyo, even if this is temporary, Gushungo (Mugabe) is showing all and sundry that he is in charge and the sole centre of power in the party. It's as simple as that for me.
"But others also say, and with good reason too, Fear as Cabinet reshuffle looms that a comprehensive and long-rumoured Cabinet reshuffle that should have happened after the ouster from power of Mai Mujuru and her allies last year is finally here, which spells danger for many complacent bigwigs who have until now thought that they are safe," a senior Zanu PF official said yesterday.
Another insider said what had alarmed many ministers was the fact that Moyo's removal from Cabinet had come "like a bolt from the blue" and at a time that the new Tsholotsho North legislator looked "very secure" both at party and government level, despite Zanu PF's worsening factional and succession wars.
"Of all the comrades in the party, he was one of the few that behaved and moved around with a swagger, which is why we were all shocked when the president chased him away from the Cabinet meeting without notice," a minister said.
Talk within Zanu PF has for the past few months been about looming Cabinet changes, with many insiders pointing to the need for Mugabe to not only rejuvenate his under-performing Cabinet, but also replace all the people he had fired as part of the ruling party's ruthless purges of the past seven months.
Another source said yesterday that there was "an understanding" in Zanu PF that the ejection of Moyo from Cabinet was "part one of the equation" and that the political future of other bigwigs such as Finance minister Patrick Chinamasa, Tourism minister Walter Mzembi and Energy minister Samuel Undenge were also on the line.
"It's not so much that the expectation is that any or all of these gentlemen will necessarily be fired, the emerging view is that they will more likely be re-assigned to other posts which may not sit well with some of them.
"It will also not be surprising if the president announces this long-awaited Cabinet reshuffle within the next two weeks, an opportunity that he may use to energise Cabinet and replace under-performing ministers in a continuing revamp that he started spearheading late last year," a politburo member said.
Mugabe himself has recently expressed dissatisfaction with the performances of some of his Cabinet ministers, amidst a worsening economic crisis in the country that has seen Zimbabwe move from once being regarded as a regional bread basket to a much derided basket case.
Speaking in an interview with the Zimbabwe Broadcasting Corporation current affairs to mark his 91st birthday in February, the only leader that Zimbabweans have known since the country's independence from Britain in April 1980, said pointedly that some of his ministers were not delivering.
In the meantime, and as part of the toxic mix pulling Zimbabwe backwards, Zanu PF's deadly factional and succession wars continue to cast a long shadow over the country and Mugabe's own political life, with many of his trusted lieutenants divided on the basis of their factional orientations that saw former Vice President Joice Mujuru and her allies being purged from the post-congress party.
Among other party stalwarts who have been sacrificed in the mindless bloodletting since then include former Cabinet ministers Didymus Mutasa, Nicholas Goche, Francis Nhema, Olivia Muchena, Webster Shamu and Dzikamai Mavhaire.
Worryingly for many, there is no indication that the era of the brutal purges is now behind and that the party and country can now focus on critical governance and service delivery issues.
If anything, more senior officials are said to be facing the sack under the continuing party expulsions, with several ministers linked to Mujuru — among them Education minister Lazarus Dokora and Sports minister Andrew Langa — top of the guillotine list.
Mugabe's freezing of Moyo out of Cabinet on Tuesday took many people by surprise, with no clarity up to today whether this is a permanent move or temporary one.
Moyo, who was appointed Information minister as a non-constituency Member of Parliament after the disputed 2013 harmonised elections, successfully contested for the Tsholotsho North constituency in the June 10 by-elections.
It was not clear whether his going for the seat allegedly without Mugabe's blessing infuriated the nonagenarian or whether the president was merely throwing his weight around or just being a stickler to constitutionalism as Moyo's legislative status had changed — which meant that he would need to be re-appointed as minister.
But the Daily News was told that the stunning drama that saw the loquacious politburo member being chased away from Cabinet began as soon as the Cabinet meeting started on the day when Mugabe allegedly summoned Moyo and told him to get out of the meeting.
A well-placed source claimed that a supposedly surprised Moyo had then approached Mugabe to ask for forgiveness, but that the nonagenarian would have none of it.
If Moyo's banishment from Cabinet is not temporary, this would not be the first time that the Zanu PF secretary for science and technology has been shown the door by Mugabe — as he was booted out in 2005 after he allegedly refused to obey Mugabe's orders not to stand as a candidate in the same constituency.
Moyo took part in the 2013 national elections but lost the Tsholotsho seat to a newcomer, Roselyne Nkomo.
A year ago, Mugabe savaged Moyo while speaking at the National Heroes Acre in Harare, at the burial of former Cabinet minister Nathan Shamuyarira, saying Zanu PF had been infested by weevils which needed to be taken care of.
This came in the wake of another brutal assault on the beleaguered Moyo a few days before that when he described the minister as the "devil incarnate", as factionalism in Zanu PF reached alarming levels.
Mugabe then accused Moyo of causing confusion in Zanu PF, being dishonest and lacking principled vision — further describing him as a counter-revolutionary who had employed Zanu PF enemies as editors at State media company Zimpapers.
The Daily News' sister paper, the Daily News on Sunday reported at the weekend that as Zanu PF's deadly factional and succession wars continue to rip the former liberation movement apart, it had emerged that supporters of Vice President Emmerson Mnangagwa were ratcheting up the pressure on Moyo and party political commissar Saviour Kasukuwere, including frantically trying to convince President Robert Mugabe to drop them from Cabinet.
Well-placed sources who spoke to the newspaper claimed that there was a renewed effort to see to it that the two Cabinet ministers were "stopped dead in their tracks", amid allegations by Mnangagwa's supporters that they were opposed to the party strongman succeeding Mugabe.