African Union says Burundi election not free or fair, speaker flees
BUJUMBURA | BY CLEMENT MANIRABARUSHA | Sun 28 Jun 2015 | REUTERS
The African Union stood down its election observers in Burundi on Sunday, saying Monday's parliamentary election would be neither free nor fair, as the speaker of parliament said he had fled after being threatened and heavy gunfire echoed across the capital.
Residents of the capital Bujumbura reported hearing the sound of grenade explosions and heavy machinegun fire in northern and southern districts, after a night in which at least three people were killed. Burundi has been in turmoil since April, when President Pierre Nkurunziza said he would seek a third term, exacerbating months of protests and triggering an abortive military coup last month.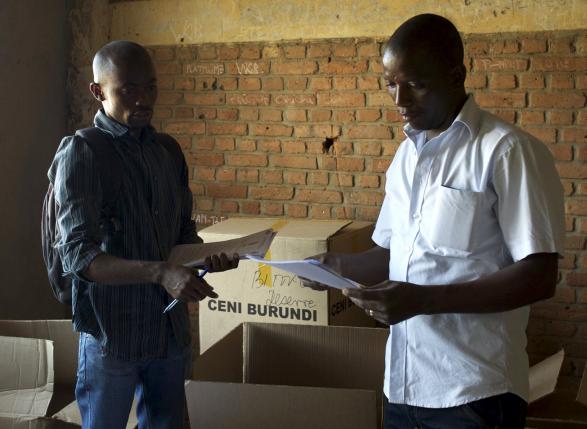 Opposition parties are boycotting Monday's vote and the presidential election on July 15 in protest at Nkurunziza's move, which they say is unconstitutional, and at rising political violence. "Noting that the necessary conditions are not met for the organization of free, fair, transparent and credible elections … the AU Commission will not observe the local and parliamentary elections," Nkosazana Dlamini Zuma, the commission's chairwoman, said in a statement.
The European Union and the influential Catholic Church have already stood down their observers for the same reasons. Dlamini Zuma appealed to the government and all other parties to "take a full measure of the dangers threatening their country".
Parliamentary speaker Pie Ntavyohanyuma said he been threatened after opposing Nkurunziza's bid for a third term. "I was forced to quit the country due to the unrest caused by the president's insistence on seeking a third term, which is illegal, which is unconstitutional," he told France 24 television from Belgium. "I personally advised President Nkurunziza to drop his plan for a third term, but his answer was to threaten me, to humiliate me."
The government was not immediately available to respond to his remarks.
CONSTITUTIONAL QUESTION
Nkurunziza's opponents say his decision to stand again violates the constitution as well as a peace deal that ended a civil war in 2005. Nkurunziza cites a constitutional court ruling saying he can run again, although the court's vice president, another of those who have fled, said he and other judges had been pressured to rule in favor of Nkurunziza.
Dozens have been killed in months of unrest, including an opposition leader, and the U.N. refugee agency UNHCR says 127,000 have fled Burundi. Last week, Second Vice President Gervais Rufyikiri also said he had fled to Belgium, Burundi's former colonial ruler. In May, the vice president of the election commission fled.
Overnight in Bujumbura, a police officer shot and killed a 25-year-old university student walking in the Jabe neighborhood, his brother told Reuters on Sunday, giving his name only as Alexis because he feared for his safety. Visibly in shock, he said he had seen the shooting, adding: "Patrick was stabbed with a bayonet by the same policeman."
Also in Jabe, a man was killed in a suspected grenade attack, while in the Kanyosha neighborhood, one soldier was shot dead by another, residents said. Police could not be reached for comment. A Reuters correspondent in Bujumbura heard explosions and gunfire through Saturday night and early Sunday.
Residents said the shooting and explosions resumed on Sunday night in Mutakura and Cibitoke in the north of the city and Kanyosha in the south. They said a policeman had been injured in a grenade attacks in Cibitoke, and a polling station in the district of Kamenge had been attacked by gunmen. No official comment was available.
Many of the capital's inhabitants shut their businesses and went home earlier than usual, and by 7 p.m. many areas were deserted. U.N. Secretary-General Ban Ki-moon, who has called for the polls to be postponed, issued a statement of concern.
The European Union has said it might impose sanctions on those responsible for pre-election violence and consider other steps against Burundi, which depends heavily on foreign aid. The United States, the European Union, the Netherlands and Belgium have already cut some aid.